Tribute
Affectionately known as 'Mr. Lu,' 1971 Open runner-up Lu Liang-Huan, dies at 85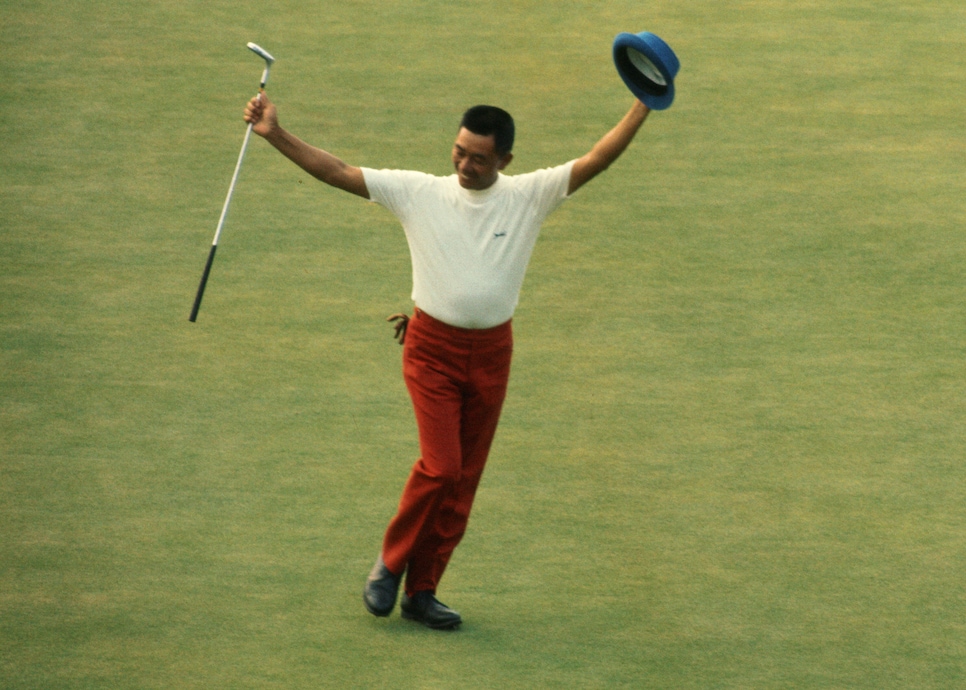 Lu Liang-Huan acknowledges the crowd at Royal Birkdale during the 1971 Open Championship.
R&A Championships
For modern golf fans, the name "Mr. Lu" is likely to elicit little reaction. But for those of an older generation, it carries a certain visage: a slender golfer wearing a bright blue porkpie hat winning over fans as he modestly tipped the hat to acknowledge their applause while nearly pulling off a monumental upset in a major championship.
Taiwan's Lu Liang-Huan, who died on March 15 of unspecified causes at age 85, finished second to Lee Trevino at Royal Birkdale during the 1971 Open Championship. IMG's Mark McCormack is credited with dubbing him "Mr. Lu" during a BBC broadcast, and the story behind the hat became its own interesting tale: he bought it a few days earlier to protect himself from the sun after learning of the surprisingly warm sunny forecast for the week in England.
Lu, playing in the Open for only the second time, was in the hunt with Trevino down to the final hole, where he hit his drive into the left rough on the par 5. With his feet in a fairway bunker below his ball, Lu choked up on a 5-wood and took a big swing with his second shot, falling backward after hitting it. The ball hooked into the crowd, and hit Lillian Tipping, a spectator, in the head before bouncing back into the fairway. Tipping would be taken to the hospital with a concussion, and Lu was distraught over what happened. Amazingly, Lu got up and down for birdie, but Trevino birdied the hole, too, to pull out a one-shot win.
That night, Lu went to the hospital to check on Tipping, only to learn she'd been discharged. Tipping eventually reached out to Lu the following week at the French Open, sending him daily messages encouraging him to play well. He would go on to win the event, the first Asian golfer to win on the then European Tour. Lu later treated Tipping and her husband to a trip to Chinese Taipei and they kept in touch for years.
Lu's golf exploits include a decades-long career on the Asian Tour and Japan Tour, where he was an eight-time winner. He represented Taiwan several times in the World Cup, and was part of the country's lone win in 1972 playing alongside Hsieh Min-Nan. Lu play in three more Open Championships after Birkdale, finishing T-5 in 1974 at Royal Lytham & St. Annes. He also competed in four Masters.
Lu first played the game while in elementary school in Taiwan, making his own clubs out of bamboo and whacking guavas as balls. He caddied as a youth to help make money for his family and eventually became an accomplished player, winning the inaugural Hong Kong Open in 1959.
Interestingly, Lu and Trevino had known each other prior to Birkdale. Lu served in the Chinese Air Force and played golf against Trevino in Okinawa in 1959 when Trevino was in the Marine Corp. "I remember playing him in Taiwan one day and he beat me something like 8 and 7," Trevino said during the week at Birkdale. "He has called me 'Bird' ever since because I used to fly the ball past his short drives."
C.T. Pan, the 2021 Olympic bronze medalist from Chinese Taipei, took to Facebook this week to remember Lu.
"Not only did he have high-end golf skills, but because of his sharpness and coolness, Mr. Lu is the teacher I looked up to most in my childhood," Pan wrote. "Thank you teacher Lu for your contributions to golf. May you rest in peace."