LPGA Tour
Minjee Lee keeps hard-charging Charley Hull out of winner's circle again, wins Queen City Championship in playoff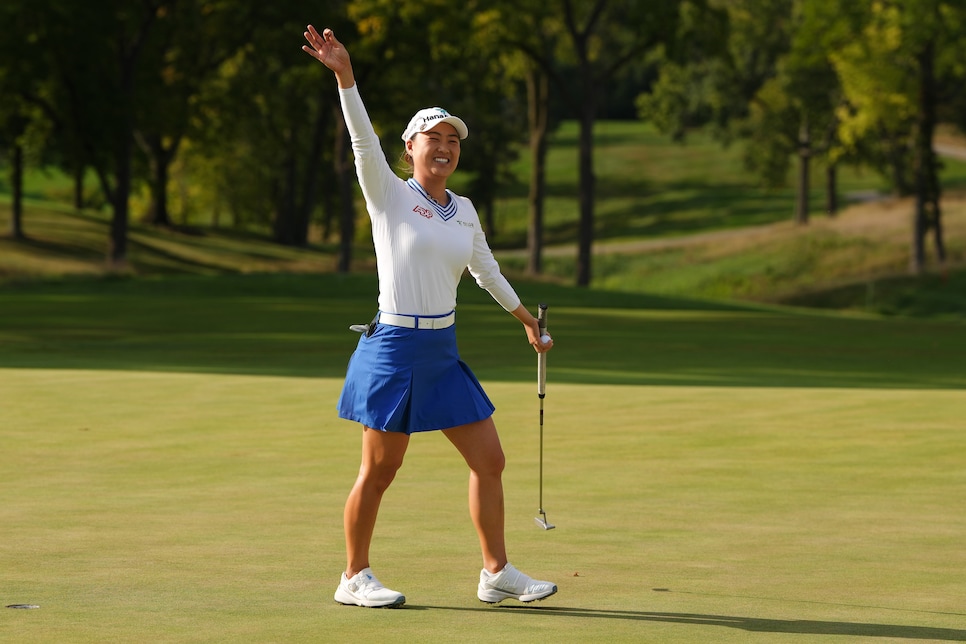 Minjee Lee lost a five-shot lead in a six-hole span late Sunday but recovered by making birdie on the second playoff hole to top Charley Hull and win the Kroger Queen City Championship. It's Lee's ninth LPGA Tour victory but first this year. The 27-year-old Australian shot one-under 71 to finish at 16-under-par total. Hull, winner of two LPGA events, shot 69.
Minjee Lee (-16) won on second playoff hole
"I feel like I really deserve this one. I feel like it's been a little bit of a long time coming after the U.S. Open, and like the past few weeks I've been really close," Lee said.
Minjee Lee had the best season of her career in 2022, winning twice—including the aformentioned U.S. Women's Open—and reaching No. 2 in the world. But then the months started to tick by, and suddenly it had been 15 of them since Lee last had a victory. "I think it's always really hard to back up an amazing year with another really amazing year. You have high expectations, and I think managing that is probably the hardest thing because you know you've been there, so it's like, Oh, why can't I do that every week! But obviously you can't because you're human," Lee said on Saturday. Coming to terms with how difficult it is to win seemed to be the key to unlocking yet another triumph.
As Lee and Hull stood on the 11th tee box of Kenwood Country Club in Cincinnati, Ohio, Lee appeared to be in control of the situation: She held a five-shot lead over Hull. But what happened over the next seven holes reminded us that being in control in one moment on the golf course means close to nothing. A double bogey by Lee at the 12th followed by three straight birdies from Hull on Nos. 14, 15 and 16 brought the two level at 16 under. With both players parring the final two holes, they were sent back to the 18th tee for a sudden-death playoff.
On the first playoff hole, it looked like heroics from Hull's putter would win it. After taking a drop from the grandstand beyond the green, the 27-year-old Englishwoman nearly holed an enormous putt from off the green:
Instead, Lee and Hull halved with pars and went to the 18th tee yet again. This time, Hull hit the green but Lee hit it closer. When Hull missed her birdie chance, Lee knocked in her two-footer for birdie and her ninth LPGA victory.
Ruoning Yin finished solo third, marking the third tournament in a row where the 20-year-old from China finished in the top three. She is projected to become the new World No. 1, claiming the spot from Lilia Vu. This is Yin's second year on tour. After winning her first title at the DIO Implant LA Open in April, she went on to claim the KPMG Women's PGA Championship in May, becoming just the second player from China to win a major.
Hull has played fantastic golf this season, but she's leaving yet another LPGA event as the runner-up. This is the fourth time this year Hull has finished second, including twice in majors. Knocking on the door of a victory is better than finishing farther down the leaderboard, but when you're reach the stature of Hull—who'll play in her sixth Solheim Cup next week—it's more about taking the trophy home.