Payday in Cincinnati
Here's the prize money payout for each golfer at the 2023 LPGA Kroger Queen City Championship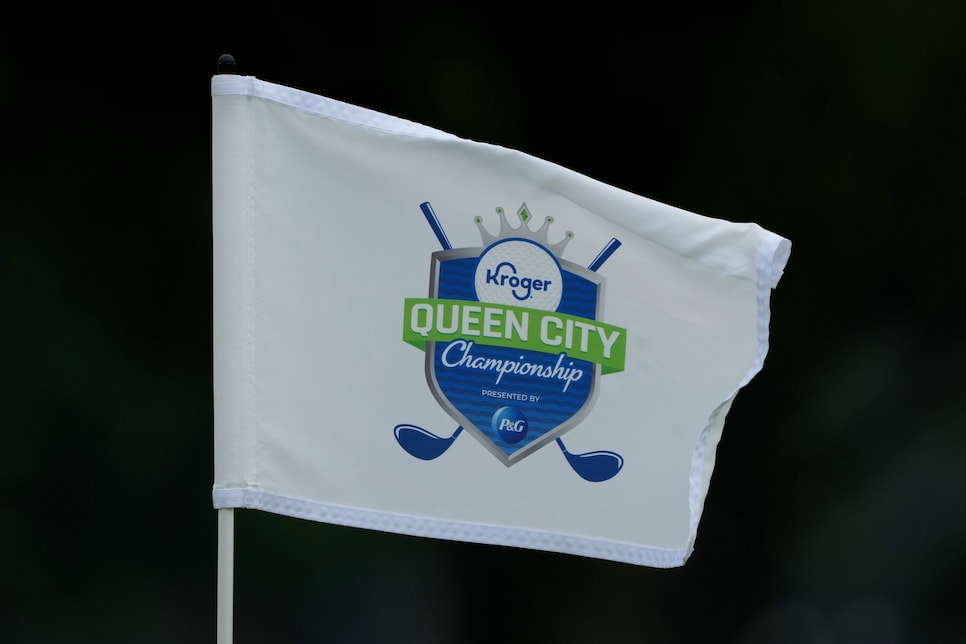 England's Charley Hull made a late push to vie for the Kroger Queen City Championship on Sunday at Kenwood Country Club in Cincinnati, but ultimately it was Minjee Lee who topped Hull on the second hole of a playoff to collect her ninth career LPGA victory.
Lee was cruising with nine holes remaining but she made double bogey on the par-5 12th hole, then Hull birdied Nos. 14, 15 and 16 to end tied with Lee after regulation and the two went back to the 18th hole to settle the outcome. Both made par the first time, although Hull's birdie putt from off the back of the green was a rotation short of going in, then Lee hit her approach, again on 18, to three feet to convert the birdie and the win. She took home a first-place prize of $300,000 from a $2 million overall purse.
The championship was the first of only four remaining full-field events on the LPGA schedule this year. The tour now breaks for two weeks for the Solheim Cup in Spain. Then, after stops in Arkansas and Texas, the tour shifts to a four-week Asia swing with limited-field tournaments before coming back in November for the end of the season.
In other words, for those trying to secure a place in the season-ending CME Group Tour Championship—or just make sure their cards locked up for 2024—time is of the essence.
Here's the prize money payouts for all the players who made the cut this week.
Win: Minjee Lee, 272/-16, $300,000
P-2: Charley Hull, 272/-16, $181,723
3: Ruoning Yin, 274/-14, $131,827
4: Ally Ewing, 276/-12, $101,979
T-5: Mel Reid, 277/-11, $56,545
T-5: Mi Hyang Lee, 277/-11, $56,545
T-5: Ariya Jutanugarn, 277/-11, $56,545
T-5: Yuka Saso, 277/-1, $56,545
T-5: Morgane Metraux, 277/-11, $56,545
T-5: Peiyun Chien, 277/-11, $56,545
T-11: Hye-Jin Choi, 278/-10, $34,921
T-11: Cydney Clanton, 278/-10, $34,921
T-11: Andrea Lee, 278/-10, $34,921
T-14: Frida Kinhult, 279/-9, $29,934
T-14: Madalene Sagstrom, 279/-9, $29,934
T-16: Alexa Pano, 280/-8, $25,934
T-16: Pavarisa Yoktuan, 280/-8, $25,934
T-16: Nasa Hataoka, 280/-8, $25,934
T-19: Xiyu Lin, 281/-7, $22,485
T-19: Esther Henseleit, 281/-7, $22,485
T-19: Lexi Thompson, 281/-7, $22,485
T-19: Gaby Lopez, 281/-7, $22,485
T-23: Brooke Henderson, 282/-6, $17,983
T-23: Jenny Shin, 282/-6, $17,983
T-23: Hae Ran Ryu, 282/-6, $17,983
T-23: Dani Holmqvist, 282/-6, $17,983
T-23: Mariah Stackhouse, 282/-6, $17,983
T-23: Yealimi Noh, 282/-6, $17,983
T-23: Perrine Delacour, 282/-6, $17,983
T-23: Paula Reto, 282/-6, $17,983
T-31: Emily Kristine Pedersen, 283/-5, $13,849
T-31: Moriya Jutanugarn, 283/-5, $13,849
T-31: Elizabeth Szokol, 283/-5, $13,849
T-31: Jennifer Kupcho, 283/-5, $13,849
T-31: Rose Zhang, 283/-5, $13,849
T-36: Azahara Munoz, 284/-4, $11,262
T-36: Narin An, 284/-4, $11,262
T-36: Nanna Koerstz Madsen, 284/-4, $11,262
T-36: Gabriela Ruffels, 284/-4, $11,262
T-36: Hinako Shibuno, 284/-4, $11,262
T-41: Lauren Coughlin, 285/-3, $8,681
T-41: Stephanie Kyriacou, 285/-3, $8,681
T-41: Samantha Wagner, 285/-3, $8,681
T-41: Dana Fall, 285/-3, $8,681
T-41: Yuna Nishimura, 285/-3, $8,681
T-41: Pernilla Lindberg, 285/-3, $8,681
T-41: Linnea Strom, 285/-3, $8,681
T-41: Lydia Ko, 285/-3, $8,681
T-49: Maria Fassi, 286/-2, $6,682
T-49: Stephanie Meadow, 286/-2, $6,682
T-49: Ruixin Liu, 286/-2, $6,682
T-49: Muni He, 286/-2, $6,682
T-49: Yan Liu, 286/-2, $6,682
T-49: Jasmine Suwannapura, 286/-2, $6,682
T-55: Weiwei Zhang, 287/-1, $5,571
T-55: Sarah Kemp, 287/-1, $5,571
T-55: Linnea Johansson, 287/-1, $5,571
T-55: Arpichaya Yubol, 287/-1, $5,571
T-55: Dewi Weber, 287/-1, $5,571
60: Sei Young Kim, 288/E, $4,975
T-61: Dottie Ardina, 289/+1, $4,676
T-61: Jaravee Boonchant, 289/+1, $4,676
T-61: Jeongeun Lee6, 289/+1, $4,676
T-61: A Lim Kim, 289/+1, $4,676
T-61: Gina Kim, 289/+1, $4,676
T-66: Lauren Hartlage, 290/+2, $4,228
T-66: Brittany Altomare, 290/+2, $4,228
T-66: Christina Kim, 290/+2, $4,228
T-66: Angel Yin, 290/+2, $4,228
T-70: Sydnee Michaels, 291/+3, $3,930
T-70: Olivia Cowan, 291/+3, $3,930
T-70: Jennifer Song, 291/+3, $3,930
T-73: Yu Liu, 292/+4, $3,805
T-73: Mariajo Uribe, 292/+4, $3,805
T-75: Ines Laklalech, 293/+5, $3,735
T-75: Gabriella Then, 293/+5, $3,668
T-75: Bailey Tardy, 293/+5, $3,664
T-75: Pornanong Phatlum, 293/+5, $3,664
79: Xiaowen Yin, 294/+6, $3,548
80: Lindy Duncan, 296/+8, $3,503