Rules blunder
Tour pro who calls out fellow player's rules infraction at Q School gets DQ'd for her own mishap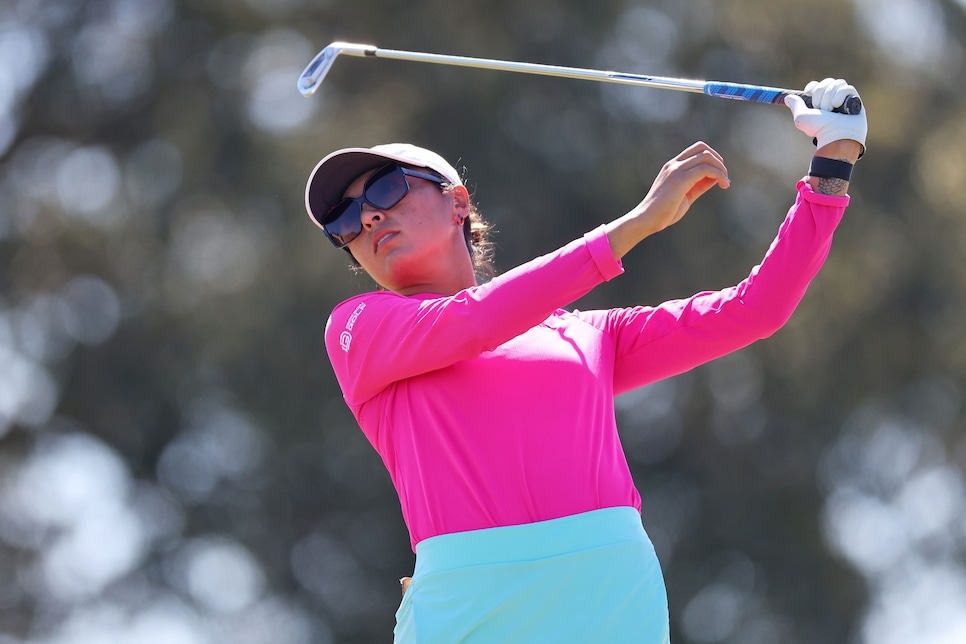 Gabby Lemieux, showing at last year's Epson Tour Championship, was disqualified in the final round of LPGA Q-School last week after signing for a wrong score. Lemieux says the mistake came amid the confusion of talking to a rules official about another player's rules gaffe from the round.
Mike Stobe
Golf certainly has had its share of rules issues over the years, but it's rare when there's one in which the person who originally brought an infraction to the forefront regarding a playing partner ultimately is disqualified because of a separate broken rule.
We introduce you to this story from the first stage of LPGA Tour Q School, held Aug. 28-31 in Rancho Mirage, Calif. The whole incident was aired out on social media and then brought more to light from Monday Q's Ryan French.
Gabby Lemieux, Abbey Daniel and Sara Ericsson were grouped together during the final round at the Dinah Shore course at Mission Hills. Lemieux initially alleged on Instagram that one of her playing partners had mismarked her ball (Lemieux would tell French it was Daniel) on their back nine while the player was right on the cut line. (The top 95 and ties out of the 124 who made the 54-hole cut advance to the second stage of Q School.)
Lemieux, 27, who plays regularly on the Epson Tour, believes that she saw Daniel mark her golf ball to the side, and then, when replacing it, put the ball in front of her mark. Rather than confront Daniel, Lemieux went to Ericsson and her caddie to ask them to verify if they saw the same thing, according to the Monday Q story. A few holes later, on their 16th hole of the day, Lemieux said that Daniel had a short putt for par and marked her ball wrong again after wiping mud off of it. That's when Lemieux alerted a rules official still without telling Daniel.
According to Monday Q, the rules official showed up a hole later and did not see Daniel mark her ball incorrectly. The whole dust-up was discussed in the scoring area and everyone in the group was asked to share what they saw. Ultimately, Daniel was assessed a two-stroke penalty, according to French, for improperly marking her ball on her 16th hole of the day, turning a par into a double bogey. She shot 71 to tie for 70th place and still advanced to the second stage.
"Another player and I called out a CHEATER today for marking and replacing her ball incorrectly," Lemieux wrote in an Instagram story. "If you want to play professional golf, even if it was half an inch off … it is still cheating."
Daniel, 22, believes the incident should've been handled differently and feels like Lemieux was trying to catch her doing something wrong rather than simply bring it to her attention. She sent a long email to Monday Q explaining her side of the story. It can be read in full here and you can follow French/Monday Q on Twitter here.
"As someone who values honesty and has always played the game with integrity, hearing someone call me a cheater both to my face and on social media hurt," part of Daniel's email read. "My opinion on the situation is that I have marked my golf ball the same way through countless USGA events, college golf and pro tournaments. Never once has it ever been called into question. I had even played with my other competitor in multiple rounds of competition, even the first round of Q-School this year, and this never came up. If a player had a problem with how I was marking a ball I would have appreciated her bringing it to my attention during the round so I could be mindful of it."
As if that wasn't enough, the story has another twist.
With everything seemingly resolved, Lemieux went to her car after signing for what she thought was a 75, which missed advancing to the second stage by three shots. She then saw a 74 by her name on a scoreboard on her phone.
"I marched back in there to make sure that the score wasn't just wrong online," Lemieux wrote on Instagram. "Unfortunately, I did sign a wrong scorecard and I am DQ from Stage 1."
Ericsson, an amateur from Sweden, mistakenly wrote down a par for Lemieux on the 15th hole when she made bogey. So Lemieux did, in fact, sign for a score lower than what she shot, resulting in the DQ.
Daniel took the high road regarding Lemieux's predicament, telling Monday Q, "I hate to see that happen to any player, especially on this stage."