LPGA Tour
Meet the 14-year-old who just made it through three LPGA Tour Monday qualifiers in a row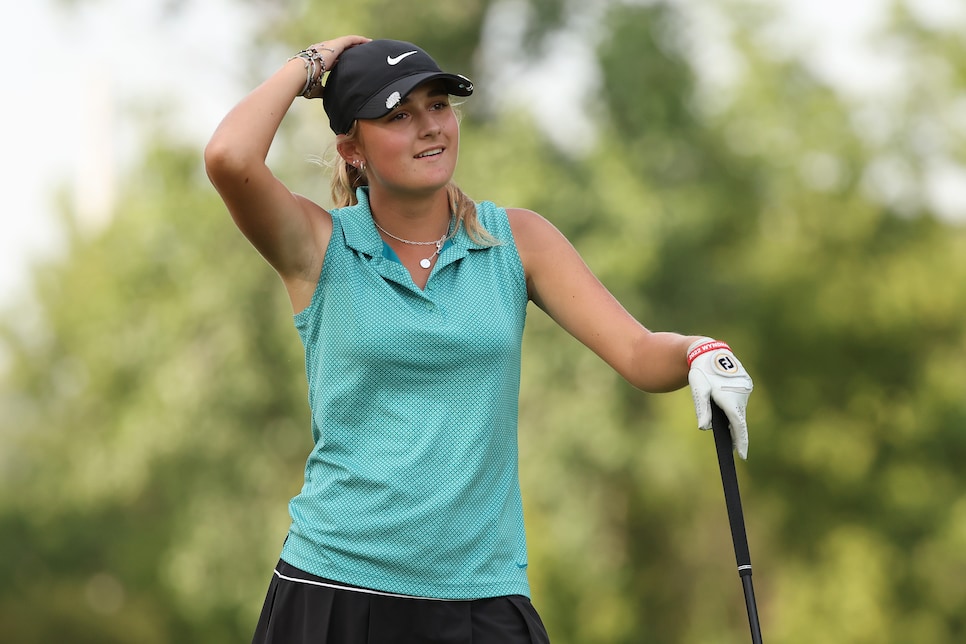 Any golfer who's been through it will tell you: Playing Monday qualifiers is a grind. The pressure is high, as are the stakes. You have one chance, one 18-hole round, that can get you into a tournament and there's always the chance that that tournament could be your breakthrough. But you'll never find out, if you don't get through Monday. One teenager in the women's game seems to have figured out how to make it through Monday qualifiers: Gianna Clemente. After firing a seven-under 65 at Kenwood Country Club, Clemente has made it through her third Monday qualifier in a row on the LPGA Tour. She'll tee it up at the Kroger Queen City Championship in Cincinatti on Thursday.
Clemente is only 14 years old, but she's been playing competitive golf since she was 5. Clemente, who plays much of her golf in Ohio and Florida, has finished in the top two in two major junior tournaments in 2022. She was runner-up in both the 2022 USGA U.S. Junior Girls' Championship and the 2022 Rolex Girls Junior Championship.
It's the USGA experience that Clemente credits with her success in these recent Monday qualifiers.
"I've had a lot of USGA qualifiers in my time, so I have some experience with 18-hole qualifiers," Clemente said. "They're very unpredictable. Sometimes they go well and sometimes they don't. Obviously it's awesome that I was able to put together three great rounds and qualify all three times, but it's not always going to go that way."
That's part of the difficult with Monday qualifiers—it's only 18 holes. One bad hole can make it feel like you've ruined any chance you may have had at making it. Clemente says avoiding that mindset has helped her cruise through these qualifiers.
"I think it's important to know it's OK to fail sometimes. It's not always going to go your way," Clemente said. "It's important to never give up in Monday qualifiers. You never know, somebody else could make a birdie, somebody else could make a bogey. It's important to just stay focused on your own game. You can't control what happens, other than how you handle yourself."
Clemente knew she had a spot in three Monday qualifiers, and her goal was to get through one of them and play her first LPGA Tour event. After doing that in her first attempt, at the CP Women's Open in Canada, any pressure she had put on herself was suddenly gone. If she was able to get through any more qualifiers, she'd be happy about it, of course, but she'd already achieved her goal. Sometimes, great golf can be played when there's nothing to lose.
"I said to my dad, 'Going three for three would be really cool,'" Clemente said. "I went out and tried my best. If it didn't work out, it was OK, because I'd already made it through one."
A highlight of Clemente's streak was at the CP Women's Open where she played nine holes of a practice round with Cristie Kerr.
"Cristie's actually really funny, it was fun. She cracks jokes at how slow the practice rounds are and stuff like that," Clemente said.
In her first two LPGA events, the CP Women's Open and the Dana Open presented by Marathon, she missed the cut by three and four shots, respectively.
"To make the cut would be an obvious goal," Clemente said. "I wasn't too far off in the other tournaments but my putting was kind of holding me back. Hopefully the result will be different this time, but if it's not, that's ok, too."
As Clemente talks about goals far beyond making the cut at the Kroger Queen City Championship, she highlights college golf.
"I definitely want to go to college, I want to play collegiate golf," Clemente said. "I want to turn pro at some point."
Any serious thinking about college golf has to wait, though. She's still too young to talk to coaches.
For now, she's enjoying her run on the LPGA Tour and will deal with decisions about college and pro golf when they come, years from now.
"I'm super excited to see what happens," Clemente said.