CME Group Tour Championship
Leona Maguire's spectacular charge sets up Sunday showdown with Lydia Ko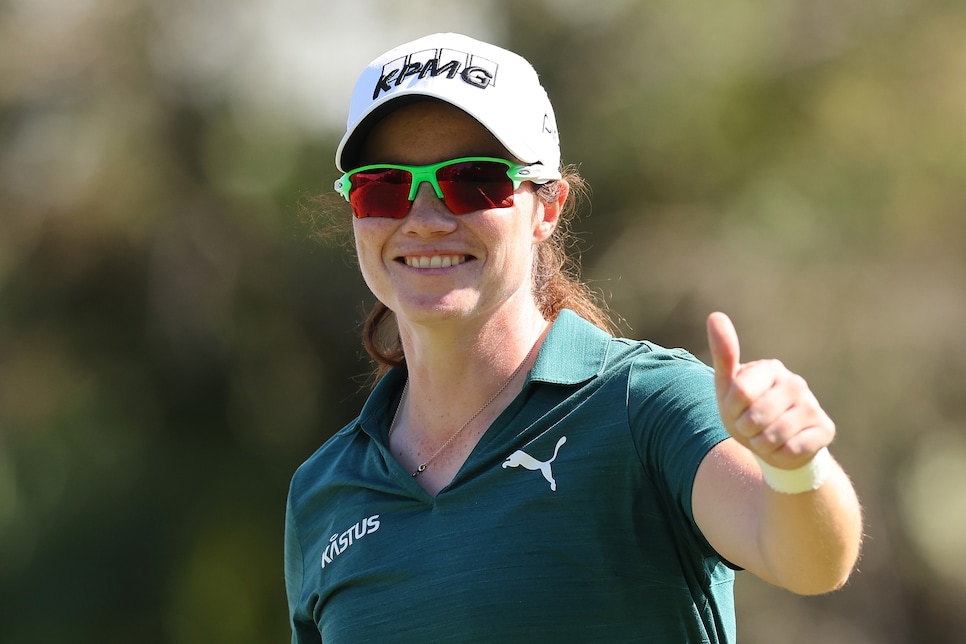 Leona Maguire smiles during the third round of the CME Group Tour Championship.
Michael Reaves
NAPLES, Fla. — Provided Lydia Ko avoided a collapse, it was always going to take a spectacular performance for anyone else to get close on Saturday at the CME Tour Championship. What Leona Maguire delivered on a warm, windy day might have gone beyond spectacular, and it transformed what looked like a runaway into the closest thing stroke play golf has to a head-to-head duel.
Starting the third round at six under, Maguire was stuck in a chase pack, trailing Ko by seven shots. By day's end, she had made nine birdies and turned in a bogey-free 63, nearly equaling the tournament record at Tiburon Golf Club. Ko, who started her tournament with a 65-66, shot two-under 70, but she finished the afternoon knotted at 15 under and set for a Sunday showdown with the biggest prize in the history of women's golf at stake.
Barring another stunning reversal, one of them will take home $2 million, and Ko will also be competing for Player of the Year honors and a shot at the No. 1 World Rankings.
She'll have her work cut out for her. Maguire showed her competitive chops last year at the Solheim Cup, winning 4½ points to lead Europe to a narrow victory over the U.S., and she secured the first LPGA Tour win of her career—and the first ever for an Irish woman—earlier this season at the Drive On Championship.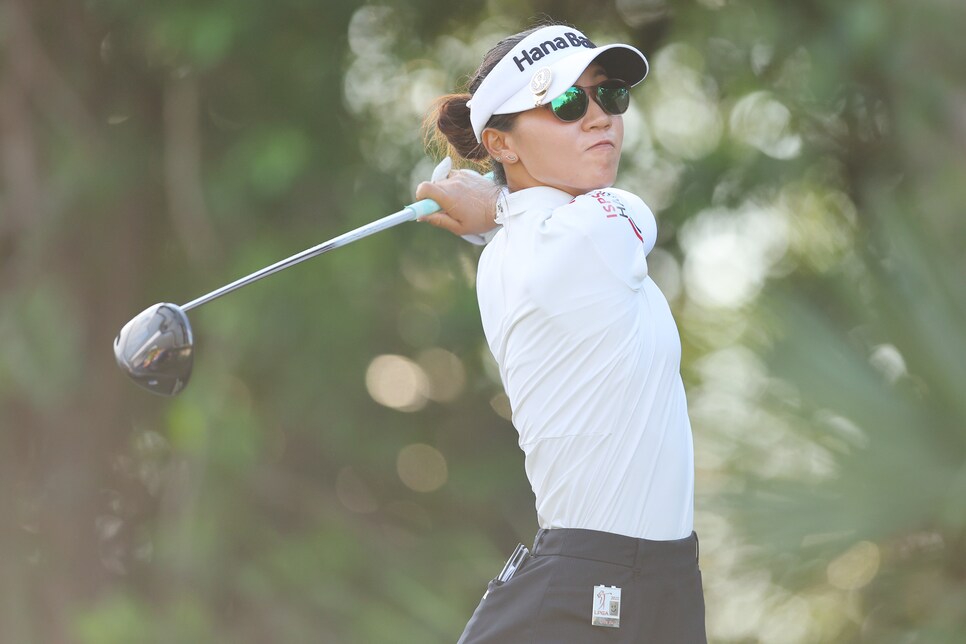 Lydia Ko plays her shot during the third round of the CME Group Tour Championship.
Michael Reaves
There's a neat parallel here between her and Scottie Scheffler, whose brilliant 2022 campaign was fueled by a strong Ryder Cup performance. Like him, Maguire isn't shy about crediting that performance with everything that followed.
"Solheim Cup was a big part of my journey," she said. "I have to thank Beanie [the nickname of European captain Catriona Matthew] for picking me, but I think the biggest thing was confidence, feeling like I belonged on that team. ... I think my game was there, I just didn't know if it was there or not, and I feel like I showed that that week and it gave me a lot of momentum finish off last year and, and to get the win early in this year as well."
Maguire's putter was red-hot all round, and the culmination of her acumen on the greens came at the par-3 16th, when she carded her eighth birdie of the day with a winding 30-foot putt that caught the edge.
For Maguire, the hole was looking exceptionally large on Saturday, and four straight birdies from holes 8 to 11 turned a very good round into a sublime one, filling her with a sense of momentum as she shot up the leaderboard. When asked if Sunday would be the biggest day of her professional life, she cracked a smile.
"I try not to put it like that," she said. "When I won earlier in the year, me and Marina [Alex] were quite a few shots ahead, and I actually fell behind early in the day. So, I feel like I'm just going to play as well as I possibly can."
As for Ko, who is working once again with coach Ted Oh, she could be spotted before the round working with a variety of contraptions, including balls and sticks on the range, which may have seemed strange for someone who had played so well the first two days.
"It's something I always do in my routine every day, no matter if I've shot 66 the day before or 76," she explained. "That's just part of my routine, and it's more just awareness than me working on anything."
"Obviously, I can't put the stick behind my butt because I don't have a third arm," she joked, "but Ted's here this week, so he's been doing that for me."
Both Maguire and Ko were adamant that they don't see Sunday as a match-play exchange, and that they'll each be attempting to play their own game as well as possible while trying not to pay attention to the other players. That's easier said than done, and Ko admitted that she was aware of Maguire's run up the leaderboard. In contrast, Ko said she felt was close to another great round, but certain things didn't quite click.
"The front nine, I don't think I took advantage of the holes that were a little shorter as well as I did the last couple days," she said. "But overall, I still played really solid. It was a little windier out there, and I think when you hit little mishits, it just gets emphasized a little bit more, so it doesn't take much from you being like 15 feet to now like 40 feet."
At one point, Maguire took the lead away from Ko for the first time since Thursday. Nevertheless, Ko battled on, and took advantage of her length on the par-5 17th to set herself up for a neat up-and-down to reach 15 under and secure a tie heading into Sunday.
If not for Maguire, the surprise of the day would have been Brooke Henderson, who has been battling an upper back injury that forced her to withdraw last week from the Pelican Women's Championship. She shot a courageous 68 on Thursday, but seemed to be feeling the effects of her physical woes when she shot 74 on Friday. In the third round, though, she lit up Tiburon, shooting 65 to put herself back in the mix at nine under for the tournament. She still has a vague prayer of taking home Player of the Year honors if she can manage to win the tournament, though she'll have a wide gulf to cover if she wants to catch Maguire and Ko.
"It's tough to not come into this week at my full potential, but I've definitely been making it work, which is all I can really ask for," Henderson said. "I feel like maybe the hockey mentality, just trying to be tough. It's the final event of the year, and I just really wanted to finish this year on a strong note. I know that I have a month and a half to rest and recover and do everything I need to be ready for next year, so yeah, just pushing through."
Anna Nordqvist also finished at nine under, and she and Henderson are a shot behind Jeongeun Lee6 and Gemma Dryburgh. Due to the possibility of rain, they will play in threesomes in the final round, with Lee6 joining the final group.
But in reality there are only two players who should be competing for the big prize. Maguire loves a fight, but she'll be going up against one of the game's young legends in Ko, and whatever the result, it's going to be miles better than the runaway that seemed like this tournament's destiny on Friday night.