Road to the LPGA
LPGA developmental tour takes on new title sponsor, Epson, and three big financial changes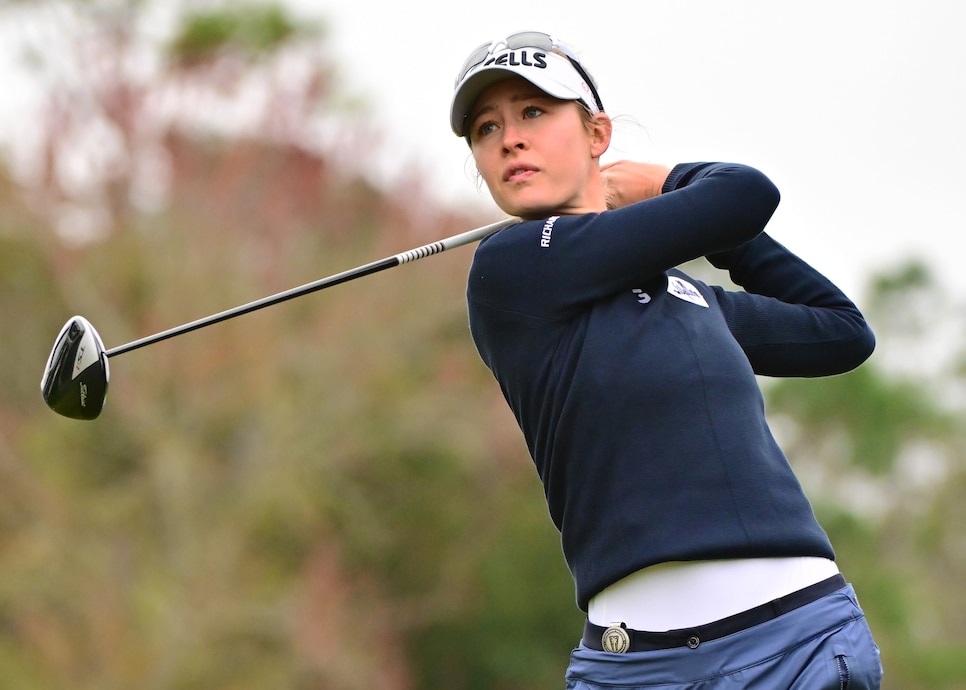 Nelly Korda Epson Tour graduate (Photo by Julio Aguilar/Getty Images)
Julio Aguilar
The LPGA has secured a new title sponsor for its developmental tour, with Epson signing a five-year deal announced on Wednesday. The tour, formerly named the Symetra Tour, is now called the Epson Tour. With the new partnership comes significant changes to the tour, which will immediately benefit players financially.
The tour, which goes by the moniker of the "Road to the LPGA" provides players with a direct track to the big tour: Players who finish the season in the top 10 on the money list get LPGA status for the following year. Notable players have made it to the LPGA this way, including current World No. 1 Nelly Korda.
Under Epson's sponsorship, the Epson Tour Ambassador Program has been created. Each of the 10 graduates will receive $10,000 to help make their transition to the LPGA Tour a little easier financially. And that includes providing 2021 graduates with the bonus.
"We wanted to do something that really had an impact on players," Kendra Jones, Vice President Legal Affairs and General Counsel, Epson America, Inc., told Golf Digest. "Talking to Mike [Nichols, Epson Tour CBO], we came up with some ideas that were really going to do that. We wanted to create programs that had a lasting impact on these players, their development and their future."
Another big change is in purse sizes. Epson has raised the minimum purse size for each tournament to $200,000. The jump is significant; in 2021, 10 of the 20 events on the calendar had purses smaller than $200,000.
Additionally, Epson is subsidizing entry fees to lower the cost by 10 percent for each player. If you play every event, that totals to $1,000 savings over the course of the season. They want entry fees to be even lower, and are working to partner with other companies to help with that, the goal being to ultimately cut entry fees in half: from $500 to $250.
"We were looking for a partnership that aligns with our vision for our company and our values," Keith Kratzberg, Epson President and CEO, told Golf Digest. "When we learned about the opportunity to be the title sponsor for the qualifying tour, that was a great fit. We were looking for something where we could really become a partner and finding that in women's golf is really exciting. We think women's golf is in a great position now and poised for a lot of growth."
This concept of companies looking for partners who share their values is something Nichols says he's seeing more of. When companies say they value diversity, progress, supporting women, the advancement of technology, determination, the pursuit of big goals, he thinks they can find all of those mirrored in the LPGA and its development tour. He's been with the LPGA overseeing the developmental tour for 15 years, and sees a significant shift in 2022. From the USGA's announcement of increasing the purse by adding a presenting sponsor to the U.S. Women's Open to this partnership with Epson, women's golf has seen significant investments in just the first month of 2022.
"There's no question that companies now are starting to live their values," Nichols said. "The LPGA this year has more network coverage than we've ever had before, purses are at an all-time high, we have more partners with greater investments than we've had during my time at the LPGA. There's no question that, as the commissioner [Mollie Marcoux Samaan] says, 'Our time is now' and we definitely have to take advantage of the opportunity and are grateful when companies like Epson want to be a part of what we've built with this tour and what we're building with the LPGA Tour as well."
Though the Epson Tour's schedule won't be released until Feb. 7, they did announce that the first event will be March 4-6, the Florida's Natural Charity Classic at the Country Club of Winter Haven.