News
LPGA Q-Series success stories include Korean medalist, amateur aces and golfers looking for another shot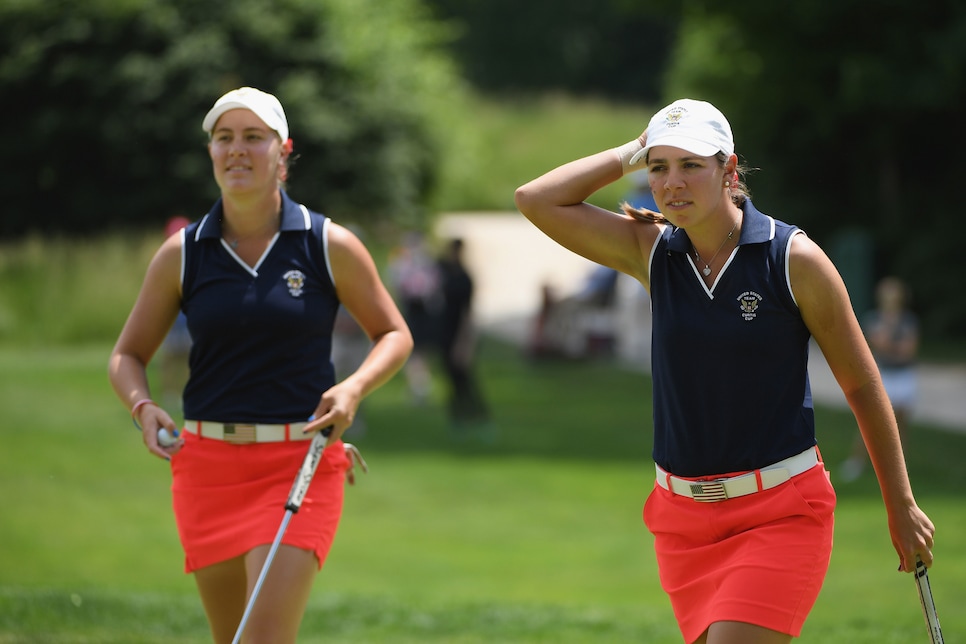 There wasn't just one winner at LPGA Q-Series. There were 48 of them. That's how many players earned tour cards on Saturday in the inaugural edition of the revamped Q school, a grueling 11-day, eight-round affair at Pinehurst (N.C.) Resort.
Officially, the medalist was South Korea's Jeongeun Lee6, already a standout at home with seven KLPGA titles and holding down 19th place on the Rolex Women's World Ranking. A closing two-under 70 on the No. 7 course gave the 22-year-old an 18-under aggregate.
"It was a long 144 holes and it felt like it was never going to end but I finished well," said Lee6, who was flying back home for the KLPGA Final Championship in hopes of wrapping up the season money title as she currently holds the No. 1 spot. (She's earned roughly $853,000 in 14 starts, making the $15,000 for winning Q-Series seem a little small.)
Twenty-two of the 48 Q-Series grads will be rookies on tour in 2019, including eight amateurs: Jennifer Kupcho (runner-up to Lee by one stroke back), Jaclyn Lee (sixth), Lauren Stephenson (T-8), Kristen Gillman (T-13), Lilia Vu (T-27), Maria Fassi (32nd), Suzuka Yamaguchi (T-36), Robyn Choi (T-45).
Seven of the eight are college golfers who have a difficult decision to make: Do they take their memberships immediate, turning pro and leaving school before the start of the spring semester? Or do you defer the membership until after the NCAA Championship, is an option not previously afforded amateurs who had success at Q school?
Three of the seven—Stephenson, Gillman and Vu—have said they'll make their pro debuts early in 2019, leaving college behind (Stephenson and Gillman are teammates at Alabama, leaving the No. 1 ranked squad through the fall semester scrambling to re-stock its lineup (Cheyenne Knight left the program in the summer, and she too advanced through the Q-Series).
Two are deferring: Kupcho, a senior at Wake Forest who will aim to defend her NCAA individual champion, and Fassi, a senior at Arkansas.
"I've been working so hard at Wake," said Kupcho (above left with Gillman at the 2018 Curtis Cup) earlier this fall. "I'm not just going to throw three and a half years of work out."
Lee and Choi are still deciding, trying to figure out how many events they'll be missing on tour if they wait until June and whether that kind of deficit to the rest of the tour will be too much to try to make up for in the summer.
How fair or unfair is the Q-Series set up regarding amateurs/collegian has been a source of debate in recent weeks. Crimson Tide coach Mic Potter is obviously not a fan, given that 40 percent of his starting lineup is now gone.
The top five amateurs on the Golfweek Sagarin Rankings earned automatic sports into the field, and only UCLA sophomore Patty Tavatanakit failed to get a full tour card, speaking to the high standard that the amateurs have been able to attain.
"Just to come with all the college players and have a good showing for all of us, it really shows a lot about the college game," Kupcho said. "It gives an example to the younger players that they can really do it."
While Lee6 is a "veteran" at just 22, the average age of the grads is approximately 25.1, the oldest being 37-year-old Kristy McPherson who made her LPGA debut in 2007 and has made 100 career starts but yet to finish better than T-15.