LPGA Q-Series
Player's ace sums up her phenomenal performance in LPGA Q-Series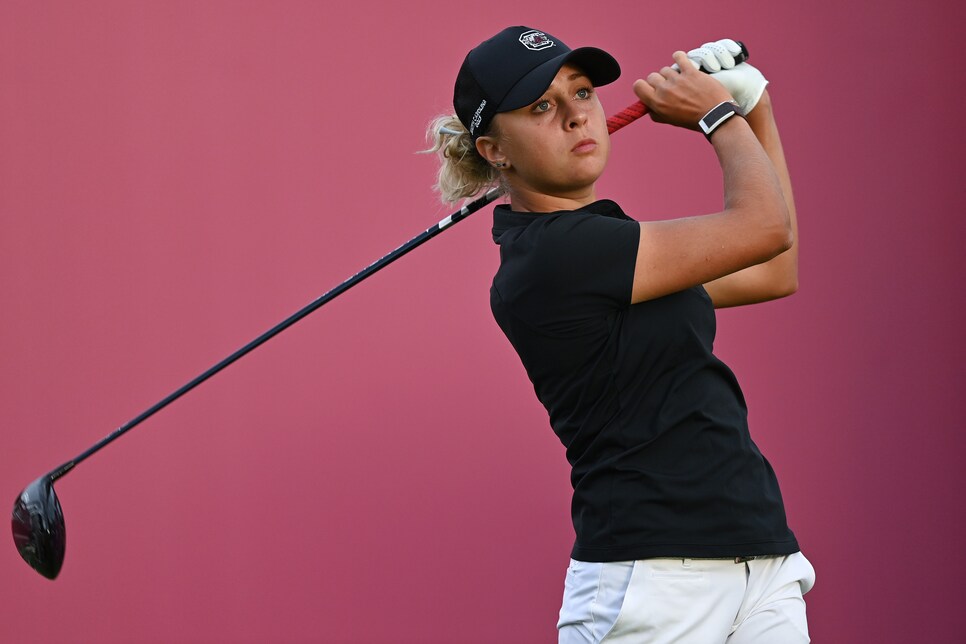 Pauline Roussin-Bouchard basically called her shot. While playing a practice round for the LPGA Q-Series in Dothan, Ala., the 21-year-old from France got into a chat with her caddie, coach and physio about how long it had been since she had a hole-in-one. Ten years, in fact. She would have been in elementary school.
"And I said, 'This is the perfect week to have one,' " Roussin-Bouchard said.
She said she got perfect yardage fpr a pitching wedge on the 13th hole at Highland Oaks on Saturday and hit a perfectly shaped shot that produced perfect backspin. The result was an ace that propelled her to a round of five-under-par 67 in the seventh of eight rounds in this two-week marathon that decides who gets full LPGA playing privileges for the 2022 season.
In a video posted by the LPGA, fans step out onto the course to offer their congratulations to Roussin-Bouchard after her ace, and she's seen signing her ball. She explained later that she signed it, "Pour Francois"—that's her physio, to whom she promised the ball should she make an ace. The hole-in-one was the fifth of her life and the fourth in competition.
There were two aces at 13 on Saturday, with Meghan MacLaren canning the other one with a choked-down 9-iron. It was only the second lifetime ace for MacLaren, a 27-year-old from England whose father is on the bag this week. The hole-in-one was critical for MacLaren, who shot 70 and stands on the cut number for an LPGA card at four under.
The ace for Roussin-Bouchard sums up her stellar play in the tournament. She is 32 under over 126 holes, with Sunday's final round to play, and holds a five-shot lead for medalist honors. She is the only player in the field to have scored all seven rounds in the 60s. The former standout at the University of South Carolina, who rose to No. 1 in the Women's World Amateur Golf Ranking, turned professional in August, and she shot 60 in the second round en route to winning the Skafto Open on the Ladies European Tour.
"I've been working hard for these two weeks for the last couple of years since I've been in the U.S.," Roussin-Bouchard said. "I've been working on every aspect of my game, and even when I feel I'm lacking something, I have other keys to rely on. So even if I'm 70 percent of my game, I can be a hundred percent of that 70 percent. The last seven rounds it was just solid putting, solid approach shots especially and solid driving."
Na Rin An, of Korea, shot two-under 70 and is alone in second at 27 under. Thailand's Atthaya Thitikul, the reigning LET player of the year and rookie of the year, is in third at 23 under after scoring 71.
On Sunday, the drama will play out deeper in the pack, because only the top 45 and ties in the field of 74 will get their LPGA cards. The rest will get full status on the Symetra Tour. The current cut for the top 45 is four under, and among those on that number is Linn Grant, a 22-year-old Swede who was a dominating player at Arizona State and was No. 4 in the WAGR when she turned professional in August.
Notable players outside the bubble are Mariah Stackhouse (two under) and Anne van Dam (two over).