LPGA
LPGA's viral hoodie campaign raises more than $350,000 for charity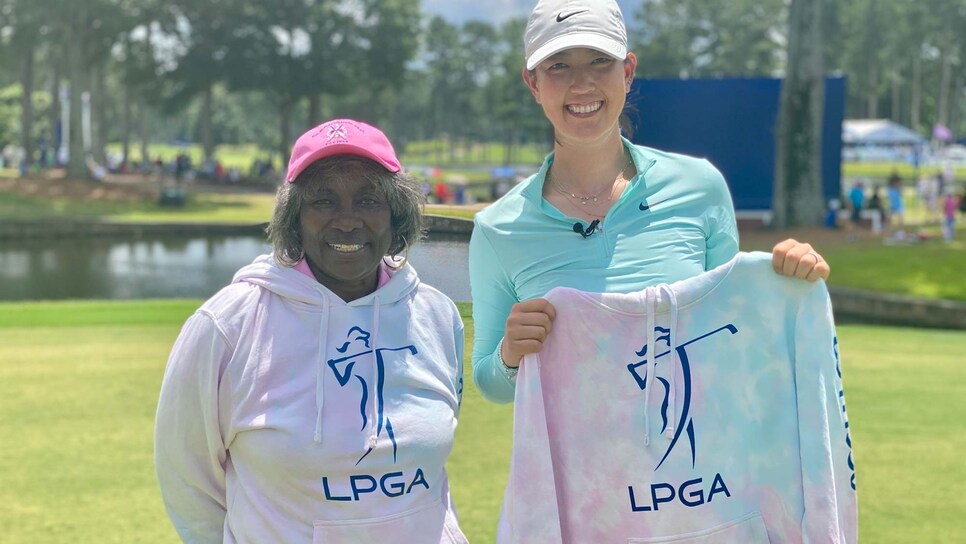 Michelle Wie West and Renee Powell with the viral hoodie. (LPGA)
The LPGA announced Tuesday that it has raised more than $350,000 for charities through its tie-dye hoodie drive.
Inspired by the WNBA's wildly popular orange hoodie campaign that brought attention to the league, former U.S. Women's Open champ Michelle Wie West worked with the LPGA last April to create a cotton-candy pink and magnetic blue sweatshirt with the LPGA's logo in hopes to bring similar notice to the women's professional circuit. On April 14 a picture of Damion Lee and Kent Bazemore of Golden State Warriors—Wie West's husband, Jonnie West, is director of basketball operations for the team—wearing the hoodies went viral, with the sweatshirts selling out within three hours of the LPGA sharing the photo.
More hoodies were produced to keep up with the demand as the tie-dyed ensemble became one of the indelible fashion images of 2021. To date more than 16,000 sweatshirts have been sold.
"I've been amazed by the support for the hoodie and what this campaign represents—for the LPGA and our commitment to increase diversity in golf," Wie West said in statement. "We just wanted to create something that was easy to access and would make a statement. The hoodie is all-inclusive—worn by men and women of all ages, races and backgrounds. We want golf to be an inclusive sport and to increase access for people who haven't had access to the game for a really long time."
The announcement was made to mark the beginning of Black History Month and in conjunction with National Girls and Women in Sports Day, as proceeds from the campaign went to the LPGA Renee Powell Fund and the Clearview Legacy Foundation. Powell, the second Black woman to play on the LPGA, is currently the head golf professional at Ohio's Clearview Golf Club, which is the only U.S. course designed, built and operated by an African American. The Clearview Legacy Foundation's mission is to preserve the club, which was built by Renee's father, Bill Powell.
"I am so proud of what this campaign has been able to do," Powell said. "It created more fans for the LPGA and brought about more awareness of Clearview Golf Club and the Clearview Legacy Foundation. Most importantly, it allowed all of us to open more doors for girls that look like me and give them an opportunity to play this incredible game of golf."
While the campaign was a limited-edition product the remaining inventory is still available on the LPGA's merchandise website.