LPGA
Ochoa, Spork among new members of LPGA Hall of Fame after eligibility changes approved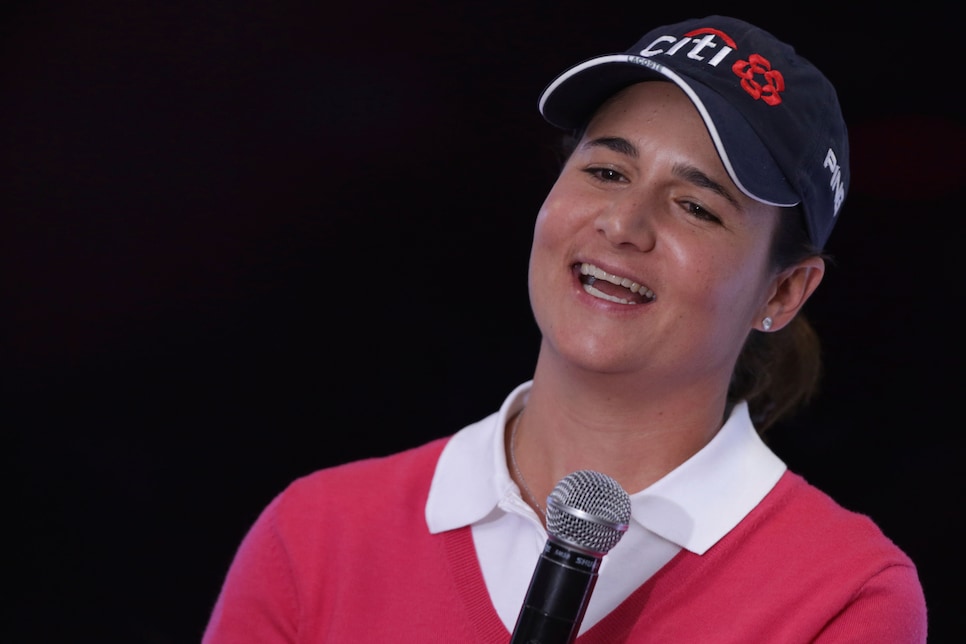 Lorena Ochoa had earned enough points to get into the LPGA Hall of Fame, but hadn't played the minimum 10 years on tour. The LPGA has confirmed that rule is now being lifted.
Miguel Tovar/Getty Images
The LPGA Tour announced on Tuesday that it is removing its 10-year requirement for entry into the LPGA Hall of Fame. The first change to the hall's rules since 1999 opens the door for the induction of 27-time winner Lorena Ochoa more than a decade after the end of her playing career.
In addition, the tour announced that the eight LPGA founders of the original 13 who were not previously in the hall also will be inducted under the honorary category—a move that increased the number of members in the hall from 25 to 34.
Ochoa was told of her honor in a phone call from fellow Hall of Famer Nancy Lopez. "It was very special to receive Nancy's call. She is a person I admire a lot," Ochoa said in a press release. "When the call came in, I was in my backyard. It started as a casual conversation, how is my family, my children. Then she said she has good news to share. My first thought was something related to my foundation. I could not guess. When she told me I was taken aback, and I was very moved, never imagined.
"It's an honor to receive this recognition. It was unexpected and very special to me."
Prior to Tuesday, there were three objective requirements to earn entry into the LPGA Hall of Fame, which is a different entity than the World Golf Hall of Fame. First, earn 27 points as follows: two points for a major championship win, one for a tournament victory, and one for earning either the Vare Trophy for season low-scoring average or Rolex Player of the Year. Second, a player must win at least one major championship or a season-ending award. Third, a player must have 10 years of being an active LPGA member.
Only four players met the requirements since they were announced in 1999: Annika Sorenstam, who was inducted in 2003; Karrie Webb (2005); Se Ri Pak (2007); and Inbee Park (2016). There are four active players with more than 20 Hall of Fame points: Laura Davies (25), Yani Tseng (23), Cristie Kerr (22) and Lydia Ko (21).
Ochoa's entry was held back because she only played seven years before retiring from full-time play in 2010 at the age of 28. Nevertheless, the former World No. 1 dominated the tour, winning two majors (2007 Women's British Open, 2008, Kraft Nabisco Championship) and was a four-time Vare Trophy and Player of the Year winner. She earned 37 Hall of Fame points over her storied career and was inducted into the World Golf Hall of Fame in 2017.
"The Hall of Fame Committee wanted to understand why the 10-year rule was originally instituted, so we talked to the other Hall of Famers about the reasoning," said Beth Daniel, an LPGA Hall of Famer and member of the LPGA Hall of Fame Committee, in a press release. "I spoke to Carol Mann right before she passed away. Carol was president of the LPGA when the rule was set up and said it was because they needed players at that time to keep playing to keep the spotlight on the tour. I think we have seen that the tour is strong enough now that we don't need that requirement, so the committee decided to do away with it. If you make the Hall of Fame in less than 10 years, more power to you. We shouldn't keep you out of the Hall of Fame for that reason."
"There's no question that [Ochoas] worthy of being in the Hall of Fame," LPGA Tour player Maria Fassi said of her fellow Mexican native, "and it makes me extremely proud and happy to know that all her work and dedication is paid off. Because I know this is something that was probably on her list of things that she wanted to accomplish. It's also very inspiring, humbling for all of us Mexicans to know that we have one of our own in there."
A second avenue into the LPGA Hall of Fame had been through the veterans committee. The LPGA's website explained that each year, the committee could nominate one player who meets these criteria: active player for 10 years, followed by five years of inactivity; one major win or season-ending award; possessing an extraordinary career that significantly impacted the growth of the LPGA. Three players earned entry through the veterans committee: Judy Rankin (2000), Donna Caponi (2001) and Marlene Hagge (2002).
Interestingly, the LPGA announced on Tuesday that the veterans category has been dissolved. Instead, the Hall of Fame committee used a third category, honorary membership, previously only applied to induct Dinah Shore in 1994, to allow the remaining eight founders not in the hall to gain their place among their peers. Alice Bauer, Bettye Danoff, Helen Dettwieler, Helen Hicks, Opal Hill, Marilynn Smith, Sally Sessions and Shirley Spork now join Patty Berg, Betty Jameson, Louise Suggs, Babe Zaharias and Hagge.
At 94, Spork is the only surviving founder not yet in the hall. She is still visible in the tour, including dancing on the first tee at Solheim Cups, and resides in Palm Springs, Calif.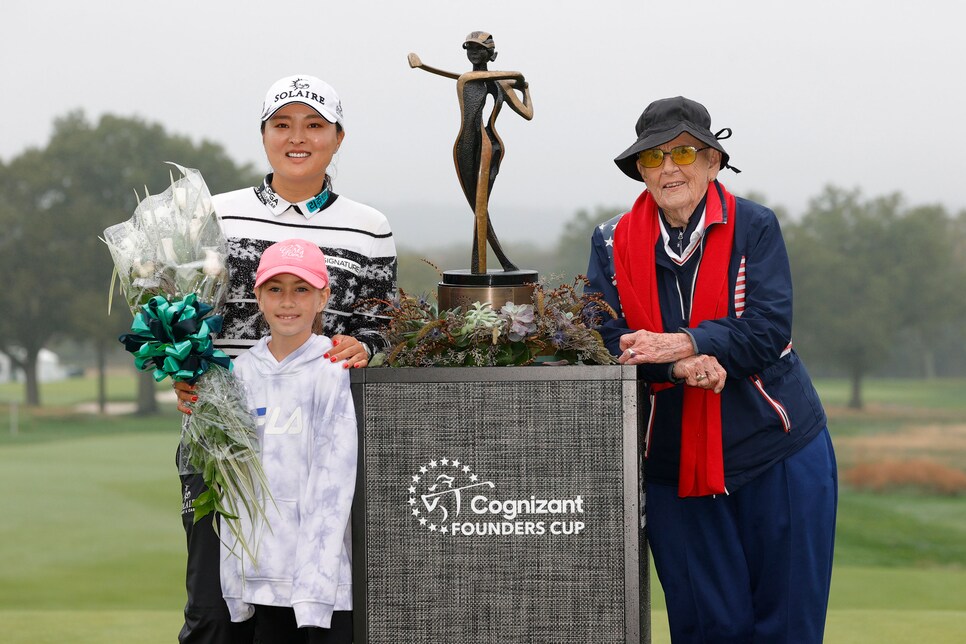 Shirley Spork (right) poses with winner Jin Young Ko and LPGA-USGA Girls Golf member Sofia Riccobono after the final round of the 2021 Cognizant Founders Cup last October. Spork is the only suriving LPGA Founder not in the LPGA Hall of Fame.
Sarah Stier
"Getting into the LPGA Hall of Fame is the highest honor ever in our profession, so I've climbed the whole ladder and gotten to the top," said Spork on the induction. "I hope I can sit up on that ladder for a few more years and enjoy it."
"It is about expletive time," 20-year LPGA veteran Christina Kim said. "I think it's: one, the right thing to do; two, I am very, very, very … beyond thrilled to know that Lorena, along with the remaining founders, are going to be entered into the LPGA Hall of Fame, because, aside from what the qualifications are from points, there's so much more that goes into it in the impact you leave on the golf world."
The last time the tour updated the Hall of Fame rules, it went from an even more stringent requirement to the 27-point system. The old requirements meant accomplishing one of three things to enter: 40 victories and no majors, 35 victories and one major, or 30 victories and two majors. The '99 update allowed Amy Alcott and Beth Daniel to become immediately eligible, while it also lowered the win threshold and expanded points opportunities with the inclusion of the awards.
The LPGA announced on Tuesday that winning an Olympic gold medal will also be worth a Hall of Fame point. This will apply retroactively to Inbee Park for her Olympic win in 2016, and to Nelly Korda for her victory last summer in Tokyo. Park already is in the Hall of Fame; Korda now has nine points in her five years on tour.