The Loop
Love him or hate him, Grayson Allen is the most important player in college basketball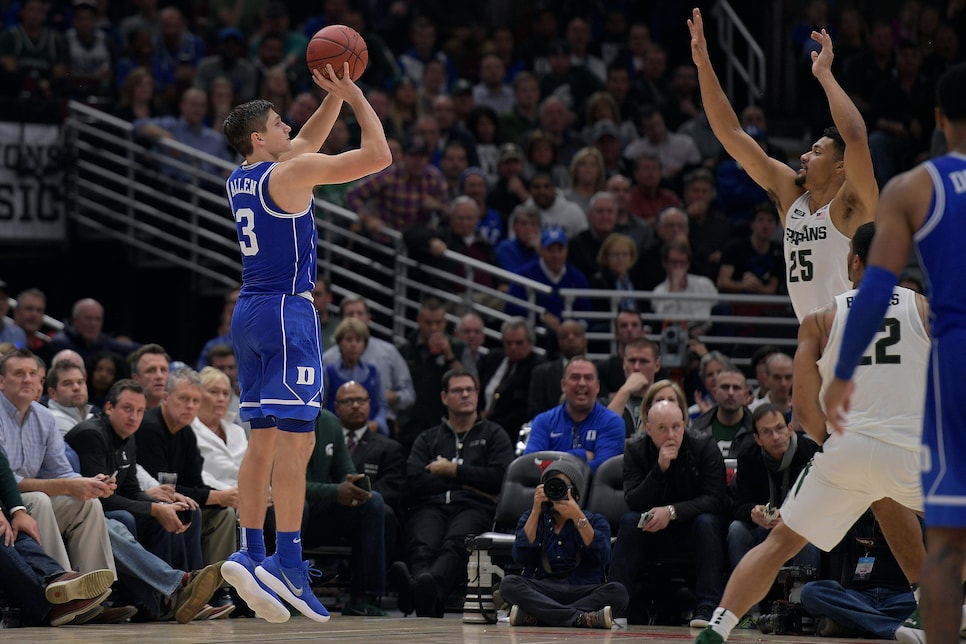 On Tuesday night, while you were all diving deep into some #MACtion, the college basketball season got underway. Sure, it actually started last Friday (it did?), but Tuesday was the sport's first marquee night, featuring matchups between Duke and Michigan State and Kansas and Kentucky in the State Farms Champions Classic.
Normally, these early season events get lost in the late-season madness of college and NFL football. People can only handle so many sports at once, and even with the scheduling of these huge games between highly-ranked opponents, nobody really cares about college hoops before Thanksgiving, or before January for that matter. Tuesday night was a little bit different for one reason: Grayson Allen. The white, baby-faced, tripping aficionado and fourth-year Duke senior that everybody loves to hate.
Like every other year, Duke is once again highly-ranked, and much of the pre-season hype has surrounded another one of the Blue Devils highly-touted freshmen, that being forward Marvin Bagley III. Yet on Tuesday night at the United Center in Chicago, it was Allen who dominated the Spartans to the tune of 37 points, including seven three-pointers, none more gutting for Michigan State than this dagger late in the second half:
It was a vintage Allen performance, and one that had all eyes on college basketball in mid-November, further proof of the fact that whether you love him or hate him, Grayson Allen is the most important player in college basketball. Aside from the fact he plays at Duke, a school literally everyone hates except the people who go there, here are five reasons why.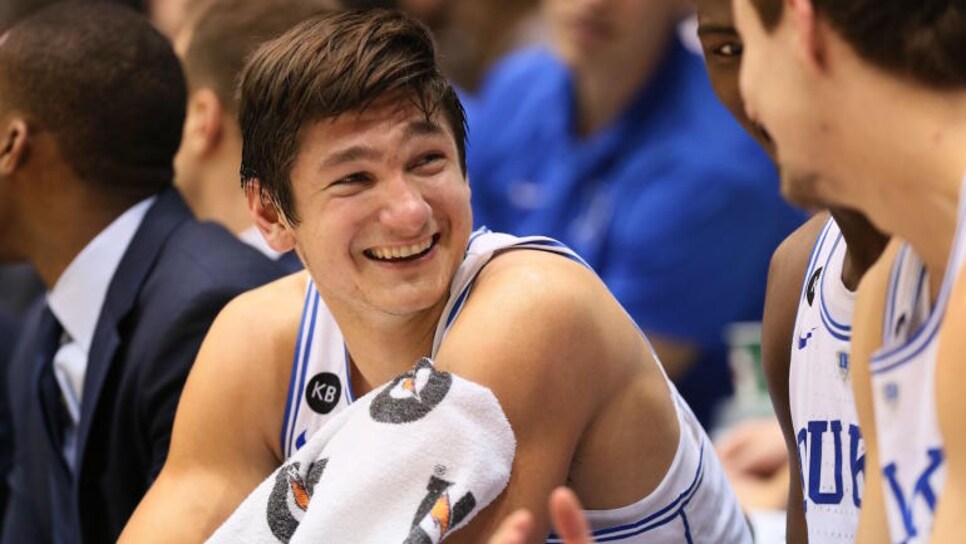 Nobody stays all four years anymore, but the guys that do are always the most-compelling to watch. They afford opposing fans the opportunity to build a true hatred over a four-year period, and become legends at their respective schools. Think Patrick Ewing at Georgetown, Tyler Hansbrough at North Carolina, Draymond Green at Michigan State, J.J. Redick at Duke, Christian Laettner at Duke, Bobby Hurley at Duke and FOR GOD SAKE WHY DO THEY ALWAYS STAY AT DUKE.
But seriously, which college basketball career are you going to remember for years to come? Kyrie Irving's at Duke, Ben Simmons' at LSU, or Grayson Allen's?
He's matured...and that makes him elite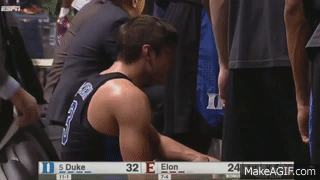 Alright, we're only three games in, but so far Allen has yet to kick/trip anyone, throw a tantrum or cause controversy of any kind. One would have to imagine he's cleaned up his act, and his proven it so far on the court, averaging 25.7 points per game and 32.7 minutes. If he's able to just focus on basketball, not only will he be the most important player in the sport, but he's got a chance to be the best player as well.
The possible trip slip-up is still there
In case he hasn't matured, there's a strong possibility he stirs the pot at some point once again. If there are any basketball gods out there they'll make sure it happens when Duke plays North Carolina in early February in Chapel Hill.
The inevitable early-round upset in the NCAA tourney will be great TV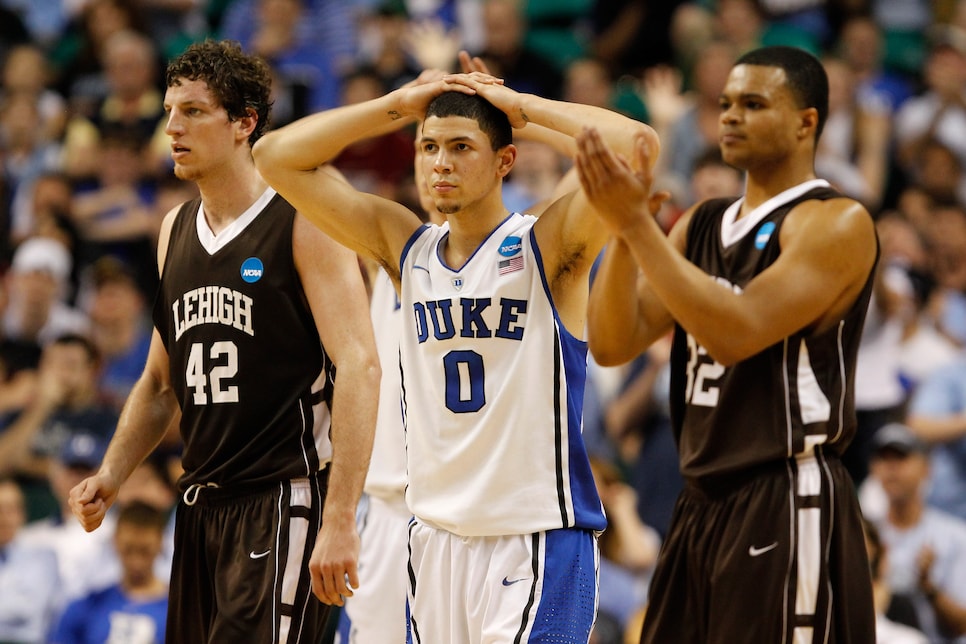 Yeah, yeah, yeah, we know they won the National Championship in 2010 and 2015, and how hard it is to get back year after year, but there is just something special about Duke's proclivity for being bounced in an early round of the NCAA Tournament. Whether it be at the hands of Mercer, Lehigh or VCU, each March Madness upset of the Blue Devils holds a special place in a Duke-hater's heart. It would be the ultimate reward for Allen's critics to watch his career end in tears after a crushing first or second-round loss in this year's tournament. After last season's 88-81 second-round loss to South Carolina, a game Allen went 5-for-13 in, the pressure will be on.
Bears repeating. Would you really hate him that much if he played at say Ohio State or Ole Miss? Ok, maybe, but it still wouldn't be Duke-level hate.