News
Why do the PGA of America and USGA lock in courses for their biggest events so far in advance?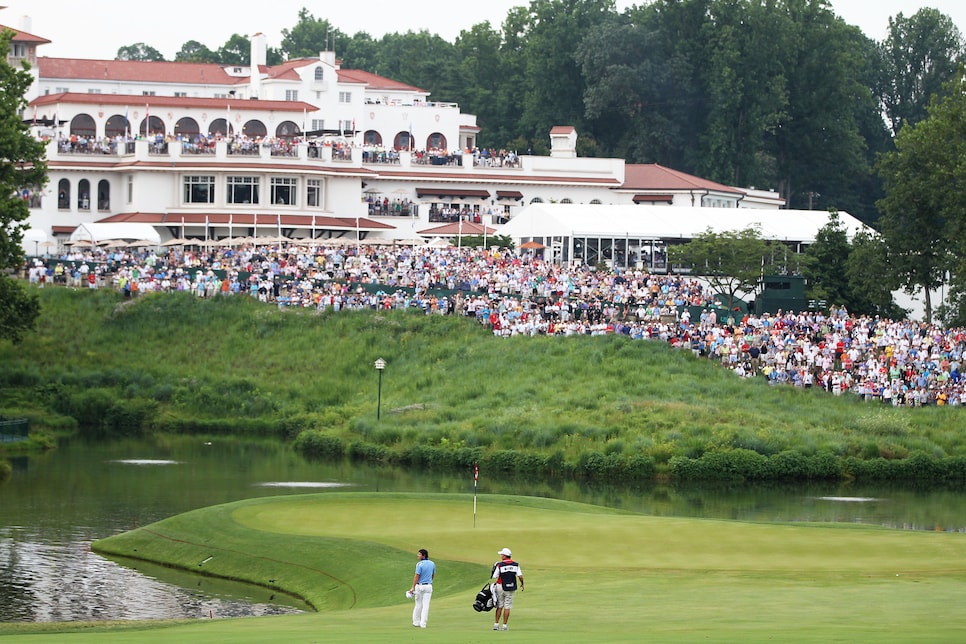 Where will you be in 2036? Some might consider consulting an actuarial life table before wagering a guess. Or maybe not. "The actuarial table says we'll be dead," former USGA Executive Director David Fay said kiddingly. We think.
What we do know is that in 2036 Tiger Woods will turn 61 at the end of the year, his son Charlie will be 27, and, God willing, Jack Nicklaus will be 96 and Gary Player will celebrate his 100th birthday by doing 1,000 sit-ups.

So why does the PGA of America and, to a lesser extent, the USGA lock in sites for its major events so far in advance?

"If we have a facility that wants to host multiple championships and if we feel this makes good sense for our championships then we will secure contracts to ensure this can happen," said Kerry Haigh, Chief Championships Officer of the PGA of America, speaking about the logisitics of picking major venues prior to the outbreak of the coronairus pandemic. "Congressional, for example, has committed to numerous [PGA of America] championship."

Indeed, Congressional C.C. also has secured the 2031 PGA Championship, as well as the KPMG Women's PGA Championship in 2022, the KitchenAid Senior PGA Championship in 2025 and 2033, the PGA Professional Championship in 2029, and even the Junior PGA Championship, boys and girls, in 2024.

Another is the Olympic Club in Daly City, Calif., which has hosted five U.S. Opens. It had been negotiating with the USGA to host a sixth U.S. Open, in 2027, but was unable to reach an agreement. So the PGA of America stepped up and the Olympic Club will host the PGA Championship in 2028 and the Ryder Cup in 2032, the latter the first time the event will be held on the West Coast since 1959.

Haigh, meanwhile, dismissed the notion, notwithstanding the Olympic Club example, that the PGA of America and USGA are sometimes competing for the same venues, hence a decision to lock such venues in as early as possible.

"In most instances," he said, "it is up to a club to determine which championships and which organizations they would like to work with and host."

John Bodenhamer, Senior Managing Director, Championships for the USGA, concurs. "I certainly don't view it as any sort of competition," he said. "We've been very blessed to have longstanding relationships with places like Pebble Beach, Oakmont, Shinnecock Hills and Pinehurst, and we sprinkle in a new one every now and then. We're very respectful of one another."

The USGA and PGA of America, in fact, each has Hazeltine National Golf Club on their schedules. The 2024 U.S. Amateur will be played there, as will the 2028 Ryder Cup.

"Our thinking has changed over the last decade or so," said Bodenhamer, who also discussed the logistics of locking in host courses prior to the COVID-19 outbreak. "We're committed to our perspective of going to our nation's finest venues. When you endeavor to do that, being as far out as reasonable and allow for thoughtful preparation is really why we do it.

"We have a special relationship with places like Pebble Beach, Shinnecock Hills, Oakmont and Pinehurst. They want us back, and making that commitment allows for clubs to really have the time to prepare and allows us the time to prepare.

"We'll have two or three staff members on site full time at least two years out that are really working intentionally to put roots down in the community, to build relationships with municipalities, police, fire, marketing and communications."

The long lead time also benefits clubs interested in making improvements that might include renovating the golf course or redoing their clubhouse, "things they want to do on their own, to do them thoughtfully," Bodenhamer said.

The USGA also will lock in multiple championships at the behest of the clubs involved. In 1979, the association made a decision to hold the 1980 U.S. Senior Open at Winged Foot, but the club wanted another U.S. Open as well. The USGA agreed to take the U.S. Open there in 1984.

"There was a time, a feeling that you didn't want to go out too far in advance," Fay said, "because the hopes were that the board, the USGA Executive Committee, would be making a decision on courses where a good number of them would be around to see their handiwork.

"Is it necessary to lock them in? I defer to those running the show now. When the Executive Committee votes on a championship site, we hope there will be at least a few of them still on the committee when they have the Open."