Courses
Long Drives: Jayvee German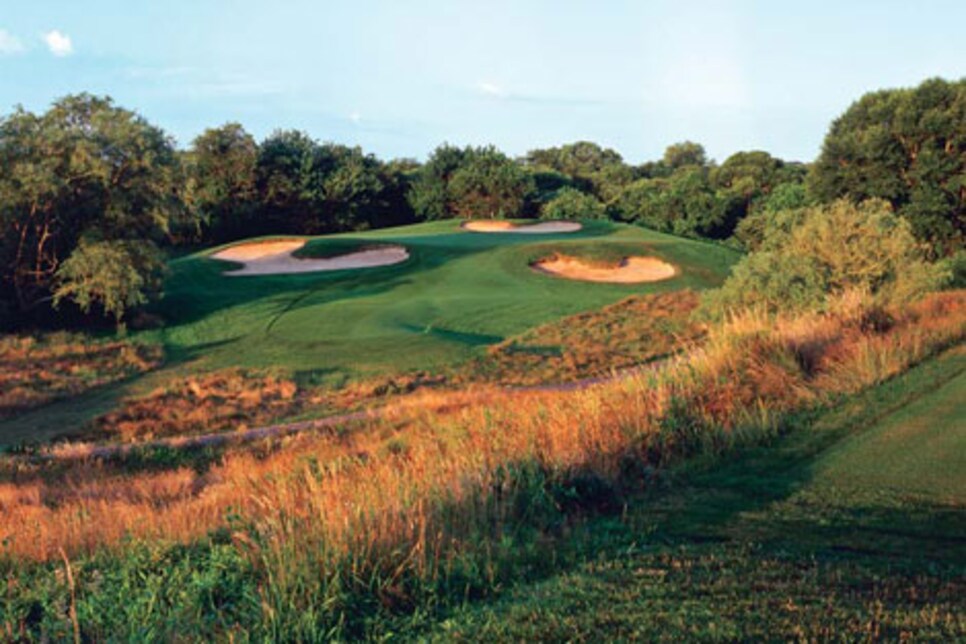 Montauk Downs Golf Course's 12th hole, a 220-yard par-3, rejects shots like a 7-foot NBA center.
Start at the western end of Long Island, across the East River from Manhattan, and it's hard to imagine a place less suited for golf. Paved over and crisscrossed with clogged expressways and elevated train tracks, it's more an extension of the boroughs of Queens and Brooklyn than anything else.
But fight through the nonsensical traffic (bumper to bumper at 11 p.m. on a Saturday? Really?) around JFK airport at the edge of Queens and the scene starts to shift, to open space and even dunescape. By the time you get to the Hamptons, 100 miles east of the city, the tract houses have thinned out, and you're surrounded by luxury -- $10 million estates and exclusive, old-money clubs like Shinnecock
It's the perfect place for golf, and the perfect place to see if two members of the more proletarian set -- Volkswagen's felicitously named CC sedan and the public-access Montauk Downs State Park Golf Course
-- can fit in with the flashier crowd. I took a CC from the Golf Digest offices in Connecticut down through Queens and out to the eastern end of Long Island for a late-fall golf weekend to test that theory.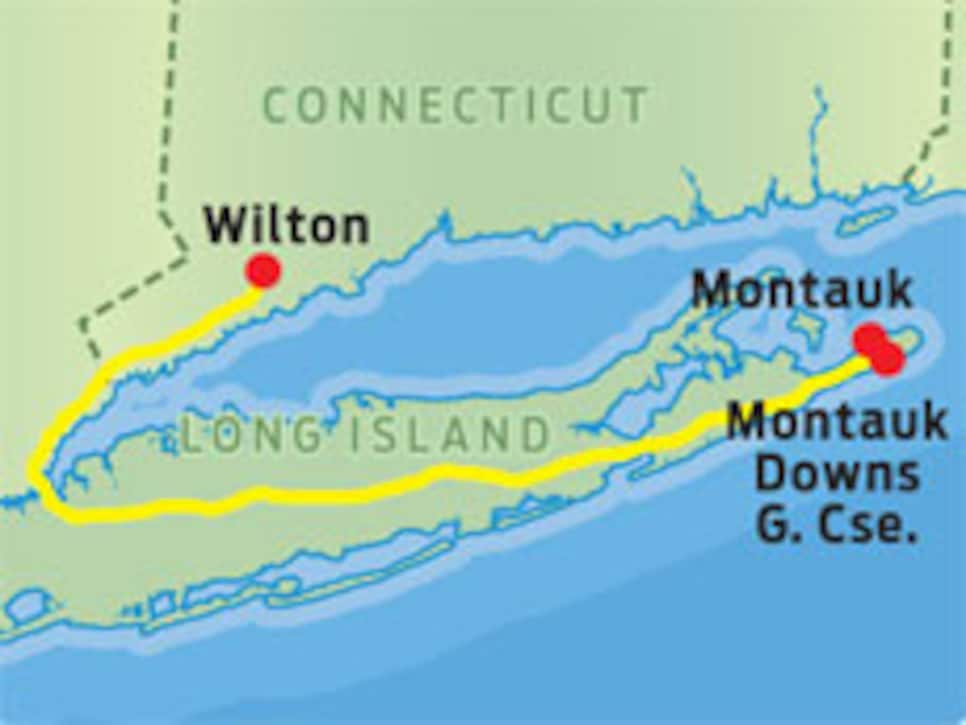 Volkswagen has had an uncertain relationship with the luxury car market. The short-lived Phaeton was a fantastic car, but consumers evidently didn't fire for buying and servicing a $100,000 super-sedan at the same place as $14,000 econoboxes. Still, VW wanted to find a way to keep customers from "graduating" out of its Jettas and Passats into the higher-end sedans produced by corporate sibling Audi.
Enter the CC -- a car Volkswagen refers to as a "four-door coupe," whatever that means. Built on the same platform as the midsize Passat, the CC has a racier, low-slung shape and a fatter list of standard features, like leather seats and the terrific Audi-sourced DSG six-speed automatic transmission. (Golfers will also appreciate that four carry bags with drivers fit in the trunk.) Priced between $33,000 for a four-cylinder, 200-horsepower Luxury edition and $41,000 for a six-cylinder, 280-horsepower all-wheel drive VR6 model, the CC aims to be a nicer, German-engineered alternative to a Toyota Camry or a cheaper, almost-as-fancy alternative to an Audi A4.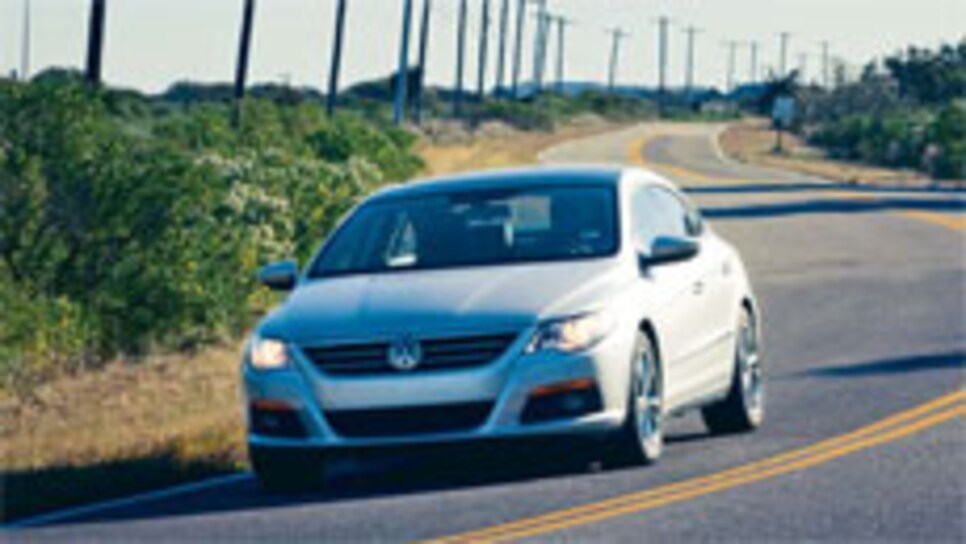 Whether it succeeds depends on how important the badge on the front is to you. For some, advertising that they paid too much is the point. Of course, those folks will never even test drive a (sniff) VW, and that's a shame, because the CC is an attractive car. Cribbed from the same design book as the dramatic Mercedes CLS sedan, the four-cylinder VW has a silent drivetrain and a first-rate interior. Some VW goofiness remains -- the otherwise elegant dash is marred by an idiot light telling you the daytime running lamps are (always) on -- but the CC strikes the right combination of look, value and fuel economy. I averaged 29 miles per gallon.
Montauk Downs operates in the same kind of brain space as the CC. Much of the mystique of a place like Shinnecock is the degree of difficulty getting inside. The Downs is 40 minutes away, but it might as well be on a different planet. Shinnecock's waiting list for membership is longer than the one for Green Bay Packers season tickets. Montauk Downs charges $46 for New York residents, and $92 for out-of-staters. Rees Jones polished another New York State Parks course, Bethpage Black
, before the 2002 and 2009 U.S. Opens, and in 2003 he put together a reconditioning plan for The Downs. The result is a 6,976-yard test of local knowledge and patience.
Sitting on high ground pinched on four sides by lakes, the Long Island Sound and the Atlantic, The Downs is about handling prevailing wind. I played with a friend, who growing up spent his summers in Montauk, and he warned me off the back tees. After playing the 372-yard first hole straight uphill and into a 30-mile-per-hour wind with driver, 6-iron, 7-iron, I believed. Blasting around in four hours, I finished with a downwind birdie, windblown and ready for some ChapStick. And with enough cash left for a beer and chowder at the Clam Bar on Montauk Highway.
The Trip Wilton, Conn. to Montauk, N.Y. via the Long Island Expressway and Old Montauk Highway: 150 miles.
The Car Volkswagen's midsize four-door CC. Base V4 models start at $27,500. The luxury trim model was tested included leather, navigation, Sirius satellite radio and an iPod interface for $33,829.
__ The Course __ Montauk Downs State Park Golf Course is 120 miles east of Manhattan, at the tip of Long Island. Designed in the 1920s with help from C.B. McDonald and recently refreshed by Rees Jones, The Downs makes you fight for every shot in the howling wind.