Courses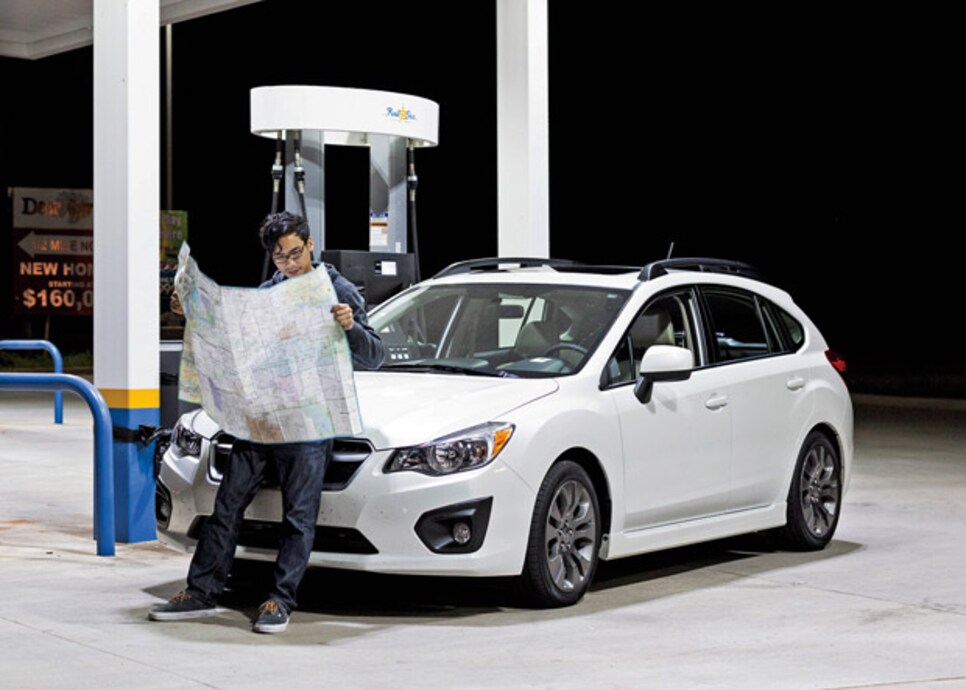 The Impreza averaged 30 miles per gallon on our Oklahoma trip.
After six carless years in New York City and Philadelphia (and a blown motor experience with a used land yacht right after moving to Connecticut), I made an electric-blue Subaru Outback Sport hatchback my first new-car purchase in 2000. It was a fun, reliable little car, and that ownership experience mushroomed into a trade-in for Subaru's turbocharged, rally-inspired Impreza WRX sedan the next year, in murdered-out black.
I did grow out of my boy racer phase--at least superficially--and graduated to a series of more sedate European sedans and full-size American SUVs. But the Subaru soft spot is still there, and so I was looking forward to borrowing a 2012 Impreza Sport Limited for a four-day golf trip in the flatlands between Oklahoma City and Tulsa.
Subaru has grown from the funky, niche-market all-wheel drive manufacturer it was in 2000. The line has expanded to include midsize crossovers, large family trucksters and even an honest-to-goodness rear-wheel-drive BRZ sports car built in conjunction with Toyota. But the compact Impreza hatchbacks and sedans are still the everyday workhorses, ranging from the 2.0i college car (sub-$18,000) to the loaded Sport Limited loaner I drove, with heated leather seats, touchscreen navigation and a sunroof, topping out at $25,645.
Bucking an intoxicating automotive trend, Subaru actually reduced the power generated by its standard four-cylinder Boxer motor in its previous 2.0-liter iteration, from 170 to 148 horsepower, and hooked it up to a continuously variable automatic transmission. The result is more than 30 miles per gallon in mixed driving--and slightly more time spent trying to merge onto I-44 to get to Tulsa.
For this reason, this new Impreza Sport Limited wasn't nearly as fun to drive as my 265-horsepower WRX--or even my old Outback--but it was a much nicer place to sit, thanks to the manifold-interior improvements. The doors and switchgear have a more substantial feel than others in this price category, and the quality of the seat and trim leather befit a car that costs $10,000 more. Our titanium-white test car was in the useful five-door hatchback configuration, which provides a taller trunk space and more headroom in the rear seats. The only clunker is the navigation head unit, which looks like it's a full generation behind, and sputtered out directions in wonky, stuttery increments. Halfway through the trip, we quit using it and went to iPhone backup when necessary.
Which, in dead-flat Oklahoma City, wasn't that often. OKC is set up on a sensible, organized grid, and most times you can get where you need to go by dead reckoning. It's also in the middle of empty prairie, and you can see where you're going on the horizon. Go north and east, and you pretty much hit Wichita and Tulsa. South, you're in Norman for a football game at the University of Oklahoma and then two hours from metro Dallas. West? Well, there's Albuquerque, eight hours down I-40, and a lot of dirt and cattle to pass along the way.
All this open flatness would seem to preclude some interesting golf-course design. But Oklahoma has a festival of great private clubs, like Southern Hills and Oak Tree National, in the pockets of old-growth forest in the 100-mile stretch between Oklahoma City and Tulsa. The best public courses around take advantage of the trees and the wrinkles that constitute rolling topography for Oklahoma, and have the benefit of Midwestern affordability. We played Forest Ridge Golf Club in Broken Arrow and the University of Oklahoma's Jimmie Austin Golf Club for less than $110. The notable exception is the breathtaking Karsten Creek at Oklahoma State University in Stillwater, which charges a crazypants $300 green fee--which might as well be $10,000 in a place where you can rent a three-bedroom house for $750 a month.
Forest Ridge hit the ideal value versus price nexus at $60 for our midweek tee time, which included a cart with GPS and unlimited range balls. The Randy Heckenkemper design opened in 1989 and has been a regular on statewide "best of" lists since. The image accompanying most of those stories is from the picturesque par-3 15th, with its wood-walled isthmus green, but our favorite was the 400-yard sixth hole, with a blind dogleg right. Challenge the edge of the bend and the deep bunkers, and you have a flip wedge in. Play it safe and left, and you have a longer shot and an interesting run-up or carry over a false front to the green's main tier.
Don't mis-club on Forest Ridge's short but daunting par-3 15th.
Photo Courtesy of Forest Ridge
As you might expect from a place built around hundreds of acres of stockyards, Oklahoma City has hosts of high-end steakhouses, from touristy ones like Mickey Mantle's in Bricktown to Dallas-meets-OKC places like Ranch Steakhouse, where the $50 bone-in rib-eye would drive a vegetarian to angioplasty just for sitting next to somebody who ordered it. It's the real reason Oklahoma is called a red state.
But our favorite meal came 40 miles northwest of town, in whistlestop Okarche. Eischen's Bar bills itself as the oldest in Oklahoma, and the "faded cowboy" decor backs up the claim. The real draw is the fried chicken, which comes on a paper plate with a side of white bread and homemade pickles. Order it with a starter of fried okra--or, if you're on a diet, some chili Frito pie--and wash it down with a can of Miller High Life, all for less than $20.
It's as All-American as you can get, leaving aside for a moment the Japanese compact sedan parked in the lot next to all the lifted Ford and Chevy farm trucks.