Courses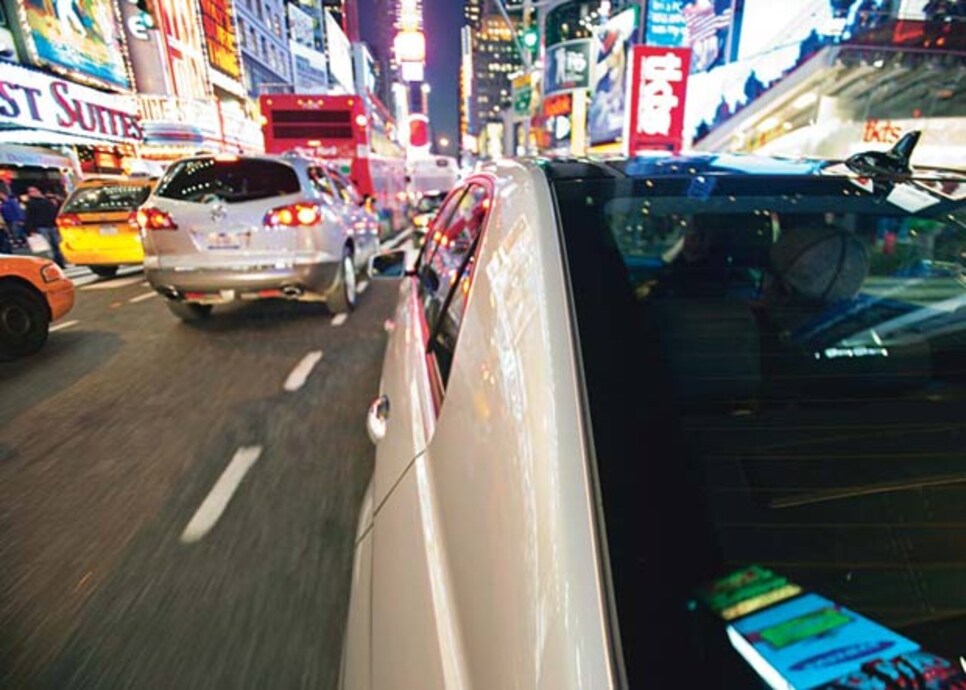 Negotiating the traffic in Manhattan's Times Square.
A lot of kids in my neighborhood learned to compete by playing T-ball or floor hockey. For me, it was moving my car token around the Monopoly board. My dad took remarkable glee in separating me from my imaginary properties and pretend cash. Knocking him out of the game was way better than getting a game-winning hit in T-ball -- and almost as rare.
So it was with a bit of nostalgia that I glided off the Atlantic City Expressway onto Atlantic Avenue -- one of the yellows, with Marvin Gardens and Ventnor -- in a silver Mercedes E350 sedan. Sure, it wasn't mine, but it beat getting $200 in funny money for passing Go with my tin race car.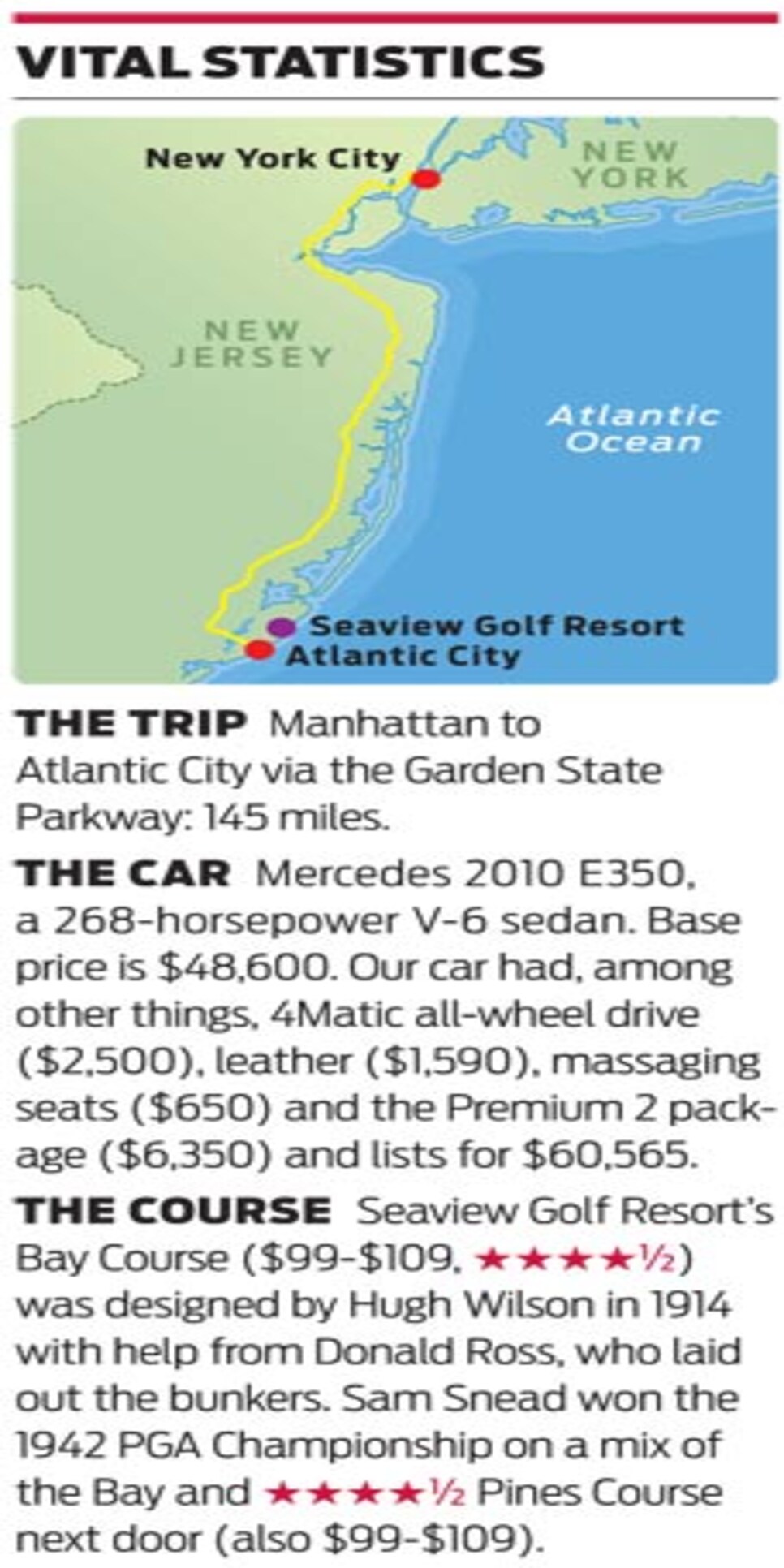 Atlantic City might have peaked in the Roaring '20s, when it inspired the famous Parker Brothers board game, but the faded resort town still has loads of gritty charm, fantastic food and historic public golf. And it's a three-hour drive -- and a world away -- from Manhattan on even a nasty traffic day.
Seaview Golf Resort sits just outside Atlantic City proper, on a pastoral web of ocean inlets and marshes. Hugh Wilson laid out the original Bay Course
in 1914 (Donald Ross designed the bunkers) as a wind-swept, links-style private club, and the boardwalk hotels and casinos slowly filled the skyline across Reeds Bay. The William Flynn-Howard C. Toomey Pines Course
was added after World War I, and a combination of holes from the two courses was used for the 1942 PGA Championship, won by Sam Snead.
In more recent times, the property transitioned from private club to resort, and the LPGA Tour has played the ShopRite Classic on the Bay Course on and off for 21 years. It's back for 2010 (June 18-20), and the course is ready. A seven-figure resort-wide upgrade in 2006 brought things into the 21st century, but Wilson's gem is still a blast from the past. It's 6,247 yards stretched to the tips, but the wind and the penalty for missing makes even middle-iron approaches dangerous. Although the Pines doesn't get the attention of its seaside sister, it should. Longer, narrower and tougher, it has ball-stealing primary rough and is often in better shape than the salt-whipped Bay.
Dolce Hotels took over the Seaview Resort last year, but the rooms are still Marriott-like and cost $110 or so. For a more luxurious experience, go downtown to the Borgata -- the only Atlantic City property that matches Las Vegas' best, amenity for amenity. Standard rooms range from $99 to $409, and you'll be just down the hall from a world-class poker room and a steakhouse run by Food Network impresario Bobby Flay.
Much as the visitors bureau would love for you to avoid A.C.'s seedy downtown, disobey those orders for at least one meal. The White House Sub Shop has been dealing out cheesesteaks, meatball heroes and its signature Special -- ham, capicola, mortadella, prosciutto, salami and provolone, with onions, tomatoes and relish folded into the center of a fresh, two-foot-long roll -- from a garish storefront diner since 1946. At lunchtime, you'll have to wait in a line out the door onto grubby Arctic Avenue, but the locals queued up with you are a sign it's worth your time.
Once you've gone 36 holes and gorged yourself on a pound and a half of cured meat, you're in the best position to appreciate the merits of the redesigned E350. The interior looks -- and smells -- like money. Everybody does leather upholstery and wood trim, but the E350 makes you feel as if you're sitting in a boardroom at the Harvard Club. The 4Matic all-wheel drive and navigation systems are first-rate, but the massaging driver seat is the best trick. Mechanical elbows work up and down your spine in little spirals, making the silent ride down the Garden State Parkway between two semis as blissful as it could be. Now if Mercedes would just take $60,000 in Monopoly money.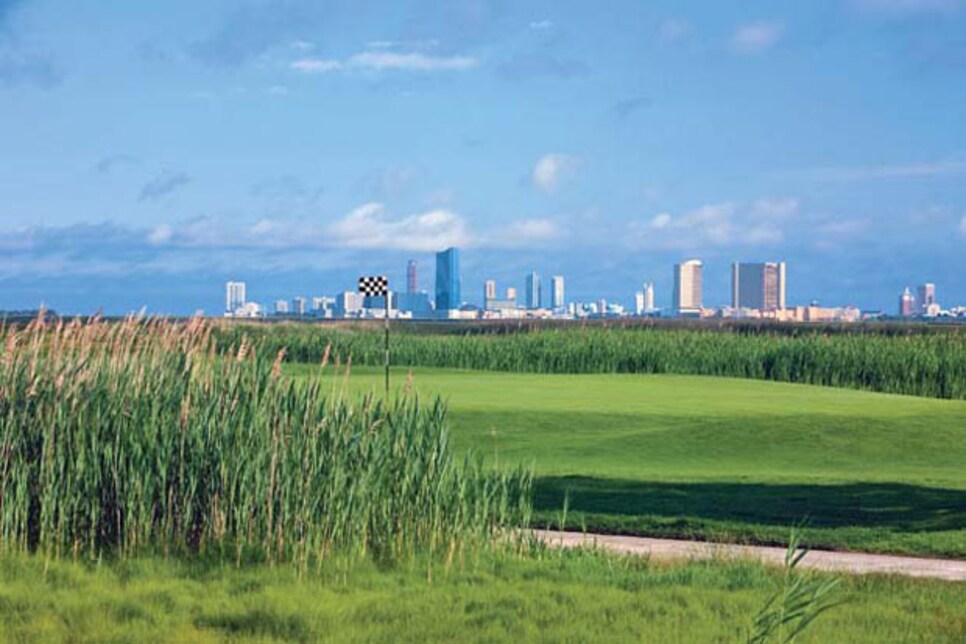 Short is your only miss on the second hole at Seaview's Bay Course. Steep-grass faces protect the dozens of greenside bunkers around the layout.