Courses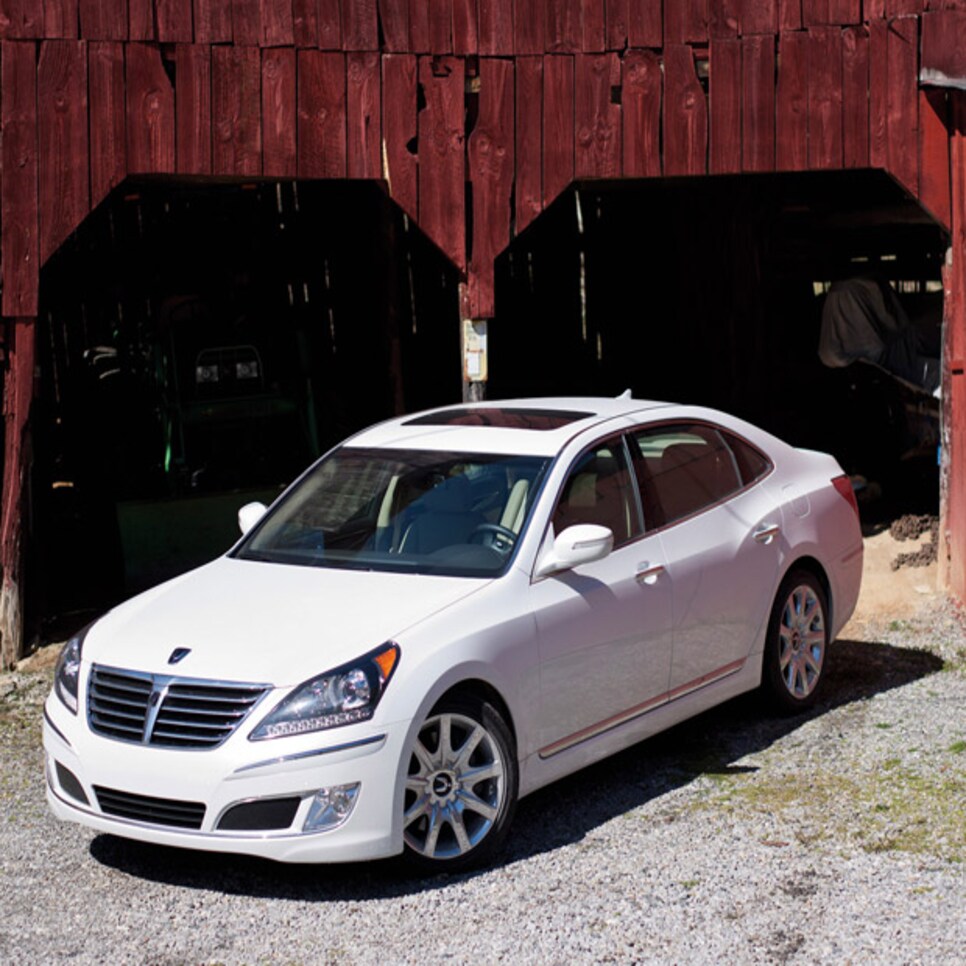 The Equus pitches Lexus luxury at a Cadillac price.
I'm a sucker for a good story.
Derelict 40-year-old A-body with a small motor and a rotted-out fuel tank? Eh. But call the same car classic muscle built 50 miles from my house, four months before I was born, and lovingly--if partially--restored by a committed amateur mechanic?
Who do I make this check out to?
So I was ready to like the Grove Park Inn in Asheville, N.C., and the Hyundai Equus full-size luxury sedan I borrowed to take from Nashville to Asheville for a weekend golf trip.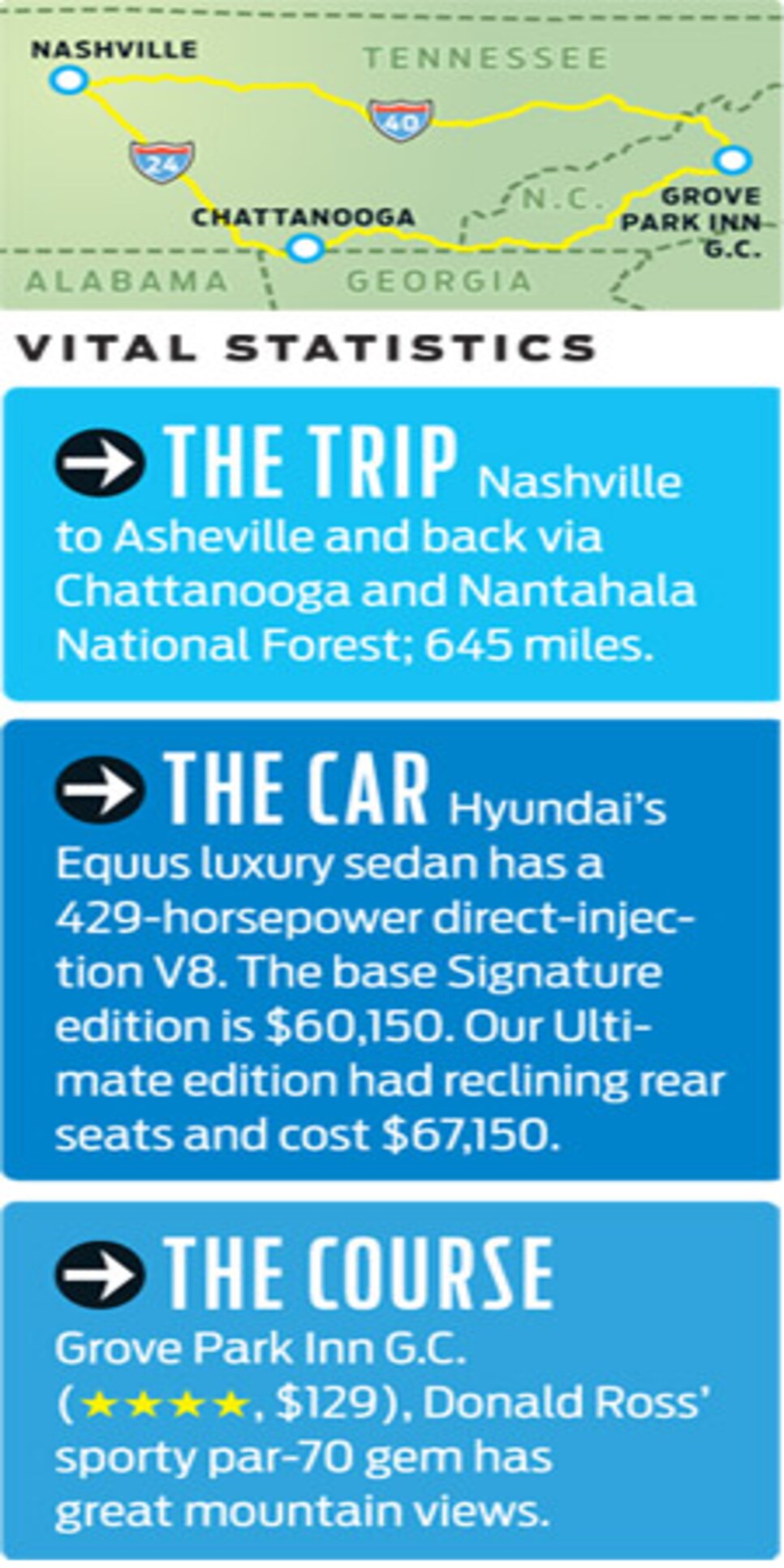 is like The Greenbrier's demure but terrific secret sibling. Like a Kardashian sister who chose instead to become an oncologist with no access to Twitter.
Built boulder-by-boulder from chunks of granite by pharmaceutical magnate E.W. Grove in 1912, the now-513-room inn was designed to be a cool summer health retreat in the Blue Ridge Mountains for sweaty, sickly Northeasterners. Early guests Henry Ford and F. Scott Fitzgerald would still recognize the inn's visage, flagstone approach and heavy oak entry doors--if not the $50 million spa built into the mountainside on the lower level in the same rock-pile style.
The Great Hall dominates the main level of the inn, overlooking a wide mountainside veranda and flanked by 10-foot-wide walk-in fireplaces (one of which was the site of William Howard Taft's resignation from the Supreme Court in 1930). The rooms in the main building are quirky and small, but elegantly appointed with period details. Rooms in the newer outer wings have a more conventional luxury-resort feel. Prices range from about $200 a night for a standard room to $779 for a large club-floor room with a view, spa access and free cocktails.
As early as 1914, the golf course adjacent to the inn was being advertised as the finest golf links in the South--not to mention free of mosquitoes, which was a big deal in the days before DEET. Twelve years later, Donald Ross completely redesigned the 6,720-yard, par-70 course, and in 2001 the resort commissioned an extensive renovation to bring it back to his original plans. Small plaques with Ross quotations dot the teeing areas, and one--"It will be difficult to negotiate some holes, but that is what golf is for"--neatly summarizes the uphill, 435-yard fourth. It's hard enough to reach the green in regulation with modern clubs and super balls. I can only imagine the old-fashioned cursing that came out of Bobby Jones' mouth after he crushed his tee shot and had a spoon left to a green protected by sand in front and out-of-bounds behind.
The Equus fits right in at the inn--elegant enough to get valet attention, but in an understated "I'm not a jerk who wears his wallet on the hood" way. Our test car, the top-of-the-line Ultimate Edition, was filled to the sills with leather, wood and technology--all standard--and even had a reclining rear seat and an integrated refrigerator in the armrest. It is powerful and quiet, and has a fantastic 17-speaker surround-sound system to capture the bassiest of basses when you're listening to NPR. My favorite innovation was what Hyundai calls thermoelectric front seats--saddles with temperature and humidity control systems to keep your butt in a comfortable microclimate.
The thornier question is where the big Hyundai fits in its category. It's designed to go head-to-head with the biggest, baddest Japanese and European flagship sedans, but at a discount. The Ultimate Equus has no optional equipment. You pay $67,150 and get everything--except a badge on the front everybody recognizes. A base Lexus LS costs $67,630, but that barely includes seats. Trick it out like the Equus, with leather, premium wheels and the other goodies, and it runs $80,000. It all comes down to what value you place on image.
It was apropos, then, that our runaway favorite restaurant on the trip explored the boundaries of fine cuisine from a squat cinder-block hut in an unglamorous part of Asheville. At the Admiral, they have T-shirts for sale, unironic neon beer signs behind the bar, and an ever-changing menu of finely crafted, locally sourced choices. Don't think you should eat tenderloin beef tartare with quail egg and crispy sweetbreads with white beans and bacon from a folding chair and Formica table? Suspend your skepticism and go with it.
For a more "conventional" experience, visit 12 Bones Smokehouse in the River Arts District. Experience all of Asheville's best barbecue on one plate with the Hogzilla: bacon, sausage, pulled pork and pepperjack cheese on a hoagie. Add sides of mac and cheese and baked beans, and you can eat yourself into a coma for $10.
Just don't leave the leftovers in the refrigerated armrest of your $67,000 luxury loaner.