Courses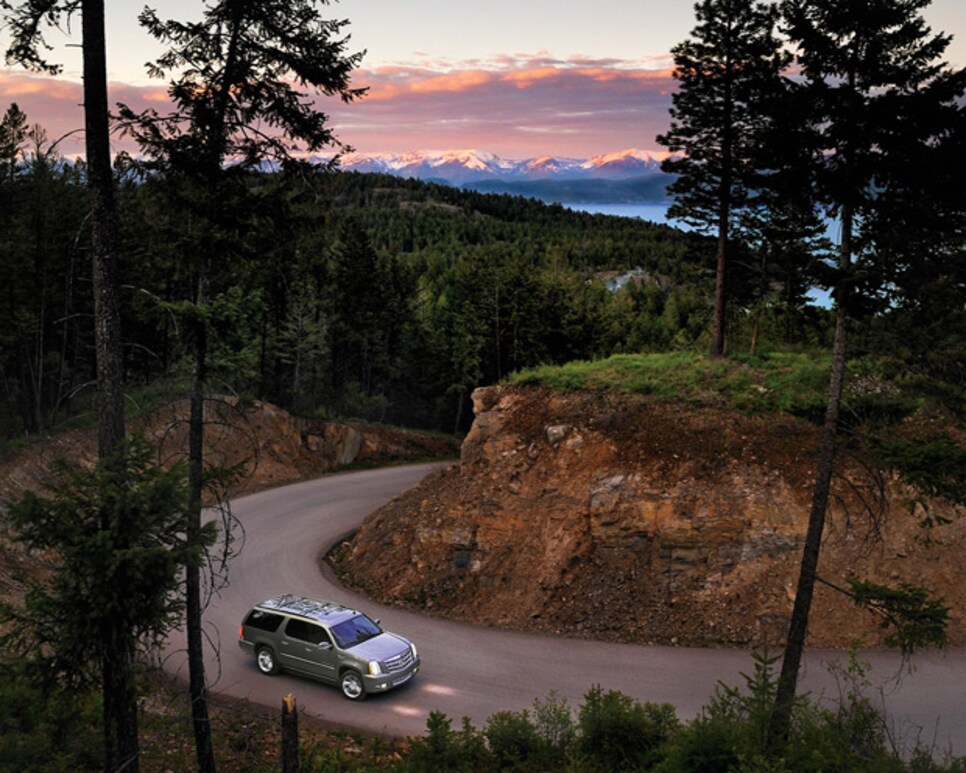 Montana's back-road scenery is postcard-quality.
Idaho, Montana and Wyoming had long been enticing, out-of-the-way stragglers on my personal been-there American-state checklist, so when a good friend signaled he wanted to visit them, too, the goal was clear: Pick a ride that could comfortably carry the two of us (and a photographer with all the attendant gear) across the high-speed expanses and elevation-changing passes of the Mountain West. We wanted to step from the car to the tee without feeling like a toddler's 10-thumb origami experiment, and I wanted to check off states 45, 46 and 47.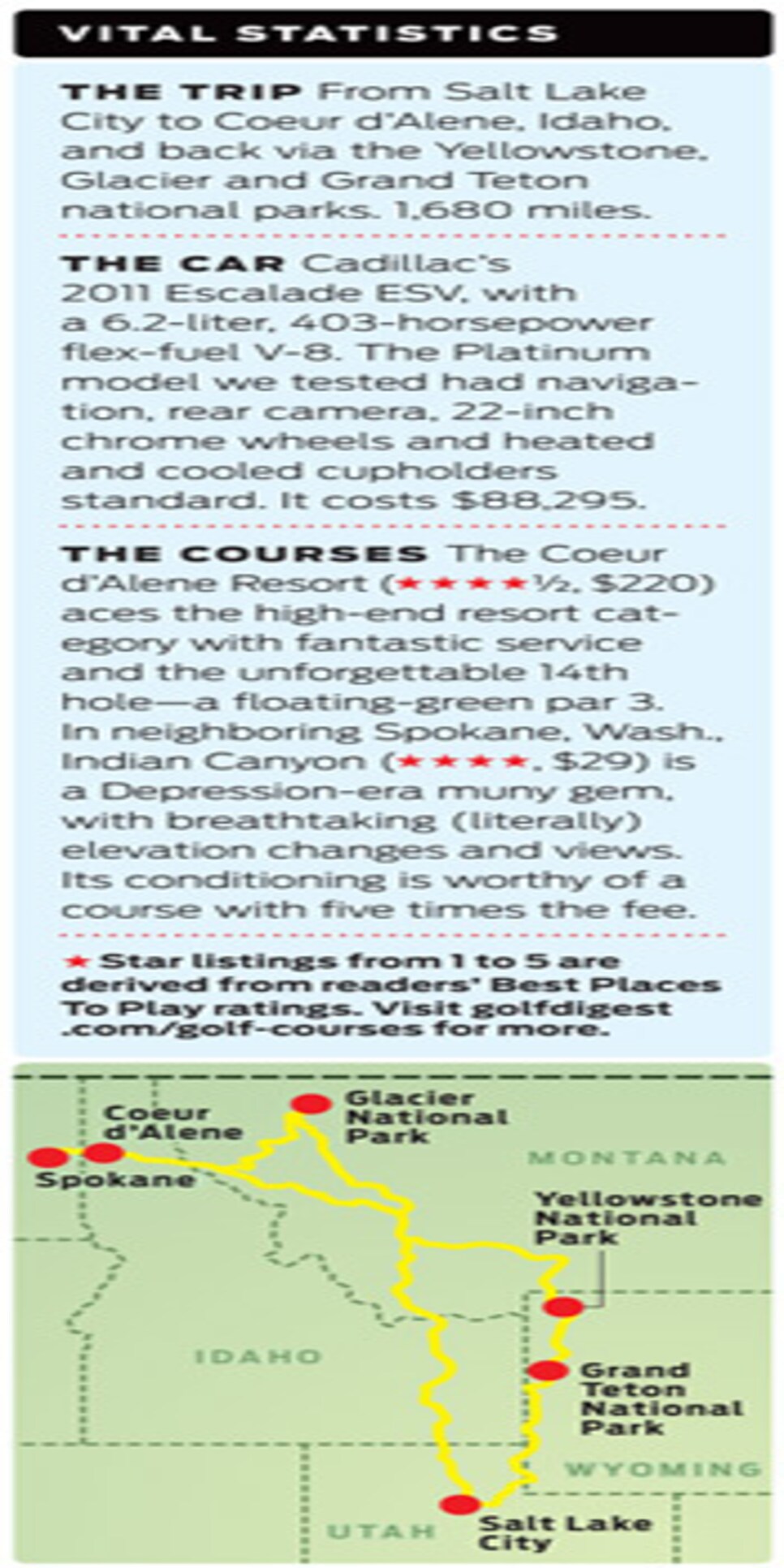 The 2011 Cadillac Escalade ESV could well have been created just for such duty. Waiting for us at the Salt Lake City airport like a tuxedoed concierge at a four-star hotel, the mocha metallic Escalade engulfed the three of us and all of our stuff in what I'd call a Fancy Midwest Living Room: fragrant premium leather, LCDs, cascades of chrome, and enough embroidered Cadillac logos to outfit an entire Champions Tour pro-am pairings party.
Stretching out in the second row captain's chairs and fiddling with the dedicated rear climate-control knobs as we floated out of Salt Lake City on I-15 toward Idaho, it was easy to see why the Escalade is such a popular high-end celebrity hauler. But even with its look-at-me 22-inch wheels, dinner-plate size Caddy grille badge and retractable running boards, the current iteration of the $90,000 Detroit luxo-ute is actually more subtle and put together than its ancestors. You can argue whether an Escalade is worth the $20,000 surcharge over the sister-under-the-skin Yukon Denali, but both vehicles are light-years more refined than the GMC I had as my daily driver.
Crossing from Idaho into Montana -- after a stop at the Idaho Potato Museum in Blackfoot, where they hand you a box of dried hash browns as you leave -- the side windows filled with postcard-quality scenery. Mountain ranges, deep-green forest and cattle ranches line the road as far as you can see. Curling back into Idaho's extended northern finger, we started looking for a late dinner. We stumbled into a tiny, well-preserved old mining town called Wallace. At the 1313 Club's vintage bar, we enjoyed thick cheeseburgers and the local Dirty Blonde -- no, it's a beer -- produced next door.
Fully rationed for the night, we pushed on to the Coeur d'Alene Resort, where our summer stay-and-play package offered a night in an elegant, modern lake-view room and a round on the Scott Miller-designed resort course for $280 each. The main event here is the island-green 14th, which floats on the lake attached by a pulley system that can vary the yardage every day. We had 175, and my partner reached for his 5-wood, ignoring eye-rolls all round. He smoothed it to 10 feet -- I hit 7-iron off the wooden facing in front of the green and got wet -- and enjoyed the boat ride to the green with an air of smug superiority. He missed the putt, and tapped in for par.
Though the entire Coeur d'Alene Resort conspires to leave you feeling good about yourself and your game, our next stop -- Indian Canyon municipal in neighboring Spokane, Wash. -- was a different kind of revelation. Designed in the early '30s, the course has retained all of its Depression severity, and at $29, virtually the same green fee. Golfers in three U.S. Public Links got punched around on this hilly course, and we were no different. Leg weary and footsore, we trudged up the 450-yard 18th, putted out, then surveyed the dozens of fieldstone steps back up to the clubhouse.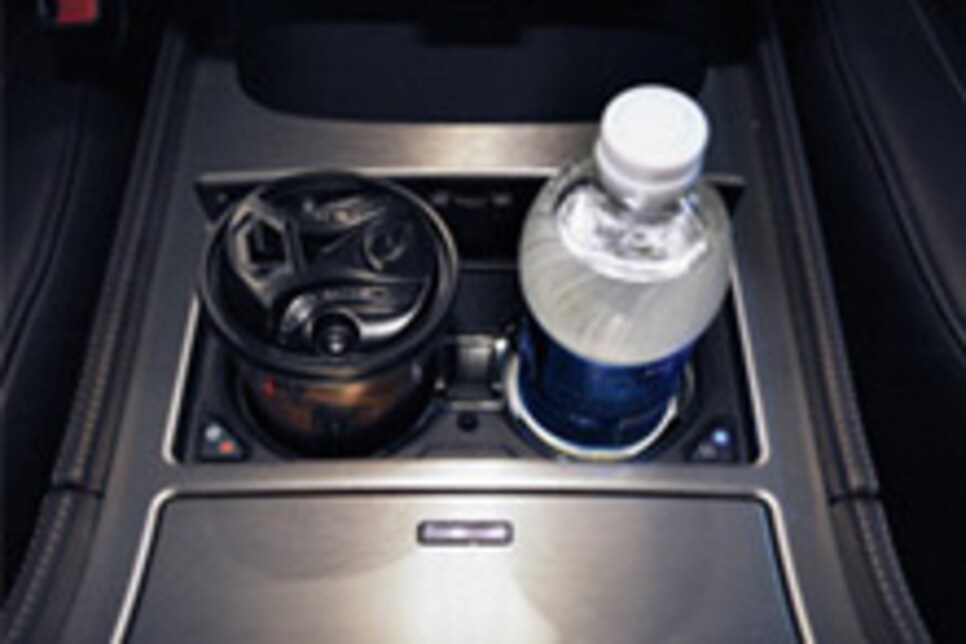 It would be good to get back in the truck.
After two days of perfect, 75-degree June weather, we shivered in 40-degree mist as we watched Old Faithful blow at Yellowstone National Park, 530 miles later. Crossing the Teton Pass between Jackson, Wyo., and Victor, Idaho, at 8,500 feet, we slowed to a crawl through a near white-out blizzard, then had the windows down half an hour later as we cruised through gorgeous backcountry in southern Idaho on our way down to Salt Lake.
Last stop? The Dakotas and Alaska. All I need is a co-pilot, some keys and a place to play.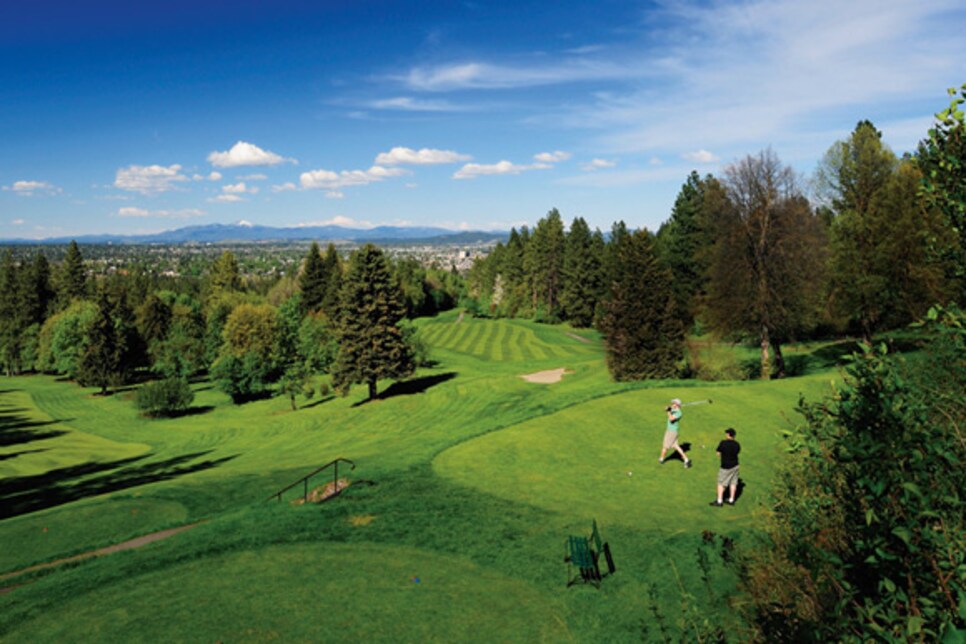 Indian Canyon provided the value, and the Escalade (above right) kept the drinks warm or cool.