Courses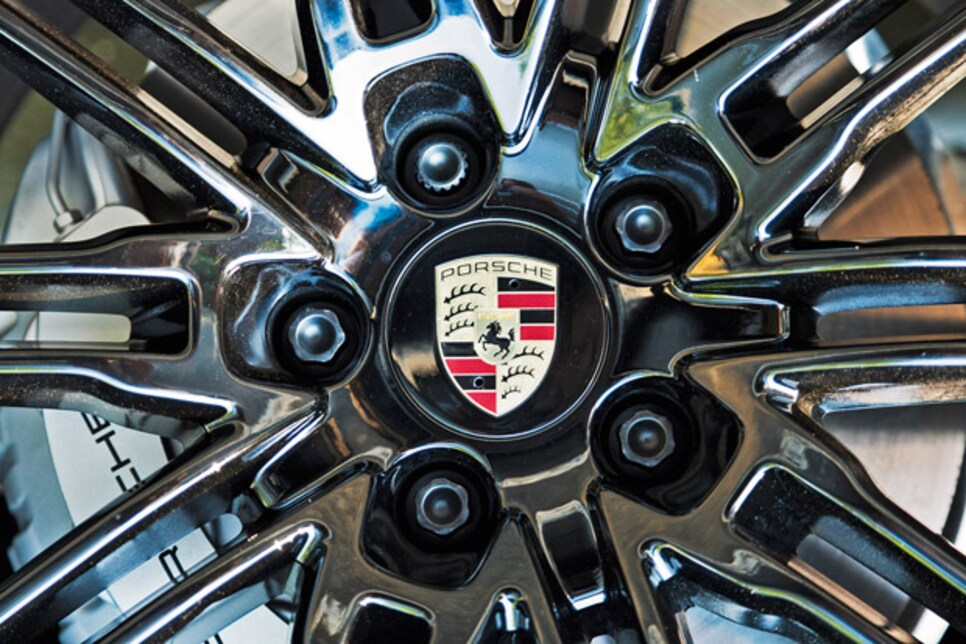 At the practical end of the automotive food chain, car companies are forever trying to answer the big "why" questions: Why do we need a car like this in our lineup? Why would somebody buy this versus the cars in the lots across the street?
The positioning meeting for the 2013 Cayenne S Hybrid at Porsche headquarters must have been a short one: "Because we can."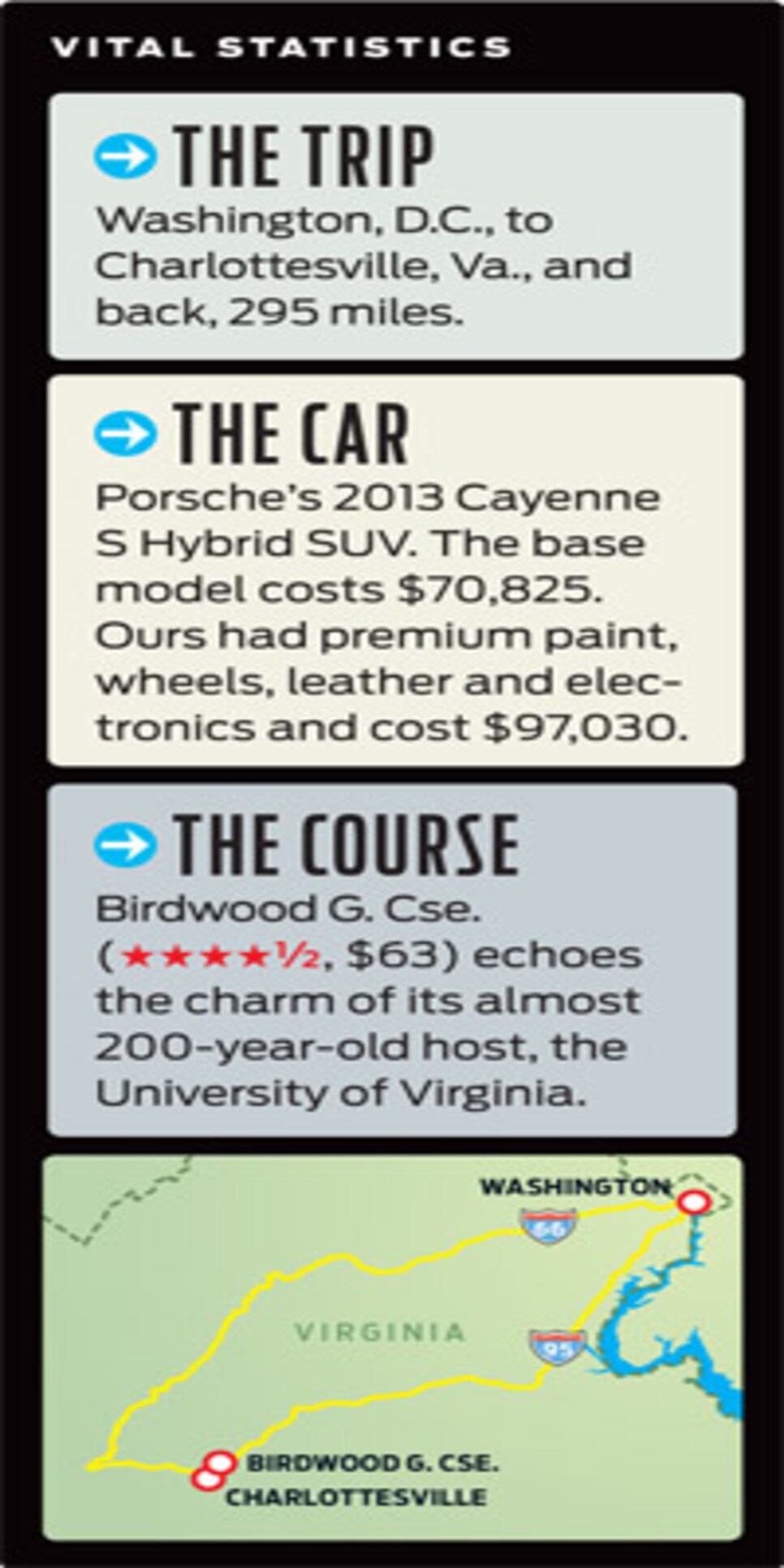 The value proposition is faint for a $97,000 SUV that gets 20 miles per gallon in the city instead of 16, aspires to be the sports car of 5,000-pound SUVs, and has an adjustable suspension that can increase ground clearance by more than three inches even though 99 percent of its owners will never take it off pavement. But Porsche can, and for the four-day golf trip we took from Washington down to Charlottesville, Va., we were happy it did.
We picked up ours curbside at D.C.'s Union Station, and a fire truck would have been lower profile. The base Cayenne S Hybrid is an un-cheap $70,825. Ours had strident bronze auburn metallic paint ($790), black 21-inch wheels that must be made out of depleted uranium ($6,115), full-leather trim ($5,595 and hilariously not standard on a car this fancy) and the complete electronic gadgetry package ($11,670 for the aforementioned suspension, ventilated seats and navigation, among other things). Not included in the $4,000 surcharge the Hybrid commands over its "standard" Cayenne S twin is the priceless emotional hall pass that comes with going green.
In the Cayenne Hybrid's case, this means an electric companion motor that moves the car at slow speedseven while gently cruising on the expresswayand operates as extra shove during hard acceleration. That battery-powered boost gives the Hybrid's 3.0-liter V-6 60 more foot-pounds of torque than the 4.8-liter V-8 in the S model.
The net effect--copious thrust whenever you want it--is great fun, and extremely deleterious to any hybrid's energy-independence ambitions. Put the hammer down and you'll get closer to 18 miles per gallon, like we did. But the muscle-car drivers you're dusting will be able to recognize your concern for the environment in the fast-disappearing cursive "hybrid" on the Cayenne's tailgate. Value propositions aside, the Cayenne is really good at a host of things. It's luxurious and fast, and big enough for adults in both rows with lots of their gear in the back. In the SUV world, it's an Olympic athlete--easy to maneuver at speed and park in tight spaces--and it looks great for a truck even if Porsche purists hate it. Just make sure to own it while the manifold electronica are still under warranty.
Our drive took us out of D.C. and through the Capital suburbs to Charlottesville, home of the University of Virginia, the Dave Matthews Band and a warren of charming little wineries and craft breweries. We stayed at The Boar's Head, a 573-acre university foundation-owned resort on the edge of town with a hotel built from the timbers of an early-1800s gristmill. The rooms are a mixture of Colonial charm and modern fixtures, and the patio at Bistro 1834 is an ideal spot for a sunset with a Blue Mountain beer.
The resort is about a five-minute drive from the heart of Charlottesville and the UVA campus, but the huge property has a natural buffer from the bustle in the form of the Birdwood Golf Course
. Also owned by UVA--and home of its Cavalier golf teams--Birdwood was designed by Lindsay Ervin in 1984 and refurbished by Pete Dye in 2005. It feels comfortable on the first play, with elevated tees and well-defined routes to each flag. The highlight is the two-hole stretch from 13 to 14 in the back corner of the property, which hopscotches two small lakes. The 14th is an island-green par 3 that plays only about 150 yards most days, but its green has a wicked cant from left to right. Play to the fatter side and you risk making a deposit into a deep bunker, leaving a shot to a slick downhill pin. It deserves its picture on the scorecard.
Charlottesville's college-town energy and first-rate foodie scene make it a terrific weekend destination, and it's an easy two-hour drive down from D.C. The Belmont neighborhood just south and east of campus has a stack of great restaurants. The best might be Mas, where you can sit on the large front patio and choose from a vast menu of Spanish-influenced small plates made with local ingredients. If Thomas Jefferson could have ordered the free-range chicken and Yukon potatoes roasted in duck fat, he just might have been distracted from finishing Monticello, his grand estate three miles down the road.
By all accounts, Monticello is a must-see, but buy your tickets online ahead of time and get there early on a weekday. The only way to get to the house itself is to take a shuttle bus, for which there was a two-hour wait on the beautiful Saturday afternoon we visited. The choice was to stay trapped in the modern, Jeffersonian-optimized atrium and wait for our conveyance or jump in the Porsche and take a lovely 10-minute drive on country roads to James Monroe's slightly shabbier--and much quieter--Ash Lawn-Highland estate.
We made our declaration of independence.