Instruction
The two key shots players will need at the U.S. Women's Open—and how to hit them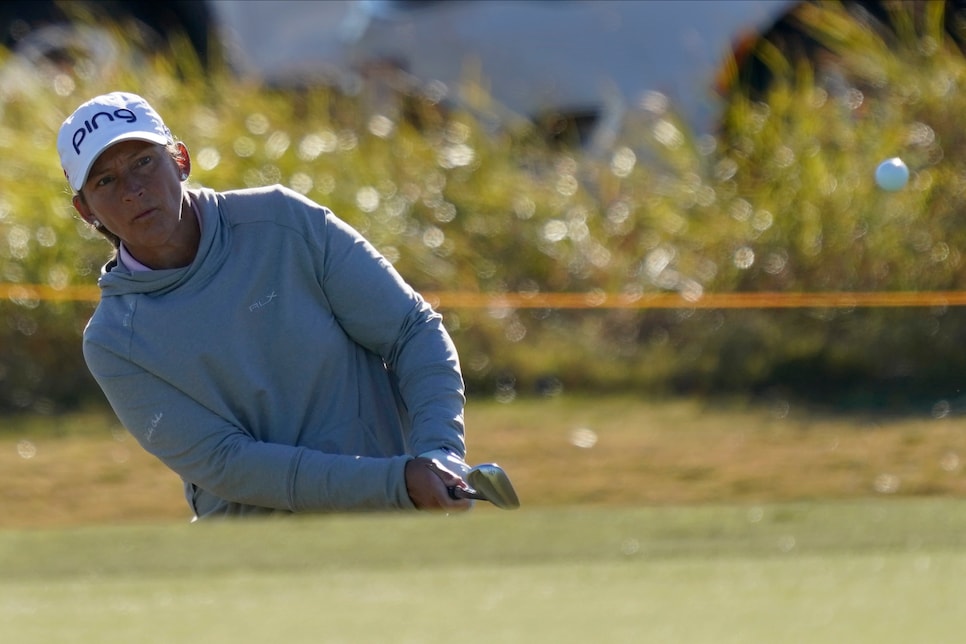 When you think of a U.S. Open, tough-to-hit fairways and difficult conditions likely come to mind. Players this week will face an added challenge: Adjusting to some of the biggest greens in competitive golf over the course of one round, while playing a much smaller set of putting surfaces in the second.
This week's U.S. Women's Open will be contested at Champions Golf Club's two courses (Cypress and Jack Rabbit) over the first two rounds, and the Cypress course then hosts the final two rounds. Players will encounter some truly enormous greens at the Cypress course—with its putting surfaces averaging 9,581 square feet, according to the GCSAA, while Jack Rabbit's green complexes average 6,997 square feet.
"I think you're going to have some tougher short-game shots," Stanford said. "My list of what to practice are those long lag putts and chip shots across a green. A lot of our golf courses, you need short shots, hit a little higher. But at Champions, if you miss it on the wrong side of the green, you're chipping across a very large green."
Lag putting isn't just something the pros should be practicing leading up to the U.S. Women's Open—amateurs need to work on those things, too. Gareth Raflewski, a short-game instructor for World No. 1 Jin Young Ko, former World No. 1 Lydia Ko and the Jutanugarn sisters, among others, says when he's working with tour pros, they spend 70 percent of their putting practice on distance control. If you're like a lot of amateurs, you're probably spending most of your time trying to get better at shorter putts. Raflewski suggests changing that mentality.
How anybody can get better at lag putting
"I see people hitting 100 3-footers in a row, and I've done that drill before, too," he said. "You think, If I work hard at these short putts, I'll become good at it. But, unfortunately, if you miss that first three-footer on the first hole, all of that good work kind of goes out the window. There are better ways to use your time. Especially if you're an amateur. I would get out there and do some basic speed work."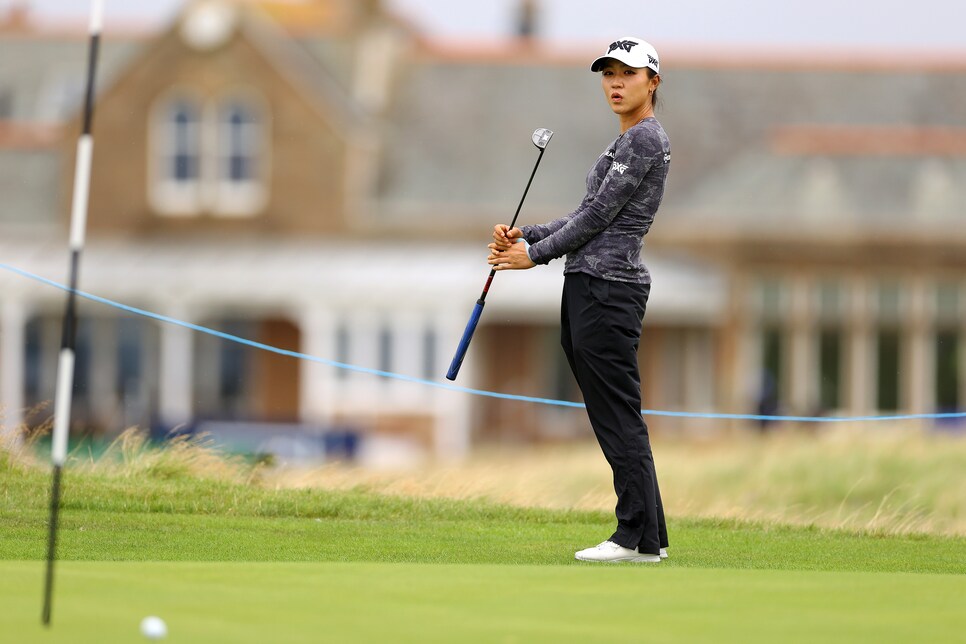 Lydia Ko reacts after hitting a long putt on the 17th green during Day 2 of the 2020 AIG Women's Open at Royal Troon.
Richard Heathcote/R&A
Raflewski says it's the hardest skill to learn in putting because there's more error in speed control than anything else. If you're missing a 40-foot putt six feet long or short, your distance control is 12 percent off, while most amateurs are off in their aim by only 6 or 7 degrees, Raflewski explains. The first step in understanding distance control is determining a reference point. Don't just go to the putting green and hit the longest putts you can.
"If an amateur wanted to get better at distance control, put a tee down, one on either side, 20 feet from the cup, and putt back and forth. Get that 20-foot number down. From there, you can probably manage a 30-footer pretty easily, and 15 feet as well. If you don't have a reference point, it becomes very difficult."
This is a good way to practice, but it's also a great way to develop a feel for the speed of the greens before a round.
Controlling the long chip shot
Playing a course with massive greens means players are going to be hitting some long chip shots. Raflewski says you're likely to see women hitting higher shots that land closer to the pin with spin—they know their numbers for those shots better than any amateur would. And considering most courses don't require long bump-and-run shots, players will stick with what they're best at.
For amateurs, however, if you're facing a chip with some 20-plus yards of green to work with, Raflewski says to go with the bump-and-run. His reasoning is simple: It's an easier shot.
"It's not too difficult of a shot because you're landing it in a spot that's much closer to you, so the ability to hit the landing spot is much greater," Raflewski says. "A little 8- or 9-iron, stand up taller, swing it more like a putter, and let it run out to the hole."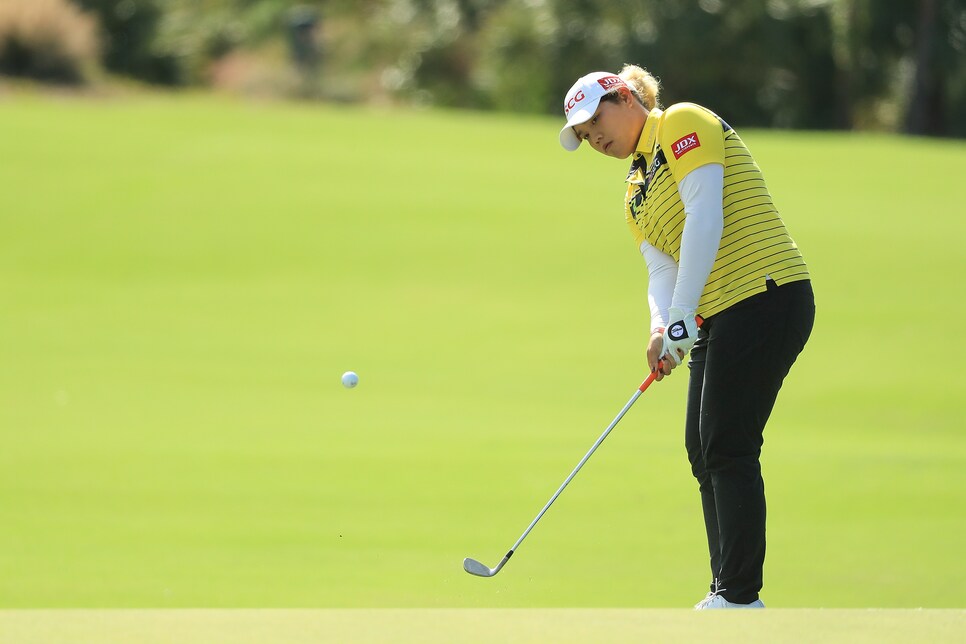 A common error with this shot is chunking it. You've probably done it – hitting the ground before the ball, stubbing it and watching it sputter to a stop short of the hole. Raflewski has an easy fix.
"The zipper in your jacket, it needs to be on the target side of the ball," Raflewski explains. "As your club comes down, it hits a low point and then starts to rise up. Wherever the zipper of your jacket is, or your sternum, that's where the low point of the swing is going to be. A lot of people who would chunk it, the zipper of the jacket is behind the ball, they're hitting the ground before the ball. If you can set up with the zipper of your jacket on the target side of the ball, and keep it there throughout the shot, you'll make better contact more often."
Another way to avoid chunking this shot is by trying a different club: your hybrid.
"When we talk about bounce in chipping, bounce is the opposite of digging. A hybrid having such a wide sole creates almost the maximum amount of bounce you could have. It becomes a very hard club to chunk," Raflewski says. "You can chunk an 8 iron. It becomes a lot harder to chunk a hybrid."
Raflewski also says to be aware of ball position at setup. The farther you play the ball back in your stance, the more the ball will run. "Often people play it too far back when they're learning the bump-and-run, they find it hard to control because it comes out so hot," Raflewski says.
As the best female golfers in the world work to master these short-game shots at the U.S. Women's Open this week, make sure you practice these shots, too.