Voices
Playing for your tour card isn't quite as nerve-wracking after you've fought cancer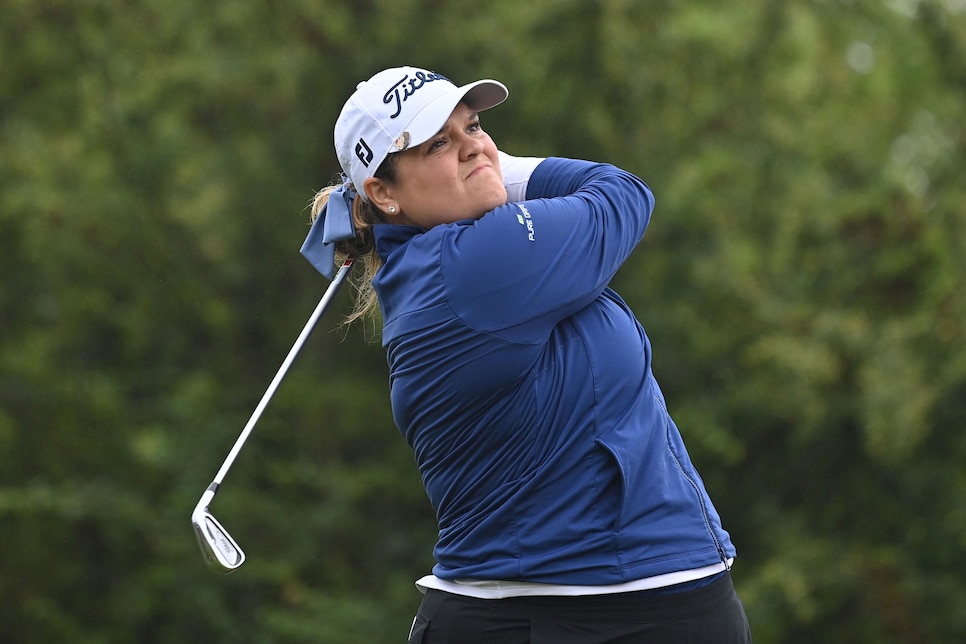 Photo By: Charles McQuillan
Here I go again, to LPGA Q-Series that starts this week in Alabama at the Robert Trent Jones Golf Trail (Dec. 2-5 and Dec. 9-12), hoping for the job security that would mean everything. To be in this uncertain position for the fifth time in eight years, and only weeks after turning 30, I should be down on myself. I'm better than this. I'm better than having to audition again over eight rounds—eight, if I'm sharp enough (there's a cut after four)—to prove I belong on the LPGA with the top women golfers in the world.
And I have news for you: I'm not down on myself. Not in the least. I've been through much greater challenges than this.
In 2012, on this very same week, the week after Thanksgiving, I was diagnosed with thyroid cancer. At the time I didn't even really know what a thyroid was. Do you? The thyroid is the organ that controls your metabolism, hormones, body temperature and so much more.
I was in college at the time, a junior at Michigan State, when my coach sent me to see the doctor, and I didn't think much of it. Just another cold, I thought; give me some cough medicine and I'll rest up this weekend. It had been a busy fall season, but we were a top-ranked team in the country and my team needed me. I was one of the top players in our lineup, also with a respectable individual ranking, hoping to lead us to another Big Ten championship.
Not so fast, Dr. Kovan said. You've been sick a couple of times this fall and don't seem to be getting healthy. Let's do a more thorough exam. He felt my neck, which was expectedly swollen, but one spot in particular really stood out.
"Did you notice this?" he asked.
No, I said. I knew I felt like crap and was up most of the night coughing, but was otherwise oblivious to the lump he found. There was a lump. Once he pointed it out you couldn't miss it. After an ultrasound to verify what we both felt was a swollen lymph node, the next step was a needle biopsy and test the tissue for cancer.
I didn't share this news with my extended family at Thanksgiving. I distinctly remember feeling like things were sort of hanging in the balance. Why bother sharing? It was probably nothing. It was hopefully nothing. But I'm a golfer. I take it—sorry for the cliché— one shot at a time.
A few days later, sitting in the office with my parents and the ENT doctor, we heard the C word for the first time. My world spun around me for a few minutes, and then I began to process. My mind eventually gravitated to another C word: checklist.
• How do we treat this?
• What do we do next?
• How do I keep this life I cherish?
• How do I tell my coach? My team?
And to everyone's surprise, including mine, the first words out of my mouth were: "When can I play golf again?"​
What I went through all those years ago is never far from my mind, and I see that as a good thing. When I'm on the course and I have a bad hole or two (or three), I can easily take myself back to those days in the hospital.
I won't bore you with the medical details, except that the surgery to remove my thyroid and my golf ball-sized lump took place about a month later. I have the memories (and the scar) to prove it. The scar starts in front and goes halfway up my neck toward my ear. It has a curved-L shape; L, I suppose, for lucky. I would be OK.
But between the countless trips to the hospital, and the stress I could see was put on my family through that holiday season, I wasn't able to really feel that lucky until much later. Anyone who has gone or is going through this knows that feeling. It's like letting out the biggest deep breath but being afraid to at the same time. After the surgery, a radioactive iodine treatment, and a little more than a year later, they told me the cancer was gone.
Fast forward to today. This past season on the LPGA, my fourth playing in a handful of LPGA events, I had two top-20s in 14 starts, a tie for 19th at the ShopRite LPGA Classic in New Jersey and a tie for 17th at the ISPS Handa World Invitational in Northern Ireland. The T-17 was my best LPGA finish ever. I finished 129th in the CME Race to the Globe standings (the top 100 keep their cards), but a couple of breaks here and there, and I could have been in contention to win.

Nagel's days at Michigan State included winning Big Ten team titles (Nagel is second from right in left photo, posing with Allyssa Ferrell in right photo) as well as being diagnosed with thyroid cancer. (Photos courtesy of Liz Nagel)
One thing that helped enormously was something one of my peers, Natalie Gulbis, told me a few months back. Focus on trying to make at least six birdies every round, she said. At the end of the tournament after four rounds, 24 birdies sounded pretty good. It sounds so simple but it works, and if I can do that at Q-Series, I'll be one of the 20 players to earn their cards and be done with the worst two words in the English language: conditional status.
What I went through all those years ago is never far from my mind, and I see that as a good thing. When I'm on the course and I have a bad hole or two (or three), I can easily take myself back to those days in the hospital. To the day the doctor said the C word that took my breath away.
Every so often, I have what's known as a bad thyroid day. Or in my case a no thyroid day. I get really tired, foggy, and don't feel like getting out of bed. It happens sometimes when I'm playing in a tournament, making it hard for me to focus. I also struggle with dramatic temperature changes, my body working triple time to figure out how to get back to normal. I'm coming up on eight years cancer free this winter, but will still have some of these side effects to battle and manage for the rest of my life.
I consider myself to be a pretty private person. So why tell my story now? It's simple. I want others to know that obstacles can turn into opportunities and that each of us can handle more than we think. I also learned that's it's OK to not always be OK, and that it's important to lean on the people around us. I not only had my family, but my team and my coaches. I will never forget how much that helped keep me going. We never know how truly strong we are until being strong is the only choice we have.
A few years ago, I received a message from a girl who also played golf for my high school in DeWitt, Mich. Ironically enough, she, too, had been diagnosed with thyroid cancer. I was able to walk her through what she would be feeling at every stage of the process. Making even a small difference in her life and helping her cancer journey meant more than any golf tournament I ever won, and I hope I can help others, as well.
As for Q-Series, I've defied the odds at this qualifying tournament a few times before. But I know how it feels to be on the wrong side of the cut line. If that happens again, I won't be deterred. I'll try again next year. And the year after that.
The future couldn't be brighter for me and this journey.