News
Live blog: WGC-Dell Match Play, Day 1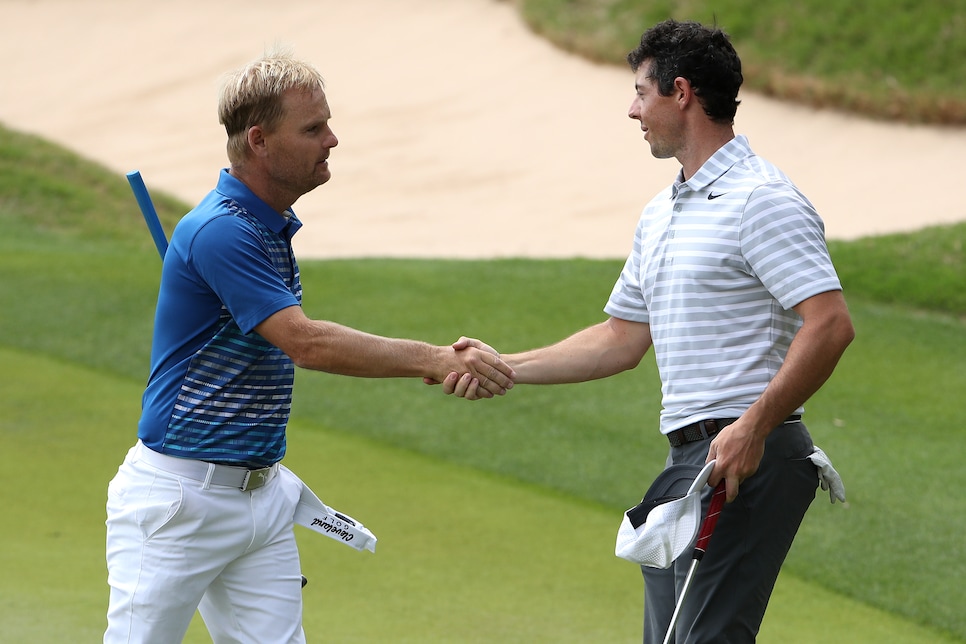 The WGC-Dell Technologies Match Play begins Wednesday. Though the relatively new round-robin format subtracts the all-or-nothing consequence from the event's first day, there's plenty riding on the line for the 64 golfers teeing it up today. And what battles await. Jason Day begins his title defense in a match-up with Pat Perez. Rory McIlroy, arguably the game's best match-play competitor, takes on Soren Kjeldsen, while World No. 1 Dustin Johnson greets a fellow U.S. Open winner in Webb Simpson. Other Wednesday matches of note: Two American rising stars face off in Brooks Koepka and Kevin Kisner, with Kisner hoping to bring his Bay Hill performance to Texas while Koepka looks to snap out of a season-long slump; Justin Thomas meets European Ryder Cupper Chris Wood; and a clash between reigning Rookie of the Year Emiliano Grillo and Gary Woodland threatens to provide plenty of fireworks.
As a reminder, the event revamped its format in 2015, partially leaving single-elimination in favor of 16 "pods" of four players, with everyone playing a round robin against the other three competitors. The players come from four categories divided by rank; the top 16 players are considered the "A" group, the next 16 classified as "B" and so forth.
The tournament returns to Austin Country Club, which made its WGC debut in 2016. Day defeated Louis Oosthuizen, 5 and 4, last year for his second Match Play title.
Throughout the first day of the WGC-Match Play, the Golf Digest/Golf World team will keep you up-to-date with the latest news, observations, highlights and results from Austin (times eastern).
7:28 PM: Here are some of the last results of the day:
--Jon Rahm defeated Kevin Chappell, 3 and 2, in a match of Scottsdale-based pros. In the same group, Sergio Garcia and Shane Lowry halved. We'll look forward to the All-Spanish Rahm vs. Sergio duel.
--Tyrrell Hatton took down Charles Howell III, 2 and 1. Hatton, who was the No. 10 overall seed this week and came into the event ranked 14th in the world, continues to play well in the United States in the lead-up to the Masters. The Scot comes in with three straight top-10 finishes (T-4 at the Honda Classic, T-10 in Mexico and a T-4 at Bay Hill).
--Daniel Berger routed J.B. Holmes, 7 and 5. In this battle of bombers, the young gun got the best of the two-time Ryder Cupper Holmes.
6:49 PM: Though it seems somewhat insensitive to discuss the golf ramifications of Jason Day's sad press conference after his WD on Wednesday in Austin, tournament officials now evaluate how to proceed in Day's absence.
Lee Westwood and Marc Leishman, slated to play Day in their pod over the next two days, will receive an automatic point due to Day's WD.
That made today's match between Westwood and Leishman crucial for the outcome of the pod. Leishman won, 3 and 2, keeping up the hot play after his win at the Arnold Palmer Invitational last week.
Westwood will get an off day tomorrow while Leishman and Perez, both with one point, face off in a now-crucial match to advance.
5:05 PM: It's now clear why Jason Day withdrew on Wednesday at the WGC-Match Play, and the reason couldn't be more unfortunate.
An emotional Day, fighting tears after conceding his match with Pat Perez on the seventh hole after Perez had built a 3-up lead on Day 1, told reporters that his mother has been diagnosed with terminal lung cancer. She will undergo surgery on Friday, and thus Da felt it was right to make his way back to be with his mom.
"Emotionally it's been wearing on me for awhile," Day said in a brief press conference in Austin.
"I know my mom said to not let it get to me, but I know it has. I just need some time away with her to make sure it goes well. It's been very tough for me. I'm going to do my best and try to be there the best I can for her, because she's the reason why I'm here today. Family's first, it's just hard times."
Day has shared the story of his father passing away from stomach cancer when the 2015 PGA champion was 12 years old, which only adds to the emotions of Day going through this.
The stream of tweets in support for Day came through immediately.
4:11 PM: Winning a hole with a bogey in this tournament isn't exactly common. But Phil Mickelson did that on the second hole against Si-Woo Kim, and has proceeded to build a big lead early in his match.
3:46 PM: Two young stars from last year's Ryder Cup recorded wins by large margins to kick off their weeks.
Brooks Koepka's 6-and-5 win over Kevin Kisner is tied for the biggest margin of victory for the day -- with the big-hitting American taking it to the runner-up at last week's Arnold Palmer Invitational.
And one of the young European studs from Hazeltine, Thomas Pieters, took care of Scott Piercy, 3 and 2, to get his week started.
We can't help but think how awesome a Koepka vs. Pieters match would be. Either way, we'll settle for them being a factor this week in Austin.
3:05 PM: We're only a couple hours into this year's WGC-Match Play, and we already have two big upsets in Austin.
The native Texan Jordan Spieth just got taken down by World No. 54 Hideto Tanihara, 4 and 2, in Spieth's first match of the round-robin format.
Spieth trailed from the seventh hole on -- and the deficit was never less than two holes on the back nine. The two-time major champ's putter usually bails him out, but that was never the case for Spieth on Wednesday. His body language didn't look good all day -- Nick Faldo even went as far to say on Golf Channel that it looks like Spieth's mind is already in Augusta.
He's playing next week at the Shell Houston Open, so we don't think he's already turned to the Masters just yet. We'll see how Spieth responds against Yuta Ikeda tomorrow in his Day 2 match.
Other matches: Dustin Johnson is piling on Webb Simpson -- DJ is 4-up through seven holes.
Brooks Koepka is 4-up through 11 on Kevin Kisner. Koepka hasn't done anything yet in 2017, and Kisner almost won last week at Bay Hill. The vagaries of match play!
2:27 PM: One of the biggest upsets of Day 1 was also one of the most fun matches by far on Wednesday at Austin Country Club.
Despite the disparity in distance, Soren Kjeldsen birdied seven holes of the 17 holes to knock off four-time major champion Rory McIlroy, 2 and 1, on Day 1.
Here's the tee shot that clinched the match for the Dane, hitting this tee shot on the par-3 17th hole to inside 3 feet. Once Rory missed his 25-footer on the 17th, it all but locked it up.
Rory will most likely have his hands full on Thursday, too, in a match against Gary Woodland in Group A. It's a rematch of the 2015 WGC-Match Play at TPC Harding Park, where McIlroy defeated Woodland in the final, 4 and 2.
Woodland has Emiliano Grillo on the ropes in their Day 1 match, leading the 2016 Rookie of the Year 3 up through 15.
In other upset alerts, Jordan Spieth is 3 down through 12 holes to Tanihara. Things aren't looking good for the Texan.
More results: William McGirt just took down Brandt Snedeker, 2 up, in one of the first matches of the day.
World No. 1 Dustin Johnson is off to a fast start with a two-hole advantage through the first two holes over Webb Simpson. Webb has some good history in the event -- but DJ might be playing too well right now.
More results: Charl Schwartzel with a 6-and-5 win over Byeong-hun An.
1:50 PM: Soren Kjeldsen isn't going away quietly. Though Rory just won the past three holes -- highlighted by a 410-yard drive at the downhill 12th hole -- Kjeldsen just took the 14th hole to square the match.
Kjeldsen and McIlroy's approaches at the 15th hole were amazing -- both inside three feet. We have a feeling pars aren't going to win many holes coming in.
1:45 PM: We see a different body language from Jordan Spieth when he's not playing well. The two-time major champ becomes outwardly emotional when the putts aren't dropping and his swing is just a little loose.
And that's what we're seeing so far from Spieth today.
The 23-year-old, playing in his home state of Texas, finds himself 2 down to Tanihara through 11 holes. Spieth has some holes to close the gap -- but from the mistakes we've seen him make early -- it's obvious he's not on the top of his game so far.
The first outcome we can report: Brendan Grace defeated Andy Sullivan, 4 and 2, in a match of two diminutive but world-class ball-strikers.
1:00 PM -- Back to the first match of the day: Grace is taking care of business against Sullivan, holding a 3-up lead with six to play. Though Grace is the "A" player in the group, Sullivan has a reputation as a match-play bulldog, so this would be a nice W to open up the tournament for the South African.
Two observations on Rory. The first, which is obvious: McIlroy hits it farther than all but a handful of individuals on the planet. The second: Golf announcers really, really enjoy telling us how far Rory can hit it. I wouldn't be surprised if McIlroy hands the broadcasters a stack of Benjamins for every creative remark on his bombs. Anyway, McIlroy hits one move than 400 yards, although the 12th does go severely downhill.
12:40 PM -- After missing a very makable putt, Spieth sends his drive way left. Still early, but the 23-year-old doesn't have his "A" game thus far.
Rory makes another bogey, giving Kjeldsen the hole to go 1-up through nine. McIlroy shouldn't be in panic mode just yet -- especially since his standing is mostly a reflection of his mistakes rather than Kjeldsen's performance -- but he needs to get it in gear, and in a hurry.
Spieth misses another relatively short putt. I wouldn't tear up your Masters bets just yet on Spieth, but something worth monitoring the next couple days.
Rory is 2-down after 10. Time to sound the alarms . . .
And McIlroy answers, sticking an 8-iron from 200 YARDS to just feet on the par-3 11th. In great position to get one back.
12:20 PM -- Spieth is not exactly on-point with his drives or irons so far, but he remains all square after four with Tanihara. Although you don't want to leave an underdog hanging around for too long.
No such thing as a good bogey, but Rory messes up his chip and putt and takes a bogey. Not only has Kjeldsen kept up for eight holes, but with Rory struggling with his short game, the Danish golfer has to like his chances.
A glance at the scoreboard reveals Bubba Watson is 2-up through two on Jhonattan Vegas. In the past calendar year, Watson has just two top 10s, laboring with his work on the greens. Nevertheless, Watson's enjoyed a nice track record in match play events, and a week in Austin could be just what Bubba needs to get his mojo back, especially with the Masters in two weeks.
11:50 AM -- Ryan Moore and Yuta Ikeda are the last to go off from the morning wave. Keep an eye on Moore. Not only does he have a U.S. Amateur title (and two U.S. Publinks titles) to showoff his match-play prowess, but he also closed the victory in Hazeltine by beating Lee Westwood on Sunday.
After tying the seventh, Kjeldsen has to lay up on the par-4 eighth after his drive finds the sand. McIlroy can't take advantage of a bomb in the fairway though, sending his approach over the green.
11:36 AM -- Spieth is off. Given the two-time major winner went to the University of Texas, we're guessing he'll have a few fans in the gallery. He has about 15 feet for birdie on No. 1, but his opponent Tanihara has a tap-in birdie as well.
Looks like we spoke to soon on Kjeldsen, as McIlroy misses his birdie while Kjeldsen makes three. True, it's only five holes, but the 41-year-old has already won two holes on McIlroy. View saw that coming.
Especially when Rory is 40 yards past his ball on every hole.
Few mishaps between Rory and Kjeldsen. After Kjeldsen chunks his third shot, Rory had the perfect position to win the hole with an eagle chip. Alas, he skidded it across the green, leading to pars for both on the reachable par-5 sixth.
11:15 AM -- Paul Casey's round is off against Joost Luiten, and Casey's birdie attempt is only half as long as his rival. Casey's finished runner-up at this event twice in his career, and continues to enjoy a career resurgence that began in 2016's second half. However, Casey's putting -- he enters ranking 141st in strokes gained/putting -- will need to be remedied.
After tying the second hole, Rory uses a big drive to stick his approach on No. 3. Kjeldsen misses his birdie, and the two are evened up after three holes.
Charl Schwartzel and Byeong Hun An both waste solid tee shots by badly missing the green at the first. Which, really, is the beauty of match play. Two terrible shots in stroke play require patrons to cover their eyes; here, it equates to entertainment. (Schwartzel gets up-and-down, but An can't convert, giving the hole to the former Masters champ.)
McIlroy records a birdie at the par-3 fourth to take a 1-up lead on Kjeldsen. Kjeldsen has a look that says, "Well, at least I can tell my grandkids I was once beating Rory Mcilroy in match play," on his face.
10:30 AM ET: And we're off! The first group of the day: Branden Grace vs. Andy Sullivan. After a nice 2016, Grace hasn't done much of note this year. His iron game could make him a difficult out this week, though. You can check all of Wednesday's tee times here.
William McGirt comes out in metal spikes. Don't see many players go that route nowadays. Conversely, McGirt's only made 60 percent of his cuts this year, so maybe a change of shoes is just what the doctor ordered. McGirt is taking on Brandt Snedeker, who was lights-out in match play at last fall's Ryder Cup.
Rory McIlroy takes the tee at one, and goes WAY right. But before you get too excited, dude did win this event two years ago and finished in 2016, so maybe we give him a little breathing room to start. His opponent Soren Kjeldsen makes bird, taking a 1-up lead.