LIV Golf
LIV Golf moving team championship from Saudi Arabia to Trump property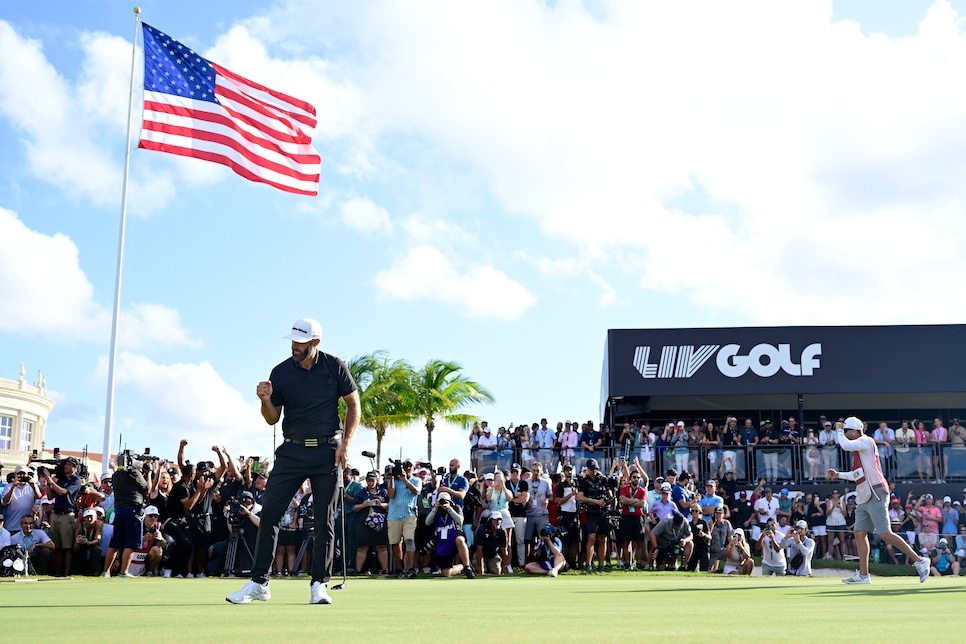 LIV Golf announced that it has moved its season-ending championship from Saudi Arabia to the United States.
Originally scheduled for the first week of November in Jeddah, LIV Golf's $50 million championship will now be played in late October outside of Miami at Trump Doral, which hosted the inaugural LIV Golf team championship last season. The Jeddah event will remain on LIV Golf's schedule, but will now be contested the week before Doral.
No official reason was given for the change, although multiple sources with LIV Golf pointed to last year's Doral event being one of the most attended LIV tournaments as an impetus for the switch.
LIV Golf just wrapped up its ninth event of its second season in London, with five remaining tournaments left on its schedule. However, the future of LIV remains unclear. LIV Golf CEO Greg Norman has been telling LIV players and staff members that LIV Golf will return for 2024 and beyond in the shadow of the PGA Tour's new partnership with LIV Golf's financial backer—Saudi Arabia's Public Investment Fund—but there is no guarantee the fledgling circuit will continue, and Norman was not mentioned anywhere in the framework agreement between the PGA Tour and PIF.
The new entity formed by the PGA Tour, DP World Tour and PIF will, however, "undertake a full and objective empirical data-driven evaluation of LIV and its prospects and potential and will make a good faith assessment of the benefits of team golf in general, and PIF, the PGA Tour and the DP World Tour will work together in an effort to determine how best to integrate team golf into PGA Tour and DP World Tour events going forward." There is also a mention of the parties in question cooperating to help secure Official World Golf Ranking consideration for LIV Golf events.
Norman and PIF governor Yasir Al-Rumayyan were invited to the United States Senate's hearing on the proposed deal between the PGA Tour and PIF, but both declined citing scheduling issues.
The LIV finale has no individual component, with the top four regular-season teams receiving byes. The three-day event will feature both stroke and match play. The 4Aces, who are the defending champions and led by Dustin Johnson, are atop the LIV team standings, followed by the Torque and the RangeGoats.