LIV GOLF LONDON
Cam Smith wins for first time in 7 months, now sets sights on Open Championship title defense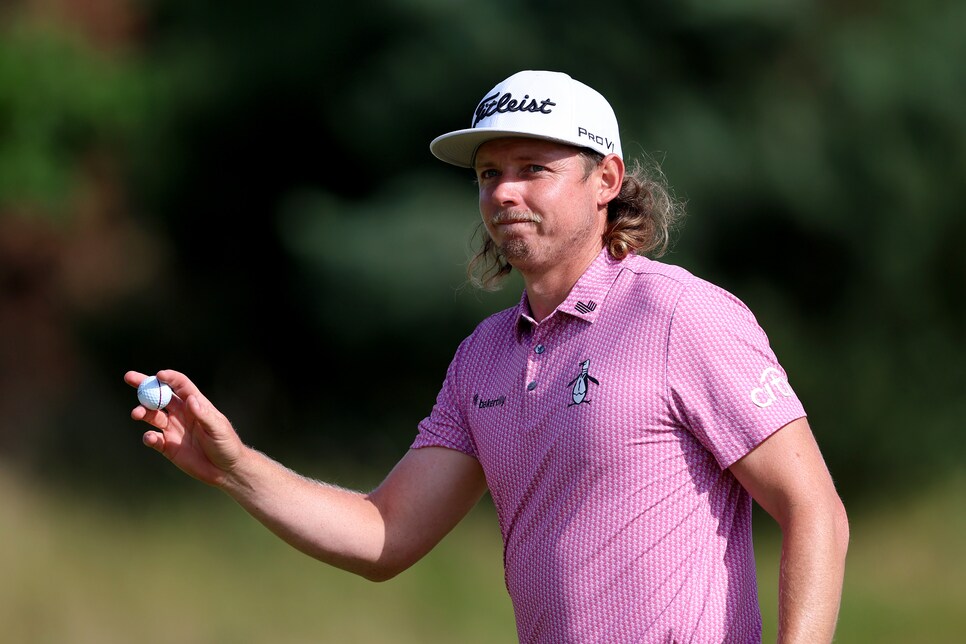 The mullet was flowing, the short game was silky and the driver was, at times, wayward. LIV Golf London winner Cameron Smith may be playing on a different league now, but his preparation for the Open Championship bears resemblance to the lead up to his victory last year at St. Andrews.
On Sunday, Smith bagged a second career LIV victory, this one at Centurion Club outside London. With a final-round 68 the World No. 7 finished at 15 under par and one ahead of countryman Marc Leishman and Patrick Reed.
Smith's win had similar thrills and spills to some of his performances last season, like the Players Championship, when Smith punched out of trees and into water on the 18th hole at TPC Sawgrass but saved bogey to win by one. In London this week, Smith kept his fans similarly on the edge for all 54 holes.
There were chip-in birdies from impossible spots after errant tee shots, long-range putts poured in with ease and miraculous saves down the stretch on the final day. At the par-5 15th while leading the tournament by two, Smith hooked his drive into trees with such force it looked like he'd need a provisional. He found his ball, and after two solid shots he burned the edge of the hole for birdie.
At the par-4 16th, Smith made a crucial up and down from short of the green while Reed was snapping at his heels courtesy of seven birdies in his last 11 holes. Smith then reclaimed momentum with a birdie at the par-3 17th.
"This course is so fiddly, it's tough to play with a lead," Smith said after his $4-million win. "You're almost trying to place it in the fairway and on the green rather than just hitting your shots. It can get to you. This is the best the putter has felt for a long time, and I think that definitely saved today's round."
At the par-5 18th, Smith couldn't channel his trademark scrambling after pulling a drive into long rough. Following a layup, he hit an uncharacteristically poor wedge for his third and found a greenside bunker. He then missed the short, but tricky, par putt. A bogey gave Smith a one-shot win but cost his Ripper GC team (Smith, Leishman, Matt Jones and Jed Morgan) the chance to enter LIV's first-ever team playoff. Dustin Johnson's 4 Aces (Johnson, Reed, Peter Uihlein and Pat Perez) won their sixth team title, a $3 million prize they split four ways.
"I would have loved it," Reed said of a playoff.
Perez agreed: "Cam hasn't missed one of those [putts] in his life, so I'm pretty shocked. [Extra holes] would have been cool."
Bigger picture, the LIV victory is an important shot of confidence for the 29-year-old Smith before defending his Open title at Royal Liverpool in two weeks. The LIV title ends a seven-month victory drought, an odd feeling for a player who won five times in 2022.
"I think it's more of a confidence thing there; just winning again I think is nice," he said. "It really hasn't been that long since [winning the Australian PGA Championship in November] my last win, but it feels like forever. Especially the way I've been playing the last couple months, I've been knocking on the door."
Smith has been knocking on the door at the majors, too. His fourth place at the U.S. Open last month and T-9 at the PGA Championship were career-best results in those championships. He's expecting the LIV victory to ignite another run.
"Hopefully it opens the floodgates a little bit," he said.
The preparation for the 151st Open will be different to last year. Instead of a 68-67 weekend (T-10) at the Scottish Open, he plans to head to Wimbledon during a restful week. But he does, however, hope that the Open result will be the same.
"Probably no golf for me; I'll hang out in London, see all the sights, and have a good time and relax," he said. "I'll be heading up to Hoylake on Saturday, so I'll have a bit of a longer prep than usual."