British Open
British Open 2023: LIV Golf's Saudi boss expected at Royal Liverpool, according to report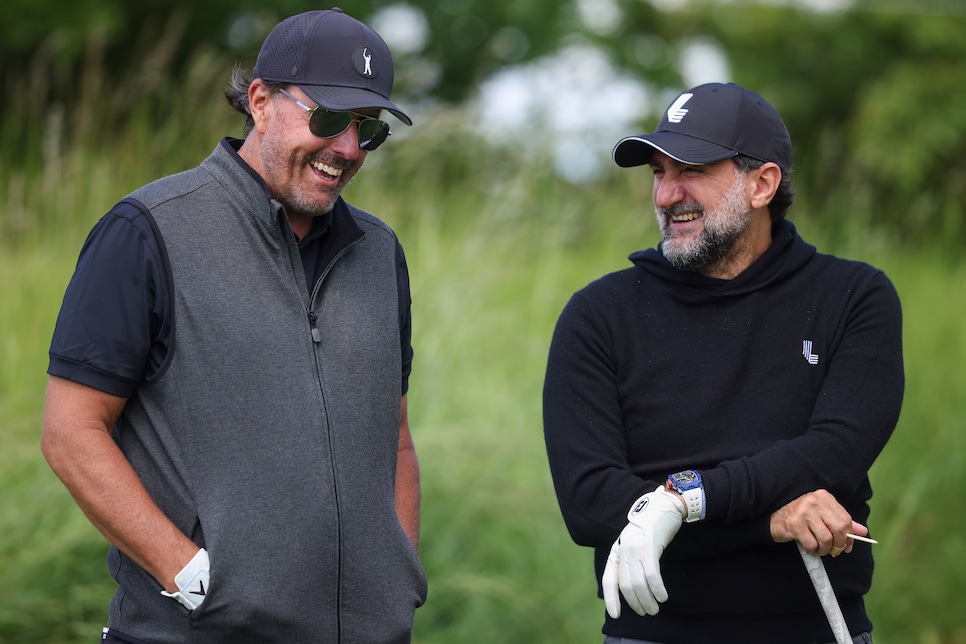 Charlie Crowhurst/LIV Golf
HOYLAKE, England — Saudi Arabia Public Investment Fund governor Yasir Al-Rumayyan, who essentially serves as the head of LIV Golf, is expected to be in attendance at Royal Liverpool for this week's Open Championship, according to a report by the Telegraph.
Al-Rumayyan is expected to be a guest of a primary sponsor of the R&A. During last week's Congressional hearing on the proposed deal between PIF and the PGA Tour documents showed that Al-Rumayyan had been campaigning for membership in the R&A, as well as Augusta National. Joining Al-Rumayyan will be Amanda Staveley, who has served as an advisor to Saudi Golf.

Al-Rumayyan is part of Crown Prince Mohammed bin Salman's inner circle and considered the mastermind of the Golf Saudi and LIV Golf projects. It was Al-Rumayyan who brokered a framework agreement with PGA Tour commissioner Jay Monahan and board members Jimmy Dunne and Ed Herlihy, a deal that paused a year-long civil war in the professional game and ended litigation between LIV Golf and the PGA Tour. He also appeared with Monahan on CNBC in a televised interview to announce the proposed deal.
Though the PGA Tour maintains it controls LIV Golf's destiny as part of the proposed deal, Al-Rumayyan has asserted to LIV Golf members and staff the league will continue, and documents released by Congress last week indicates language in the framework agreement that may give Al-Rumayyan final say over the matter. Al-Rumayyan is also expected to be the chairman of the new for-profit entity created by PIF, the PGA Tour and DP World Tour.
Al-Rumayyan was invited to testify before the United States Senate last week but he and LIV Golf CEO Greg Norman declined due to scheduling issues. The Senate's Permanent Subcommittee on Investigations has promised it will pursue all avenues to get Al-Rumayyan to talk with the group. Additionally, Al-Rumayyan and PIF had been seeking to be protected by immunity law in the litigation battles between LIV and the PGA Tour, although a court ruled Al-Rumayyan could be deposed. The lawsuits were ultimately ended as part of the framework agreement.
There are 16 LIV Golf members in this week's Open Championship field, including reigning champ Cam Smith.