Editor's Note: This article first appeared in Fire Pit Collective, a Golf Digest content partner.
We get three daily papers at home, and all three had the same headline on Thursday:
"LIV Golfers are Pawns of the Saudi Government"
At least, that's how I read them.
The Philadelphia Inquirer: "OPEC, Allies to Cut Oil Output"
The Wall Street Journal: "OPEC, Allies Slash Output of Crude"
The New York Times: "Saudis and Russia Agree to Oil Cuts, in Jab at the West"
LIV Golf is funded by the Saudi government's vast investment fund. OK, who would not be in favor of Saudi Arabia making a move toward ye olde game and all it represents (at its best)? Better living through golf and all of that. But the stubborn fact behind those newspaper headlines remains: The Saudis are aligned with Russia, in the name of making more money. Russia is led by the single-greatest threat to world peace this new century has experienced. We have all seen Vladimir Putin's depravity. He should be charged with war crimes. His own generals should turn him in. And the Saudis want to be in business with him and with Patrick Reed, Phil Mickelson and Co.?
Mickelson had it right when he said this about the Saudi leaders, to my colleague Alan Shipnuck late last year: "They're scary motherfuckers." Also ruthless. I wouldn't want to have my paycheck signed by any of them.
Nobody wants to come to the sports section to read about global oil politics and a murderous despot. But golf has been on a collision course with this reality all year, all in the name of show-me-the-money. The game has taken a huge hit because of it. That is, the professional game.
Speaking for myself and maybe for you, they can't take golf away from me.
For some years, Reed was selling Team USA and these-colors-don't-run as effectively as anybody ever has. But I would say he has jumped ship, in the name of green loot and, unwittingly, black gold. He can do what he wants. We don't have to like it.
The 48 LIVsters are in Bangkok this week, in Jeddah the week after that and in Miami at the end of the month. It's amazing how much LIV has been able to do in its first year. Good use of huge sums. Greg Norman and his cohorts signed Dustin Johnson, Cam Smith, Abe Ancer and Henrik Stenson, which cost the affable Swede his Ryder Cup captaincy. They got capable tournament broadcasts up and out on YouTube. They dug their way under the skin of the PGA Tour, maybe unnecessarily.
A sidebar question: Are 54-hole events with 48 players without a cut and with a shotgun start really a threat?
LIV Golf does not do anything for me. For one, the thing I like most about the PGA Tour is that it's not by invitation only. You shoot the scores, you get the slot, no matter who you are. For another, I don't like or respect the funding source for the LIV series. I'm not saying that every corporation that supports professional golf in the United States is Mother Teresa Inc. But I can't name one that's in bed with Putin, choosing to make money out of chaos, or aligned with a country that is waging war with its neighbor that has resulted in the death of thousands upon thousands. It is beyond repulsive.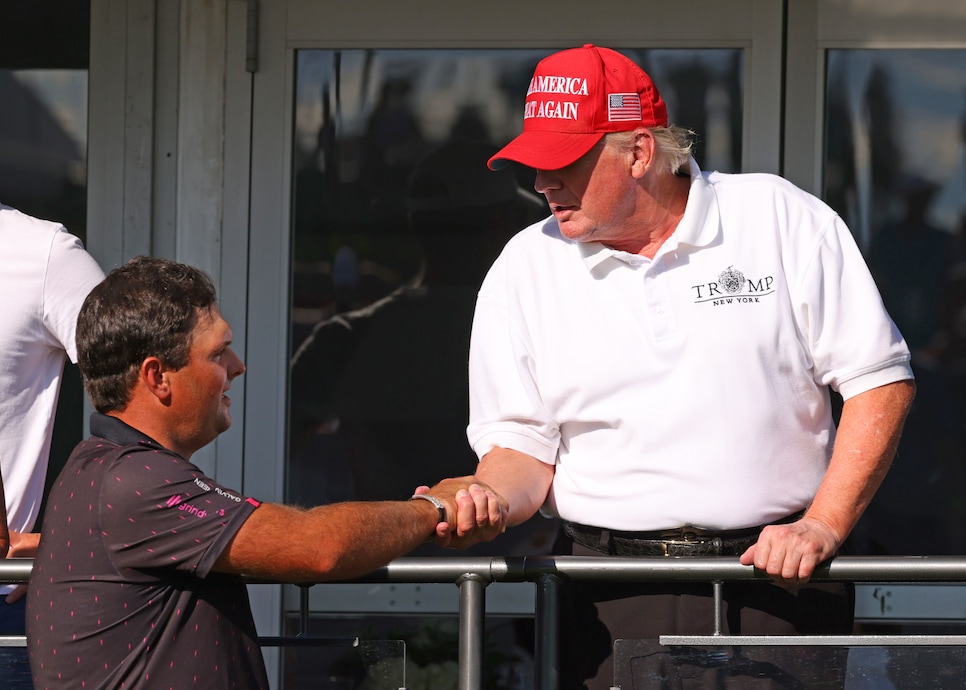 Patrick Reed shakes hands with former President Donald Trump the LIV Golf Invitational - Bedminster in July.
Chris Trotman/LIV Golf
The final LIV event this year is at Trump Doral. A July LIV event was at Trump Bedminster. There most likely will be at least three LIV events on Trump courses next year. I have played a lot of golf with Donald Trump, when he was playing a business mogul on TV. He was a lot of fun to play with. And while I don't profess to be a historian of any kind, I cannot name another American in my lifetime (I was born under the star of Eisenhower) who has been a greater threat to our ideals.
How many of our fellow Americans have sacrificed their lives for those ideals, for our right to life, liberty and the pursuit of happiness?
Yes, somewhere in there is ye olde game. Golf is part of the American dream. Our pursuit of golf is a kind of happiness, is it not?
I wouldn't want to be aligned with a golf league that's aligned with Donald J. Trump. Seeing Trump on a golf course makes him seem mainstream, legitimate, normal. Until Trump came along, we'd never had a president who was not committed to the peaceful transfer of power. Trump claims Jack Nicklaus as a friend. Part of Nicklaus's legacy is how he handled defeat. The art of the loss. You probably know he was the runner-up 19 times in majors alone. Evidently, Trump missed that part. He is still claiming he won the 2020 election. He once told me he shot 68 at Bel Air. His own playing partner from that round told me the score was a fantasy.
The New York Times headline said the Saudi and Russian agreement on oil production was a "Jab at the West." Somewhere way down the line, it was a jab at Western golf too. Western golf has a value system you can be proud of. At its core, it's democratic. Golf is hard, but at least it's fair.