Equpement
Lilia Vu used no fairway woods in winning two majors, and here's why every golfer should consider her bag setup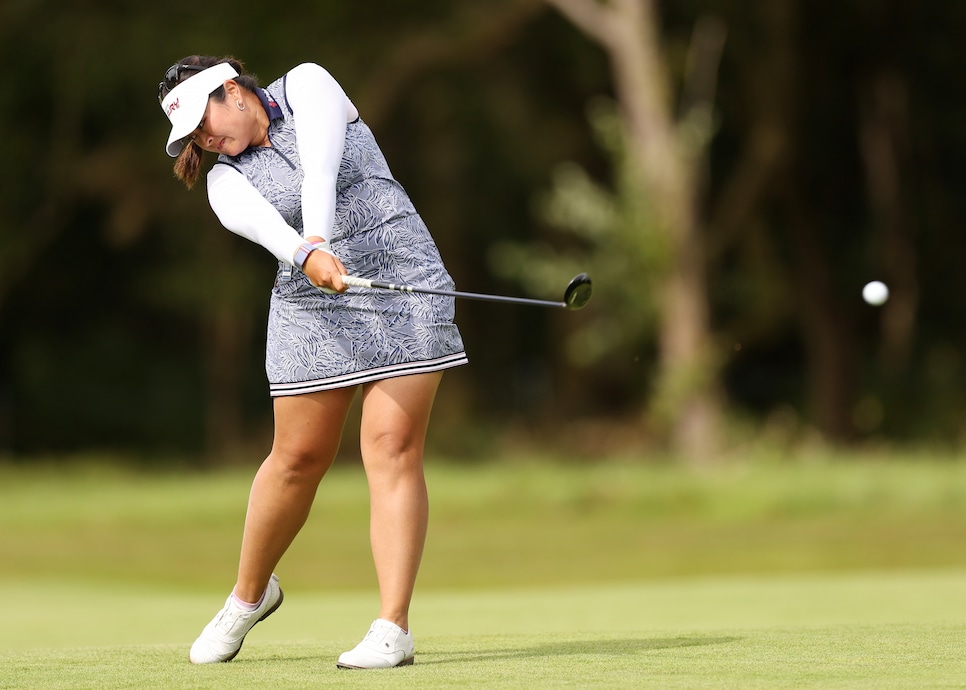 Lilia Vu hits a utility wood into the sixth hole in the final round of the Women's Open.
Oisin Keniry/R&A
Lilia Vu's dominant closing round on Sunday to win the AIG Women's Open at Walton Heath and secure her second major of the year sparked stories of her resilience and mental fortitude. She rallied from being relegated to the Epson Tour and nearly quitting golf in 2019 to now being atop the Rolex Women's World Rankings.
But Vu's mental strength also applies to how she plays her own game with her clubs, too. Vu has won both majors this year without a fairway wood in the bag. At least technically. Next to her driver (a 9-degree TaylorMade Stealth Plus), Vu's longest clubs are 15- and 17-degree utility woods. Specifically, Vu has been using Callaway's Apex UW in both slots (essentially occupying the space of a 2-hybrid and a 1-hybrid). They are clubs that have been around for two years and are also favorites of Xander Schauffele, Jon Rahm and Phil Mickelson.
As Sunday played out, Vu took early command thanks to her twin utility woods. She laid up off the tee on the long par-4 second hole with her 15-degree and then hit a dagger from 205 with her 17-degree utility wood to set up an eight-foot birdie that opened her lead to two shots. None of the challengers ever got closer.
The lesson in Vu's setup is there for anyone to adopt, as well. Don't be so sure that you need a traditional 3-wood or 5-wood. Maybe a slightly higher lofted first fairway wood (16.5 degrees for example) is a better option, as it might be more versatile for shots from the fairway.
In addition, like Vu, maybe look outside the realm of the current landscape of clubs to fill these longer shots. Some golfers, particularly higher skilled players, find that many current hybrids offer too much draw bias. The original Apex UW, as well as its newest iteration, adopts a more centralized center of gravity for a neutral ball flight. As well, its compact size adds versatility and workability to this section of the bag—another requirement for skilled players. Vu's 15-degree Apex UW is a special tour-only prototype, by the way, further evidence that this is a club designed for specific elite-level demands.
"Three-woods don't really work the way I want them to," Vu told Golf Digest. "I hit my Callaway Apex UW 2-hybrid really well, so I asked if they had a lower loft hybrid, and they did."
What Vu's setup shows us is that each of the clubs in your bag needs a specific distance (and playability) function, and too many average golfers have clubs that might serve little distinct purpose or are overlapping with what other clubs are doing.
A recent study by Arccos, the stat-tracking GPS app, in conjunction with Cobra Golf, found that 99 percent of average golfers have at least one gapping problem in their sets and 38 percent have three or more. It's worth a trip to a fitter or some time with your teacher and a launch monitor to get your yardages checked through the bag. That may mean different kinds of clubs in the longer end of your bag, including hybrids, high-lofted fairway woods, utility irons and yes, like Vu, even utility woods.