News
Lexi Thompson was haunted by ANA Inspiration loss last year, but is ready to move on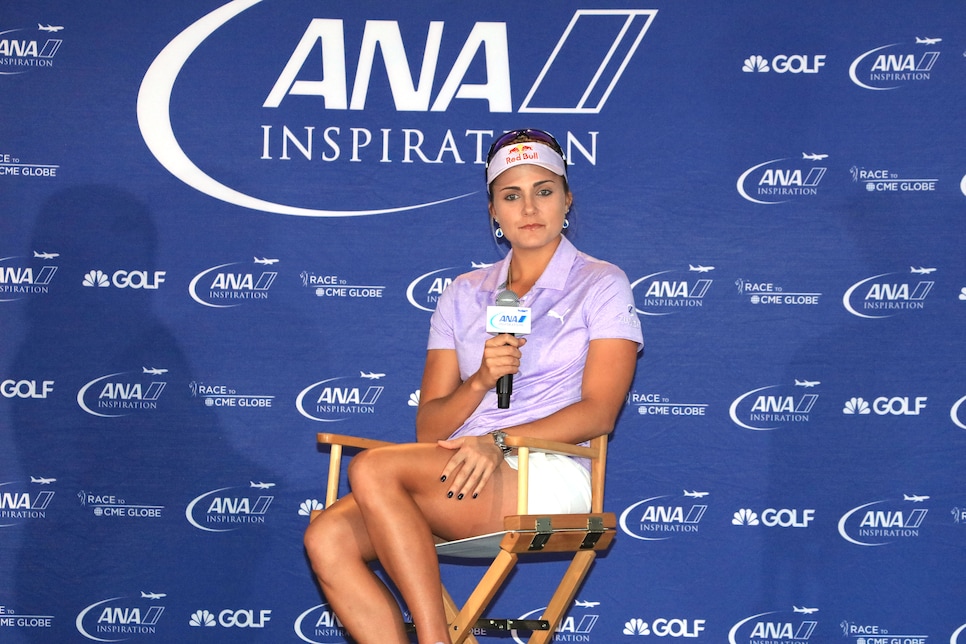 RANCHO MIRAGE, Calif. — What might have been always trumps what was, but has it ever done so with such hostility, bookending sustained brilliance with avoidable runner-up finishes nearly as painful to watch as they were to endure?
This was Lexi Thompson's 2017. What might have been was a career year, a four-win season, one of them a major, player-of-the-year honors, and a big move forward to what likely still is her destination, the World Golf Hall of Fame.
What was was at least palatable, two wins, the Vare Trophy for lowest scoring average, and winning the season-long Race to the CME Globe and its $1 million bonus.
Thompson held a two-stroke lead on the back nine of the final round of when she was hit with a four-stroke penalty for an inadvertent infraction in Saturday's third round. She marked her ball on 17th green, but she failed to replace it in precisely the same place.
It was imperceptible by everyone save for a television viewer with a keen eye for detail and an eagerness in sharing it. Hence, she was given two strokes for violation of Rule 20-7c (playing from the wrong place) and two for signing an incorrect scorecard. Subsequent rules changes would likely mean Thompson would not receive any strokes if is all happened again today (the LPGA no longer takes viewer call-ins or emails). But in the moment, it was an outcome that haunted her for weeks.
"That night was extremely rough," Thompson said at Mission Hills Country Club on Tuesday, two days before the start of the ANA Inspiration. "I was screaming, crying. You know, I've relived it for a while. I had nightmares about it. I still occasionally do. It's been rough, but you know the fans were behind me the weeks after, the months after.
"I stayed off social media after that because [social] media was blowing it up and making me feel terrible. So I just tried not to pay attention to any of that. I just hung out with my family, and just kind of stayed to myself, honestly, and just had to let it go and let time pass."
At the end of the year, she experienced more agony. Thompson badly missed—dare we say yipped?—a two-foot par putt on the last hole of the CME Group Tour Championship that allowed Ariya Jutanugarn to beat her by one. Putting is an old nemesis for Thompson, who methodically has turned it into an asset, save for the penultimate putt of her season last year.
"The few putts that I missed I think I was just rushed a little bit and then my mind got off track," she said in January. "It's really all for me just visualizing the putt going in and just being comfortable over the putt and making sure I do my routine and take my time, just taking the putter a little bit straighter back and straighter through."
Thompson is ready to move on, to lean on last year's successes and forget the failures, eager, too, for another ANA Inspiration, a tournament she won in 2014.
"Honestly, it's still my favorite place," she said. "Yeah, I didn't have the best memories last year, but it's just an amazing atmosphere this whole event. There is so much history, and it's an honor just to be playing in it. But to also have my name on the trophy is a huge honor with the legends that are on that trophy as well.
"Just the atmosphere. It's so relaxing and so peaceful here in Palm Springs. I have my parents here, and we rent a house. And my mom cooks every night. It's just one of my favorite weeks out of the whole year."
Memories from last year resurfaced briefly when she arrived , but "I just had to let them go. I had to go on. It's the past. It's 2018 and I'm ready for a new year, and everybody needs to just let it go."
Thompson, incidentally, used part of her bonus—upwards of $100,000—to buy a Nissan GT-R, 565 horsepower and capable of putting everything in her rear-view mirror post-haste.