Putting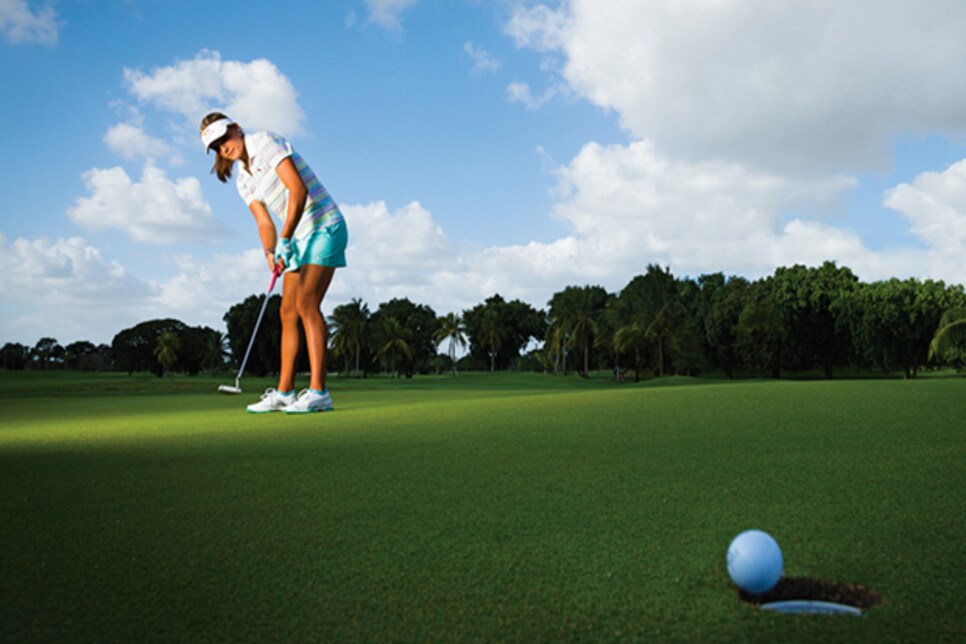 After being on tour for a couple of years, Lexi got too mechanical with her putting. She always had a great natural motion, but she started trying to create the perfect stroke, straight back and straight through. That's tough to repeat. So we got her standing farther from the ball at address to let the putter swing on an arc. We also opened her stance, which is more natural.
Two of the best putters ever, Jack Nicklaus and Brad Faxon, have talked about sensing the shaft when they putt. In other words, they concentrate on making a flowing, rhythmic stroke. Lexi had been trying to take her hands out of the motion with a robotic arms-and-shoulders move. I told her to use her hands a bit in the stroke. When she did, her feel for speed improved right away.
Lexi had a good physical pre-shot routine for her putting, but her mental routine was inconsistent. A mental routine, just like the physical one, requires practice. Here's what she does today: She starts assessing the green, with her eyes and feet, as she walks up, then reads the putt from behind the ball—getting low but not too close to it. She takes a deep breath and lets it out slowly before every stroke. That keeps her relaxed so her instincts can take over.
To ingrain the feeling of letting the putter swing, Lexi practices with her right hand only. This allows the putterhead to move back and through mostly by its own weight and gives her the sense that the putter is releasing through impact. As another drill, she practices from various distances without trying to hole the putt, without even looking at a target. Her goal is to simply strike it on the sweet spot. That really frees up the stroke. —with Roger Schiffman
Lexi Thompson, 19, has four LPGA Tour wins. This year she improved her tour rank in putting 74 spots from 2013. Jim McLean is based at Trump National Doral in Miami.