News
Lexi Thompson involved in rules issue at the Honda LPGA Thailand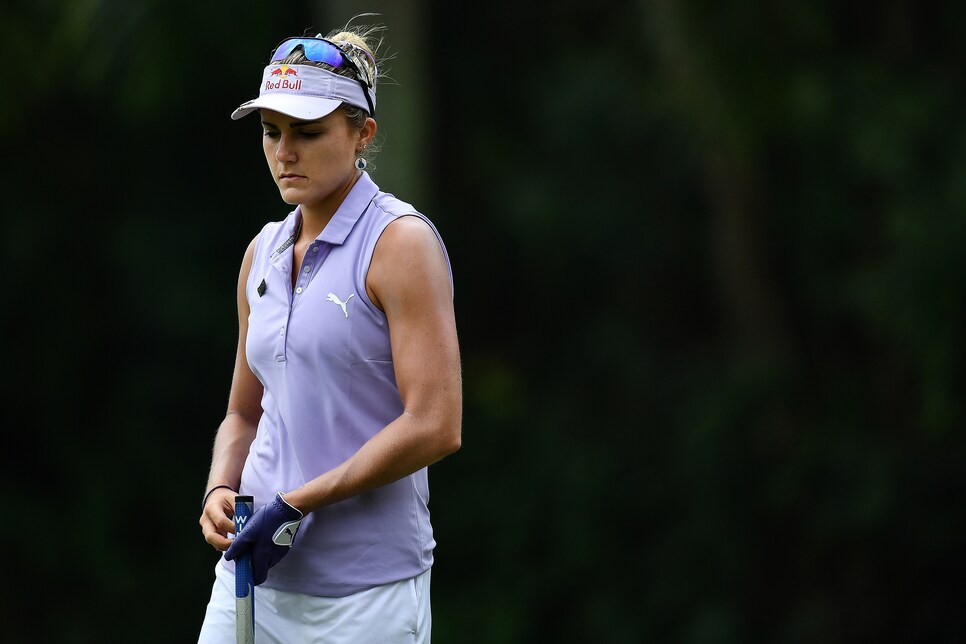 Thananuwat Srirasant/Getty Images
If any golfer wanted to avoid another question regarding the Rules of Golf, it's Lexi Thompson after all that transpired at the 2017 ANA Inspiration. But it was likely inevitable that the 23-year-old would face a situation as some point, and that some point came Friday during the second round of the Honda LPGA Thailand.
On the 15th hole at Siam Country Club, Thompson found her ball near an advertising sign, which she moved. At some LPGA events these signs are considered moveable obstructions, at others, they're temporary immovable obstructions. Unfortunately for Thompson, playing in her second start of the 2018 season, at the Honda they were immovable, resulting in a two-stroke penalty for her breach that gave her a 68 on the day rather than a 66.
Making the situation a little more unusual is the fact that Thompson wasn't assessed the penalty until she was in the scorers' tent. Thompson finished her round unaware that she had broken a rule. But prior to signing her scorecard, a rules official informed her of the infraction. Instead of being four shots behind leader Jessica Korda, Thompson stands six back at 10 under.
The LPGA explained the ruling in this official statement:
"During the second round of the Honda LPGA Thailand, Lexi Thompson incurred a two-stroke penalty on hole 15 for breach of the Local Rule regarding temporary immovable obstructions as prescribed in Appendix 1. The Supplementary Rules of Play for the Honda LPGA Thailand state that advertising boards are temporary immovable obstructions."
The situation, of course, brings back the bad memories of the 2017 ANA where Thompson incurred a four-shot penalty during the final round for not replacing her ball correctly on a putting green during the third round. Thompson lost the lead and eventually the tournament. The first two strokes were for not replacing the ball, and the other two strokes were for signing an incorrect scorecard. Thanks to a USGA rules change that allows the implementation of a local rule, those second two strokes would now not be applied.
The LPGA uses that local rule, so even if Thompson had signed her card before being made aware of her rules infraction in Thailand, she wouldn't have received the extra two-stroke penalty like she did at the ANA.