News
Lexi Thompson suffers heartbreaking loss at the ANA Inspiration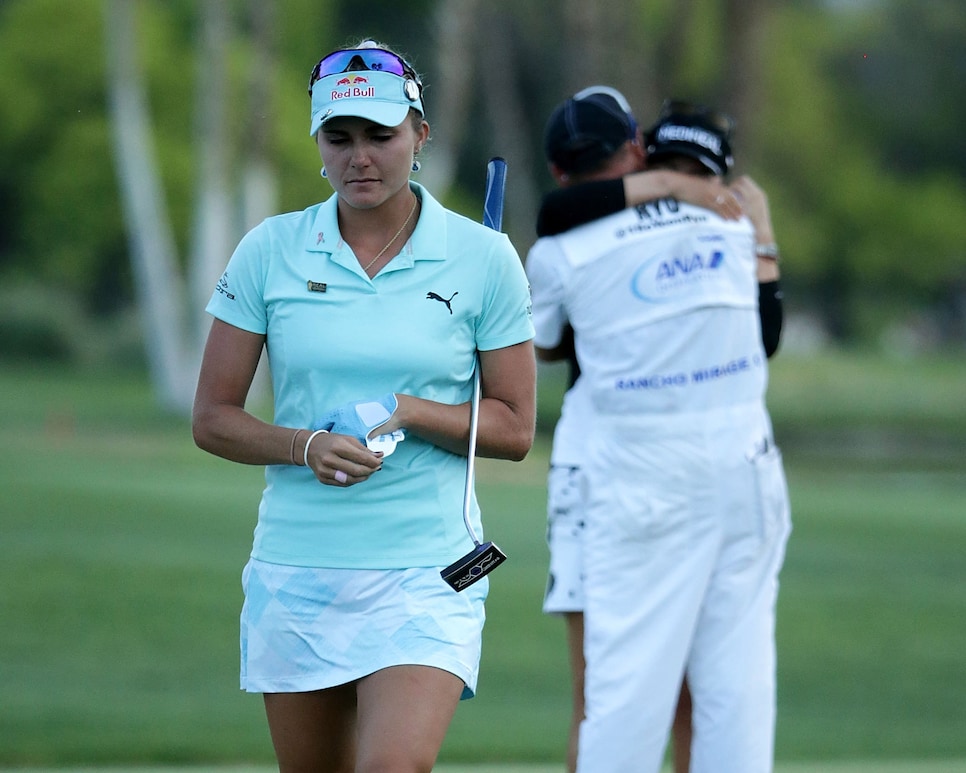 Lexi Thompson became the hard-luck loser of the ANA Inspiration in one of the most unusual finishes in modern golf history.
The 22-year-old American couldn't overcome the gut-punch of a four-shot penalty applied in the middle of her final-round Sunday at the Dinah Shore Tournament course at Mission Hills Country Club, despite making three birdies in her final six holes to force a playoff with So Yeon Ryu.
Ryu would take the title with a birdie on the first sudden-death playoff hole, her fourth career LPGA title and her second major championship victory.
Thompson started Sunday with a two-stroke lead and extended it to three shots through 11 holes. After a bogey on the 12th hole, bringing her lead back to two, Thompson then was informed by LPGA VP Rules and Competition Sue Witters she was being assessed four penalty strokes due to an infraction that occurred during Saturday's third round.
The violation—Thompson marked her ball on the green on the 17th hole but failed to place the ball back in the same spot when returning it—was not brought to the attention of LPGA rules officials in the middle of the final round when they received an email altering them to the error.
For breaching Rule 20-7c (playing from the wrong place) Thompson received a two-stroke penalty. And because she signed an incorrect scorecard for her third round, she received an additional two-stroke penalty under Rule 6-6d.
Officially, her Saturday 67 began a 71, and her two-stroke lead suddenly became a two-stroke deficit.
After getting the ruling, Thompson was visibly upset. "Is this a joke?" she said. "Whatever. That's just ridiculous." Fighting tears, Thompson pressed on, birding two of the next three holes.
Meanwhile, Ryu, playing ahead of Thompson, made a birdie on the 18th hole to finish with a closing 68 and get to 14 under, one stroke ahead of Thompson after Lexi bogeyed the par-4 16th.
Thompson countered, making a birdie on the par-5 18th—and nearly winning the title in regulation when her 15-foot eagle attempt came up just short.
In the playoff, Thompson's tee shot found the right rough, forcing her to lay-up rather than go for the green in two as she had in regulation. Ryu's second shot rolled just off the green, and her chip third nearly rolled in the hole, setting up a six-foot birdie try for the win. When Thompson couldn't make her 25-foot birdie effort, leaving it a foot short, and Ryu converted her's, the dramatic championship concluded on a sour note.