News
Lexi Thompson and Cristie Kerr come up clutch on the 18th in opening Solheim Cup match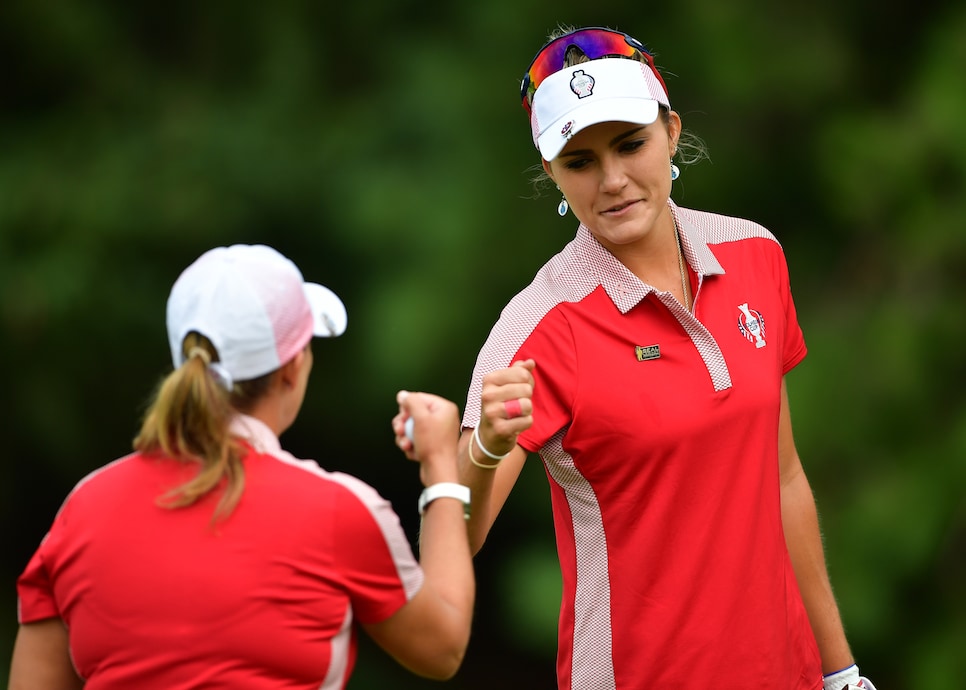 DES MOINES, Iowa -- Lexi Thompson started the first match of the Solheim Cup by ripping her 3-wood onto the green of the drivable par 4. Kerr made the eagle putt and it felt like the tone for their alternate-shot match against Charley Hull and Mel Reid had been set. Kerr and Thompson have both won on tour this year and both have higher world rankings than their European opponents, so it felt like there was a good chance the dominant first hole was going to be one of many during the match. But by the fifth hole, Hull and Reid were 1-up. The American team continued to trail.
"Alternate shot is a very hard format, but we hit it solid," said Thompson. "We tried to stay positive throughout the day and we know half a point is big in Solheim Cup so we had to keep in it and make putts."
After a chip-in by Hull on the 16th, she and Reid went to 2-up with two to play. But Reid put her tee shot on the par 3 17th to the left, leaving Hull an awkward side-hill chip. The chip went over the green, while Kerr chipped hers close. Thompson dropped the putt and the match went to the final hole.
On the 18th, Kerr showed how valuable the composure of a veteran is. Playing in her ninth Solheim Cup, Kerr put Thompson in perfect position off the tee and Thompson returned the favor by going after the pin that was tucked on the right side of the green. On the green, Hull was putting from the middle of the green and missed on the low side. Kerr lined up her putt from about 12 feet, and it fell in the center of the cup.
"I didn't have any nerves," Kerr said of the putt. "We made a huge par on 17, and sometimes all you need in this format is a little momentum."
The celebration that ensued after Kerr made the putt felt like the match had just gone to the Americans. Sometimes, a tie feels like a win.