Stuff happens
LET pro takes a pratfall tumble and laughs at herself in video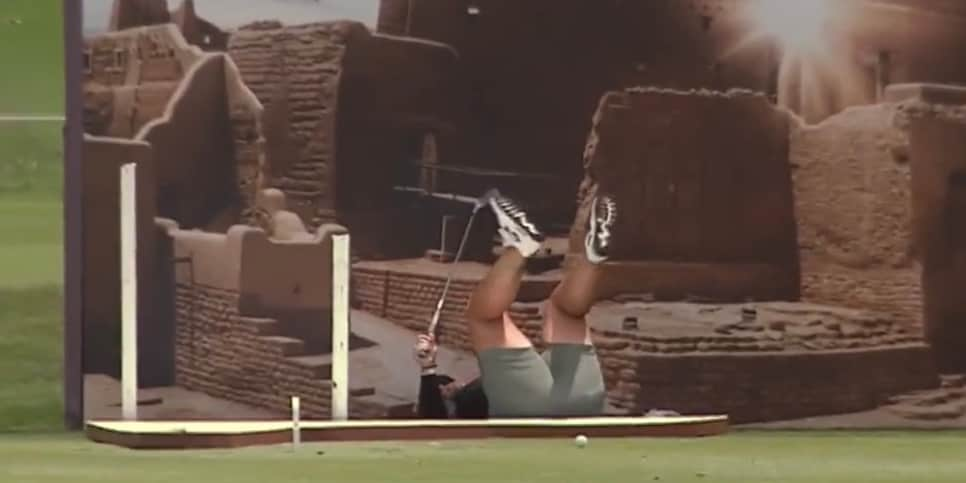 In LET Twitter video, Chloe Williams tumbles backward over an ad sign during final round of tournament. (Twitter)
It was something out of a scene of a sketch comedy, and after seeing it, we're not sure which was funnier on Saturday: the slapstick way Ladies European Tour Chloe Williams flipped backward over a sign, or her reaction upon seeing replays of it. Call it a dead heat, because Chloe was an awfully good sport about it.
The setup: Williams, of Wales, was lining up her tee shot on the par-3 sixth in the LET's Aramco Team Series-Bankok, and in the background were on-course billboards advertising the Saudi Arabian destination of Diriyah. The red sand and colors are right out of a photo of Sedona, Ariz., and there was a small piece of wood "rock" behind the tee that gave the ads a 3D quality. As Williams backed up to visualize her shot, the façade clipped her at the knees, and she tumbled backwards, her legs flying up in the air.
If the pratfall happened on the LPGA Tour, there would have been chuckles, for sure. But the LET players are so accessible that an on-course reporter caught up to Williams later in the round—while she was still competing—to share the video with her. Williams got quite the kick out of it.
"I'm sorry, I've only just seen this," Williams said as she watched the video on the reporter's phone.
"Oh, sorry, that was brilliant," Williams said between laughs. "In my defense, OK, it's been there all week, but …"
"The thing that I stumbled into is brown. It's in, you know what I mean …"
Quipped the reporter back to her: "But the grass is green.""
"Honestly, it's just brilliant," Wiliams said. "I'm just glad I could contribute some fun for the group."
The hardest part, Williams confessed, was that she still had the shot to hit while her partners were in hysterics. She smoothed a nice iron onto the green and made par. "I said to the girls, that was one of my best pars in history," Williams said, still laughing.
In the 54-hole tournament, Williams closed with a 76 and tied for 52nd. The winner was Belgium's Manon De Roey, who shot 66 to overtake overnight leader Patty Tavatanakit.