LPGA
Leona Maguire's 2021 turned out better than she dreamed, but there's one thing she still hopes to accomplish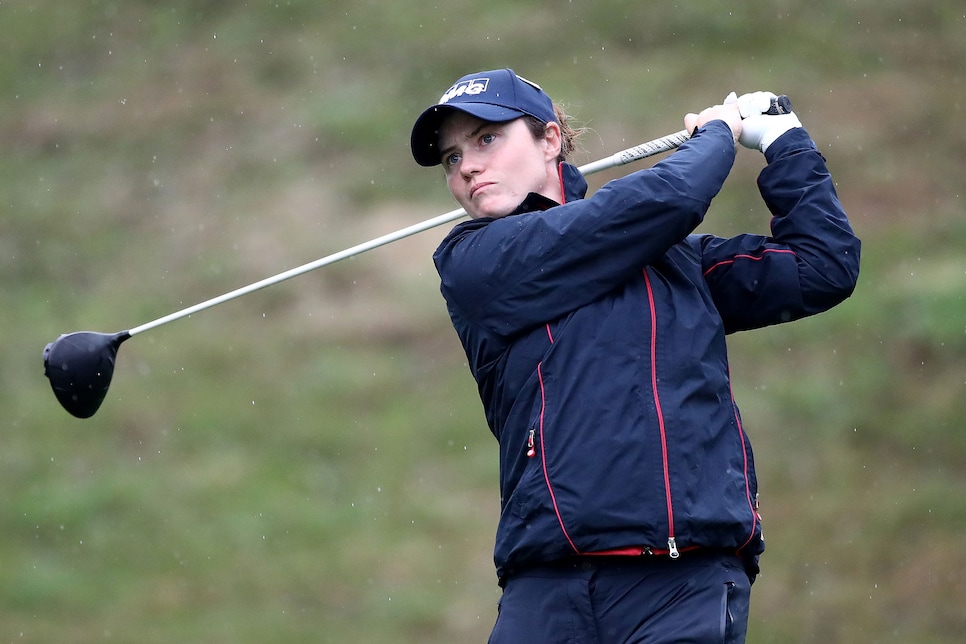 NAPLES, Fla. — Following a rookie season with just one top-10 in 14 starts, Leona Maguire had modest goals for 2021. The 26-year-old from Ireland wanted to get off to a solid start to appear on Catriona Matthew's radar for the European Solheim Cup, make the team and qualify for the CME Group Tour Championship, thereby keeping her card for 2022.
"I was lucky enough to play [the Tour Championship] last year," Maguire said, "[and] that was the goal, to get back here this year."
Maguire checked off her quickly by recording nine top-15 finishes in 20 starts. She not only made Team Europe but went undefeated in five matches to help clinch a win at Inverness Club. And she didn't just qualify for the field this week at Tiburon Golf Club by finishing in 17th place on the CME point list, she's in contention after shooting a five-under 67to sit three back of opening-round leader Jeongeun Lee6.
Indeed, the cap to this standout season would be if Maguire can pick up a victory at the season finale and become her country's first-ever winner on the LPGA Tour.
In looking back at her play in 2020, Maguire said she found the smaller-pressure environment of the pandemic-shortened season—her card locked in for 2021 regardless of her play—helpful for her development from college star at Duke and the longest-reigning top amateur in the world to an ascending talent on the LPGA. She found the opportunity to experiment to improve her game further.
Maguire changed to graphite irons over the offseason, giving her more distance. She swapped caddies to Dermot Bryne over the summer, who used to caddie for Shane Lowry..
"It's fine margins out here," Maguire said. "The strength and depth of fields, it doesn't take a whole lot. It doesn't take much to go from finishing 30th to finishing second. Just having that belief in yourself that on any given day, you can shoot those scores and finish as high up the leaderboard as that."
Her work on the margins has let Maguire display the talent of an LPGA winner even if she hasn't yet claimed a title. She shot a major-championship-record tying 61 at the final round of the Evian Championship en route to a T-6 finish. She posted a 62 to open last week's Pelican Women's Championship, after having her swing coach, Shane O'Grady, attend his first tournament in two years due to pandemic travel restrictions.
Maguire went toe to toe with Nelly Korda on Sunday at the Meijer LPGA Classic, losing by two. In Maguire's second year on tour, her results let her believe she deserves to be alongside the top names in the game.
"I'm definitely a lot more comfortable," Maguire said, "Be it with Nelly or Jin Young [Ko] or whoever doesn't seem as daunting now. Hopefully [I] put myself into those positions more and more as the weeks and months go."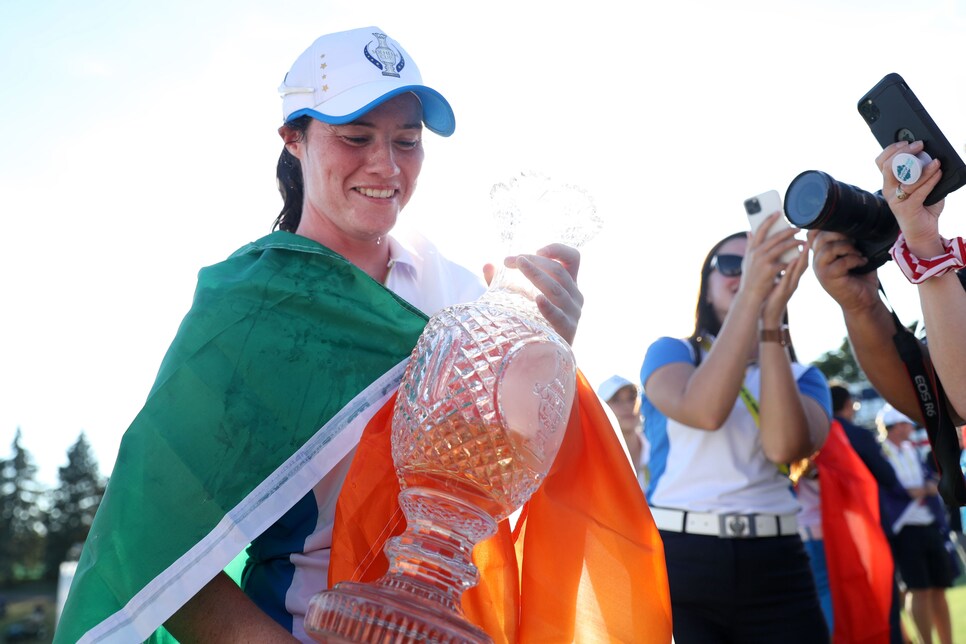 Playing in her first Solheim Cup, Maguire went an impressive 4-0-1 on the week to help Europe win on the road at Inverness Club.
Maddie Meyer
That comfort is nudging Maguire closer and closer to her first LPGA win. Continuing her fine-tuning process, she plans to meet with her team after a Christmas break back home in Ireland with her family to go over the season's highs and lows. Then, they'll identify what she can improve upon to close the door on a win and lay the foundation for a long LPGA career before Maguire returns to Orlando in early January to attack the 2022 season.
"You need all those things to click together [to win]," Maguire said. "I haven't quite had it for four days, I've had it for three days at a lot of tournaments. I just need that week for all four to go my way."
Maguire remembers celebrating Padraig Harrington's major championship celebrations and Shane Lowry's 2019 Open Championship. After the reception she received returning home from the Solheim Cup, she can only imagine the festivities should she win her first event.
"Irish people know how to celebrate and throw a good party," Maguire said. "I'll try and do my best to give them another opportunity to do so."