LPGA Tour
Lexi Thompson works on staying upbeat despite another close defeat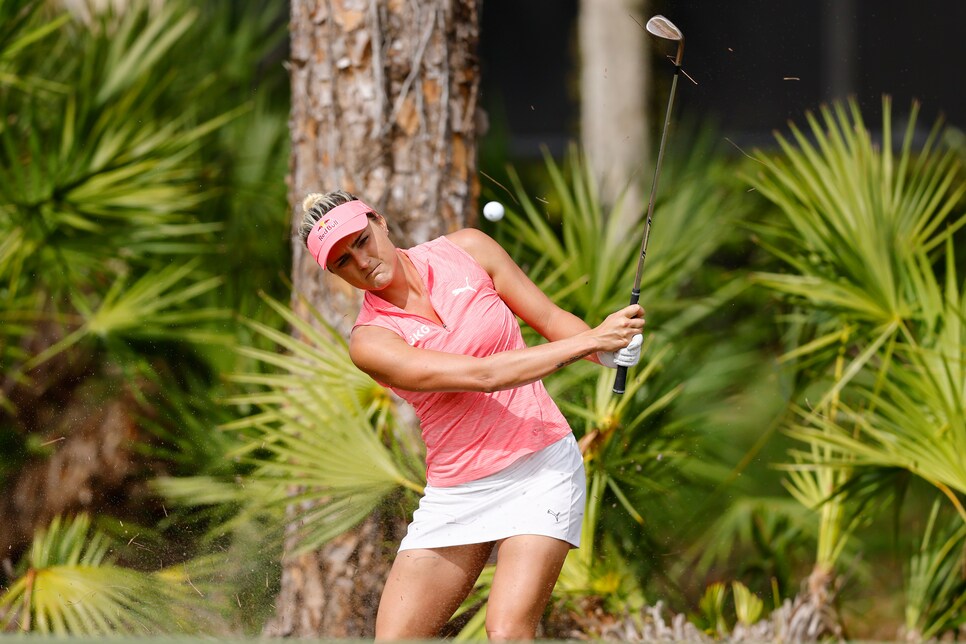 Lexi Thompson plays a shot during a practice round prior to the CME Group Tour Championship.
Michael Reaves
NAPLES, Fla. — Lexi Thompson's shoulders slumped after her playoff loss in the Pelican Women's Championship Sunday. Her left-to-right slider missed high on the first extra hole after she couldn't make a similar putt on the 18th in regulation to win at Pelican Golf Club. It was another missed opportunity in a season defined by them for Thompson.
The playoff loss was her third T-2 of 2021, alongside a third-place finish at the U.S. Women's Open. But, instead of staying slumped, Thompson's self-described most-improved skill in 2021—her mental outlook—let her focus on the positives as she aims to become the first multiple CME Group Tour Championship winner.
"Of course, it was not the finish [at the Pelican Women's Championship] I wanted," Thompson said Wednesday on the eve of the LPGA's 2021 season finale. "But I've been working so hard on my game, especially my short game, and especially my putting, just to make my putts throughout the whole week. I didn't make the few that came down the stretch, but it's an improvement. That's really all I'm going for. I have a lot of golf to be played in my life … just baby steps. That's all golf is. You're going to have failures, but as long as you go from the failures and take the positives out of it, success is the end goal, but just have to take positives."
Her putting work included changing her grip since the Solheim Cup to the claw. The 11-time winner says she has put in three to five hours a day, trying to hone her stroke. The efforts paid off in that she averaged 27.25 putts per round at Pelican, her lowest of the season by 1.5. For the year, Thompson ranks 138th on tour in putting average (30.86).
"I don't even know how my back is still attached," Thompson joked. "It takes a lot of hard work, and it's all about confidence and getting the stroke consistent enough and holing the putts under pressure, which I'll get to."
Thompson's focus on the positives was first brought to her when she started working with mental coach John Denney before the U.S. Women's Open. As a result, Thompson's shifted her mindset from golf being life or death, and defining herself by her outcomes, to counting her blessings to play golf for a living. She was met with adversity immediately after she blew a back-nine lead and didn't make the playoff in the Open at The Olympic Club.
While reflecting on the changes, Thompson looked up, noting the beauty in a sunny light blue Florida evening.
"That's something I've really struggled with along the way," Thompson explained. "Mentally, my score being who I am and what I'm judged by. It's a very different transition. It's very hard for me because golf has been my whole life."
The lighthearted nature of her new caddie, Will Davidson, has further fueled that adjustment to a more positive attitude.
Davidson and Thompson first met four or five years ago when he caddied for her older brother, Curtis, whom he's still close friends. The tandem started working together at the Northwest Arkansas Championship at the end of September. Both of them couldn't hide their grins talking about the jokes they make back and forth on the course.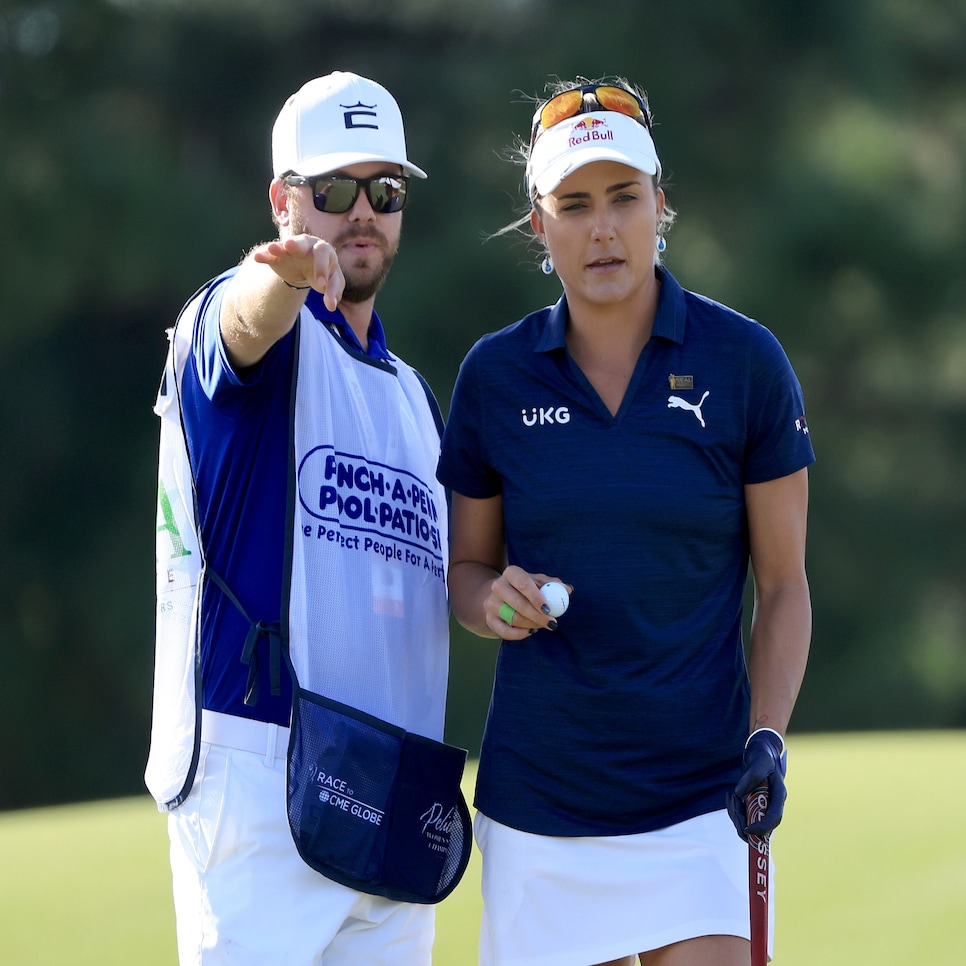 Lexi Thompson and caddie Willie Davidson discuss a shot during the final round of the Pelican Women's Championship.
Sam Greenwood
"We just have a great vibe together," Davidson said. "She wants to give me grief, and I can give grief right back. We just have a good connection, good relationship."
Davidson credits the quick connection built over six weeks to how similar Thompson is to Curtis. Their humor let Davidson quip back and forth, keeping everything light as they go through their round. It's an approach Davidson has brought to most players he has caddied for, getting Thompson to stay present versus allowing past mistakes to come to mind and distract her from the shot at hand.
"Still be focused on things we need to be focused on but keep your mind off things that can creep in and cause doubt," Davidson said. "Keep your mind occupied, and those doubts go away."
Their quick chemistry pushed Thompson to a resurgent finish to the season in her 10th year on the LPGA. Over her four starts with Davidson, Thompson has three top-12s and two top-eights, matching her total from her previous six months over 11 starts. Thompson credits bringing him on her team to build momentum towards a possible repeat finish of her 2018 season, where she posted her lone victory of the year at the Tour Championship.
"I think the caddie-player relationship is the biggest thing out here," Thompson said. "If you have somebody out here who you're not gelling with by your side, it can make a big impact. We get along so well; he's great out there with me. We're learning with each other; we're six weeks in, we're still learning. He's been a great help and I'm fortunate to have him by my side."