The Loop
LeMaster sets new world record for female long drive. Sort of.
LAKE TAHOE, Nev. -- No one's entirely sure about the longest drive ever hit by a woman. Swede Sandra Carlborg lays claim with a smash of 391 yards, but the Guinness Book of World Records isn't sold. The recording body has made the argument golf long-drive should simply be about carry distance, forget the roll, but lately they've demonstrated a willingness to back off this position. Yesterday evening, at a stunt sponsored by Korbel Champagne, several officials and a crowd of 100 or so watched Heather LeMaster uncork one 336 yards down the first fairway of the Edgewood Tahoe Golf Course. The wind was helping off the lake and the fairways are in firm condition for the American Century Championship, but these are minor footnotes for what was an absolute rip with a 48-inch shafted Callaway XR. Evidence of this feat will now be submitted to Guinness to establish a record for the longest female drive at an elevation above 6,000 feet. It should take six weeks for the record to be verified. Or dismissed.
"If you're a woman and want more distance you have to swing outside your comfort zone. Don't be afraid to swing past parallel or lose your balance a little," said LeMaster, holding the champagne she'd won. Her earrings were mini-revolvers, which she often wears during competition. "They're my little pea-shooters. You got to bring guns to a showdown."
LeMaster won the 2013 Women's World Long Drive Championship, and it was her idea to go for the record this week at the American Century Championship, the celebrity tournament where baseball player Mark Mulder is the defending champion. To draw a crowd, model/Golf Channel host/former LPGA Symetra Tour golfer Blair O'Neal also tried for the record. O'Neal hit several beautiful high fades that matched the dogleg of the fairway, but in nine tries could do no better than 325 yards. Kathryn Tappen, a sportscaster for NBC, showed off a fine swing but was a non-contender. The best challenge came from the fourth and final entrant, Morgan Murphy, an assistant pro at a neighboring course who'd read about the event the day prior in the local newspaper. Murphy called up to to say she wanted in. Asked if she could "move it," Murphy confidently responded, "I wouldn't be calling if I couldn't."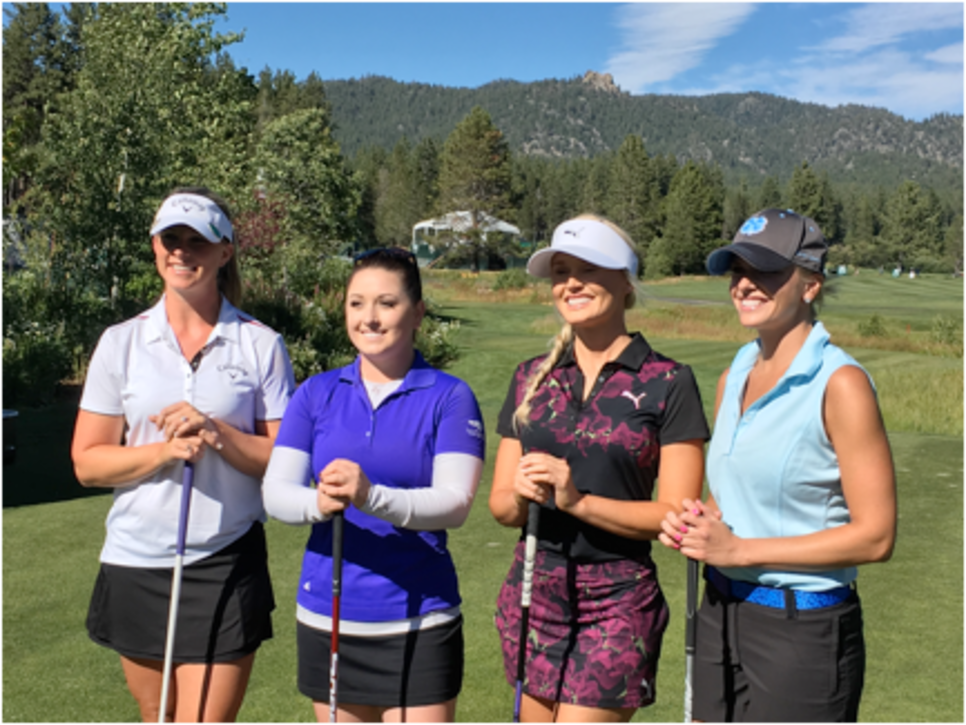 It was a good allowance, as Murphy's boisterous supporters accounted for about a third of the spectators. Also, she hit a ball that carried 253 yards and rolled out to 314. (Both statistics were measured in anticipation of Guinness persnickety-ness).
As the crowd filtered away in the setting sun of the Lake Tahoe cocktail hour, the victorious LeMaster was trying to convince Murphy to enter more long-drive events. The WLDC Qualifying: Rockwell Blast starts in Bountiful, Utah on July 28th.