As this week's news of imminent and multimillion-dollar changes to the PGA Tour's top-end structure and competitive philosophy sinks in, it is easy to imagine pangs of regret being felt elsewhere. As things have turned out, leading players who previously made well-compensated jumps to the LIV Golf series could have avoided much public criticism, personal aggravation and professional upheaval by staying with America's soon-to-be way-more-lucrative establishment.
Lee Westwood, however, is not one of those players. Speaking exclusively to Golf Digest, the former World No. 1 makes it clear he is more than happy with his decision to join the still fledgling circuit. Unlike some of his LIV Golf colleagues who are fighting a legal battle to retain their PGA Tour memberships, when he said he was keen to play less and travel less as he approaches his 50th birthday in April next year, Westwood was being nothing less than 100 percent honest.
"My age was obviously part of my decision-making process," says the Englishman. "Then there is the fact that the LIV tournaments are 54 holes, not 72. I saw that as a benefit. I also had a look at the senior tour schedule. Even there they are encouraging guys to play as many as 25 events. And there are two pro-ams every week, unless you are in a certain category. That's a lot for a senior. And, of course, the LIV events are offering 10 times the prize money.
"Anyway, the end result is that I've done exactly what I said I was going to do at the start of all this," Westwood continues. "I've given up my PGA Tour card. There was no way I could ever play in all the events required to keep it. I am going to play in the [BMW] PGA Championship at Wentworth next month, which will be my fourth DP World Tour start of the year. I do want to retain my membership there. Outside of my LIV commitments, I will play another four times on the DP World Tour next year. Right now, I'm not sure what those events will be. But it's most likely I'll turn up in the places I have most enjoyed over the last 25 years or so. Or where I think I've still got a realistic chance to win."
Indeed, the biggest worry currently affecting the man who has had 19 top-10 finishes in major championships is the future of what was his home circuit. Just how the PGA Tour's continuing interaction and "strategic alliance" with the DP World Tour will play out remains unclear. But Westwood, alongside many others across the Atlantic, is concerned that what is widely viewed as commissioner Jay Monahan's terminal insularity will relegate the former European Tour to little more than "feeder" status.
"I'm not convinced by the strategic alliance because I've seen how the PGA Tour has behaved over the years," he says. "There's not been much 'give.' They have always been bullies and now they are getting their comeuppance. All the PGA Tour has done since Tiger came on tour is up the prize purses. In turn, that has taken all the best players from Europe away from the European Tour. They've had to play in the States, taking all their world rranking points with them. That was their strategy: 'Put up the money. Get all the players. Hog all the world ranking points.' Which becomes self-perpetuating. What we have seen over the last few months is just LIV doing what the PGA Tour has done for the last 25 years."
Defenders of the PGA Tour's behavior will surely point to the emergence of the World Golf Championship events as an example of the Ponte Vedra-based organization's attempts to be more globally inclusive. But Westwood scoffs at such a notion.
"Back in 2000 it was mooted that there should be more WGC events around the world," he says. "So what did they do with the World Match Play? They stuck it early in the new year in Australia. Who was going to go then? Not many Americans. So then they turned around and said they just couldn't get a field. But that was by design. If you hold an event in Australia at that time of year you are never going to get much of a field. They have used tactics like that all along. Some may say I am cynical, but all I am doing is seeing through all the bullsh**."
Westwood is similarly less than impressed by the path the PGA Tour is following in response to all that LIV is doing.
"I laugh at what the PGA Tour players have come up with," he says. "It's just a copy of what LIV is doing. There are a lot of hypocrites out there. They all say LIV is 'not competitive.' They all point at the no-cut aspect of LIV and the short fields. Now, funnily enough, they are proposing 20 events that look a lot like LIV. Hopefully, at some point they will all choke on their words. And hopefully, they will be held to account as we were in the early days."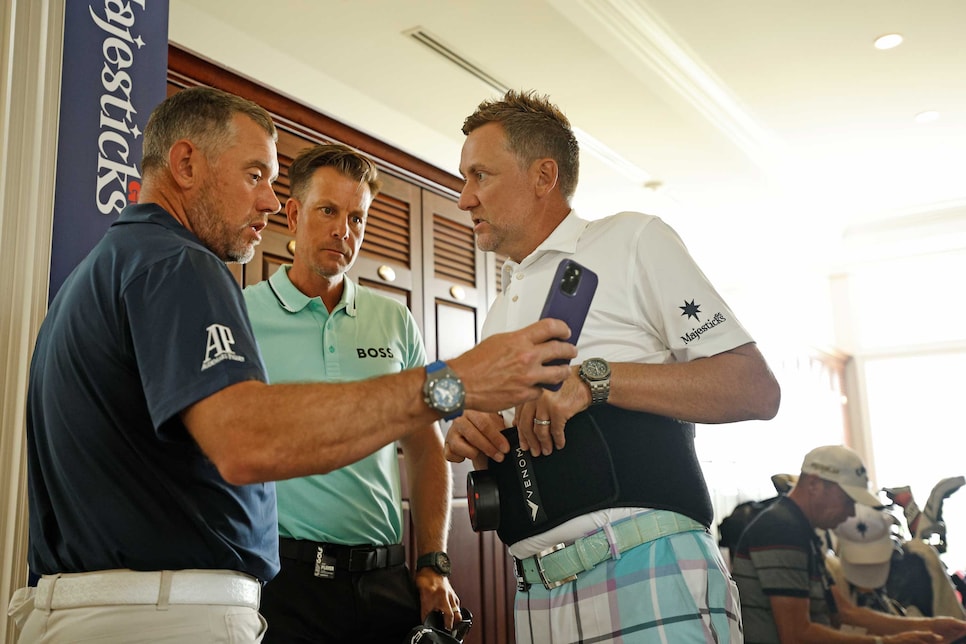 Lee Westwood, Henrik Stenson and Ian Poulter are seen talking in the locker room during day three of the LIV Golf Invitational - Bedminster.
Jared C. Tilton/LIV Golf
Speaking of which, the elephant in the LIV room has always been the controversial source of the tournament's funding, Saudi Arabia's sovereign wealth fund. As has already been obvious at the first three LIV events, the players—Westwood included—struggle to answer questions on what many see as the appalling lack of human rights that prevail in the Middle East state. And nothing has changed on that front.
"The questions on the Saudi government and their policies are unanswerable," Westwood says. "My response is just to try and not answer them. I'm not a politician; I'm a golfer. But I do know that sport can be used as change for good.
"Loads of other countries are doing that. And have done it. Besides, I don't understand why golf is being taken to task so much. Why is football [soccer] not being held to the same standard for having the World Cup in Qatar? Why was [heavyweight boxer] Anthony Joshua not criticized more for fighting in Jeddah last week?"
On a more personal level, Westwood was subjected to a milder form of the public criticism aimed at compatriot and fellow LIV player, Ian Poulter, during the recent Open Championship. There were a couple of boos and some heckling at St. Andrews, but Westwood was spared much of what came Poulter's way.
Fellow players have apparently also been "fine." Westwood claims to have encountered little if any animosity from other professionals. Quite the contrary. Which is perhaps as it should be. His record of attendance at his home circuit is one to be admired.
"They have been asking questions mostly," says Westwood of his contemporaries. "They want to know what it is like at LIV. I think they all know how much I have supported the European Tour over the last 30 years. I doubt you'd find someone at my level who has supported it more. When I won in America in 1998, I stayed on the European Tour and turned down PGA Tour membership. When I won in 2010, I did the same. When I was World No. 1, I didn't go to America; I stayed on the European Tour. I stayed and played through COVID. Not many others did that. I've always loved the European Tour. Over my career I've just dipped in and out of America."
Still, following a similar strategy is not something many leading international players have been doing—or are likely to follow in future.
"Look at how often the leading Europeans have recently supported the European Tour," Westwood says. "See how many times they have come over and played in events. Typically, the answer is not many."
So it is that, while LIV battle to gain recognition on the ranking front, recent changes to the allocation of points make it clear that the PGA Tour is the only place to play for those with ambitions to reach the pinnacle of the game. That—and the fact that the DP World Tour points have been so drastically reduced—is another source of exasperation for Westwood.
"A lot of precedents have already been set when it comes to the world rankings," he says. "Fifty-four hole events with no cut and limited fields have already been awarded points. And they do now. My bigger issue is that, while the OWGR points have just been changed and are now more reflective of field strengths, when you look at who voted on that stuff, and who they represent, I can't believe they have rolled over so easily. There was only one winner in that room: the PGA Tour."
Looking ahead more immediately, Westwood is looking forward to making what will be his 29th consecutive appearance in next month's BMW PGA Championship at Wentworth.
"It's a tournament I have always loved," he says. "I grew up watching it as a kid. I love the course. It's one of the best we play now that they have tweaked it. It's spectacular. The crowds are great. And BMW is a great sponsor. I'll play in the PGA as long as I don't feel I'm taking a spot away from someone more deserving."
And as long as he allowed to do so, of course. But whatever happens, Westwood has things figured out.
"I'm looking forward to playing the LIV event in Miami at the end of October then not having to tee-up again until February," he says with a smile. "I'll have four months off. At my age I can do some serious work in that time. I can get properly fit and come out leaner. I've just had a four-week break, three of those weeks I was on holiday. We have plans for later in the year and I'll be able to spend more time with the family. It just gives me more options. Already I can say to people, 'these are the 14 weeks I'm playing next year.' And I can have some fun in the other 38."
Like he said, no regrets.