PGA Tour
Lee Westwood gets clipped again, this time by his son at Augusta National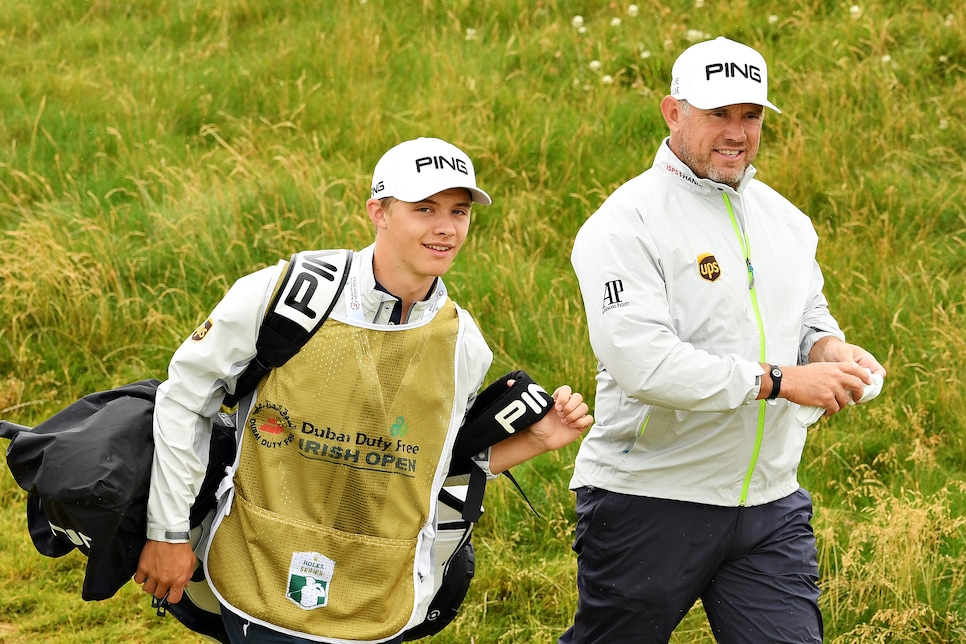 Lee Westwood walks with his son and caddie Sam during the 2019 Irish Open.
RK
After blowing a two-shot lead on the final day of the Players Championship, Lee Westwood left TPC Sawgrass last week disappointed but not distraught. After all, the 47-year-old has been around long enough and been through plenty of highs and lows in his long but successful career.
He also had something to look forward to: a tee time at Augusta National with his 19-year-old son, Sam.
The two played 36 holes on Monday and another 18 on Tuesday. How'd it go?
"Well, he chipped in on 18 [Tuesday] to take the money," Westwood said Wednesday from this week's Honda Classic. "We'll not discuss the shots. I will say it's as hard as I've seen Augusta play, even when it's been the week of the Masters. It was cold [Tuesday] morning, 45, 50 degrees. It was playing long, and the greens were like rock. They were really releasing out. It was a tough couple of days to play Augusta."
Especially for the elder Westwood, losing his match to Sam.
"I think he shot 82," he said. "I set him a target of 83 and he chipped in on the last for birdie for 82, so he won the money."
That's the least of the daggers in a tough couple of weeks for the 25-time European Tour and two-time PGA Tour winner.
First, Westwood squandered a one-shot lead in the final round of the Arnold Palmer Invitational, where he shot 73 the last day to lose by one to Bryson DeChambeau. Then came Sunday's 72 at the Players, where he came up one stroke too many to Justin Thomas. Now his son channels his inner Larry Mize with a chip-in to beat him.
Now comes this week's Honda Classic and one of the tougher courses on tour in PGA National. Last year, Westwood tied for fourth, one of two career top-five finishes in the event. But he's also coming off having played a lot of golf in a short time.
"I'll get a good night's sleep tonight and try and recharge my batteries a little bit, get plenty of carbs and see how we go [Thursday]," he said. "I suppose I'm not expecting too much this week. I don't know what to expect from myself at the moment. I'm obviously coming off two good results and my game feels good. I'm putting well, and you know, if I'm feeling all right tomorrow, there's no reason why I shouldn't play well. I play well around this golf course. I finished fourth here last year, and it's a course that sets up well for me, so I'm looking forward to it."