The Players Championship
Players 2021: Without his best stuff, Lee Westwood still showed a ton of fight in coming up short at Sawgrass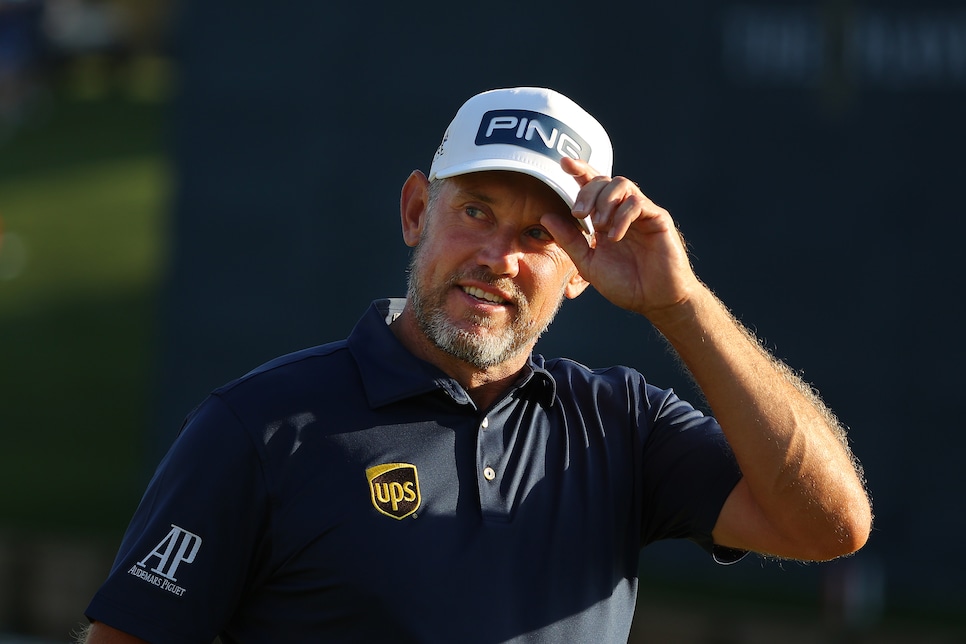 Lee Westwood reacts to cheers on the 18th green during the final round of the Players Championship.
Kevin C. Cox
PONTE VEDRA BEACH — As his final putt tracked toward the cup at the 72nd green, Lee Westwood raised his putter in the air, the sort of putter raise reserved for those who are about to win the golf tournament. The 15-footer dropped, and the Englishman took a deep breath and had a nice chuckle, as if to say "I did all I could do."
The problem: The putt was not to win, nor to tie. It was to secure solo second to Justin Thomas, who had just finished off a four-under 68 that would earn him a one-stroke victory in the Players Championship. Westwood, the solo 54-hole leader, shot an even-par 72, a score not good enough to win, but to add to his never-ending list of near-misses in major, er, marquee golf tournaments.
For those who have that famous Vince Lombardi quote about winning framed somewhere in their homes, Westwood's final green behavior may have seemed odd. Sure, winning $1.6 million is cause for celebration, but for a man who has made plenty of money in his golf career, you'd think he'd be a little more dejected to come up short yet again.
Perhaps a younger version of Westwood would have hung his head. Sulked his shoulders. Allowed it to affect his mood. But not the 47-year-old version of Westwood, who no longer cares about the result, or at least wants us to believe that's the case (it's working).
This version of Westwood was proud of his Sunday performance. Yes, proud of losing. Here's the thing: He should be. In coming up short, this week and last, the Englishman has shown an immense amount of fight, and holed a number of key putts that kept him in it, something he seldom did during the prime of his career. His best weapon—precision, both off the tee and with his irons—went missing on Sunday, and he still came within one stroke of taking the No. 3 player in the world to a playoff in the fifth-most important event of the golf season. Westwood did not lose. You don't lose when you battle and fight the way he did. He just got beat.
"I didn't play my best golf today by any stretch of the imagination, but I battled it out," said Westwood, who lost strokes off the tee and on approach Sunday after gaining strokes in both areas the previous three days. "I was proud of myself for that. People question whether I can hole putts under pressure, and I rolled in a lot of must-make putts all day, really, whether it be for par or the great birdie on 14."
Last week, at Bay Hill, Westwood holed clutch putts too, none bigger than the slick, right-to-left five-footer on the 72nd green that forced Bryson DeChambeau to have to make his comebacker for par to win. DeChambeau did. Westwood smiled and shook his hand, content with the result. He did not lose. He got beat.
"I'm just having so much fun," he said. "Everybody keeps telling my how old I am. I'm 48 in a month's time, and I'm still out here contending for tournaments and playing in final groups with great players like Bryson DeChambeau and Justin Thomas and people like that. It's just a joy to be involved and still playing well and being able to contend."
The man who is literally changing the sport [DeChambeau] and World No. 3 [Thomas] have won in consecutive weeks, and both times Westwood has been right beside them. He's not shied away from the pressure, even after a disastrous start at Pete Dye's Stadium Course that saw him hit a pair of tee shots in the water at the second and fourth holes. Even after bad bogeys at the eighth and 17th holes, after each of which he responded by making birdie at the very next hole. He fought. He battled.
"Just an unbelievable amount of positives," said Westwood when asked what he's taking from the last two weeks. "I didn't play my best today. My legs felt a bit heavy, and I felt a little bit lethargic, like I wasn't swinging as well and I wasn't striking the ball as well, and that was evident from the tee shots off 2, 4, 11—I really got away with those.
"What do I take from the two weeks? Just a lot of pride. I ground it out today, gave myself a chance, I suppose, at the end. Made some nice birdie putts, nice par putts. You know, these are world-class fields. These are young guys that I'm giving 20, 25 years to most of them, and yeah, I'm still contending. I'm enjoying it. It's a thrill to be out here and still playing well."
This week and last are all the proof you need that Westwood has a few more of these weeks in him. Maybe a lot more. In April he'll look to win his first major at Augusta National, where he has five finishes in the top eight since 2010. If he doesn't do it there, he'll have three more cracks over the summer, culminating with the Open Championship in his home country at Royal St George's. Then, the Ryder Cup at Whistling Straits. Is there any doubt Westwood makes Padraig Harrington's team? When he does, it'll be his 11th appearance in the biennial event. There's not much to be down about right now. It's no wonder he continues to go through life so carefree.
"I do enjoy the game more. I take it for what it is—a game," he said. "We're just trying to get a little white ball into a little white hole. It gets treated far too seriously occasionally. With what's going on in the world, it's fun to be doing a job that I love and that I've done for 28 years, and I'm still doing it."
Not only is he still doing it, he's still doing it at an elite level. Since dropping to 78th in the world in 2019, Westwood has climbed all the way back to 19th. He's done this with his fiancee Helen Storey by his side and on his bag through it all, and at the Masters, his son Sam will sub in for Storey as the caddie. He's playing some of the best golf of his life with the people he loves the most right there with him, and he's doing it all with a remarkably positive attitude that makes it feel like his best is still to come.
What's there not to be proud of?