News & Tours
Lee Westwood says it's "a negotiation" between his fiancée and son on who gets to caddie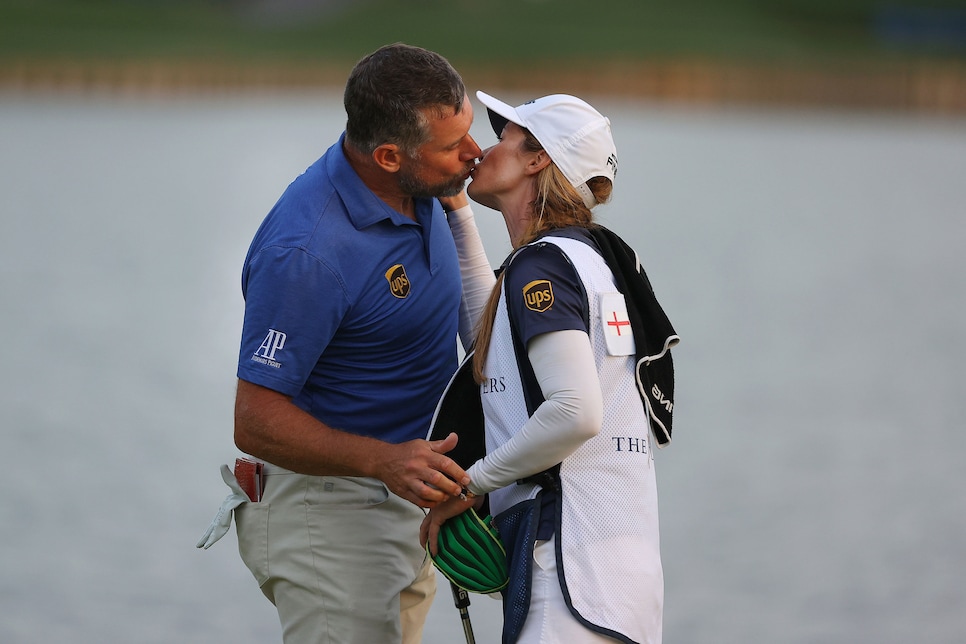 In an era where players have become more dependent on caddies for strategy and decision-making, Lee Westwood has chosen autonomy.
After Westwood ended a four-year winless drought at the Nedbank Challenge in November of 2018 with then-girlfriend Helen Storey, the Englishman decided to part ways with longtime looper Billy Foster. Westwood's belief was at his age, he knew what needed to be done and didn't want his decisions clouded by input, instead favoring Storey by his side.
"At my stage of my career, there's not a lot a caddie can tell me, but obviously Helen gets me in a fantastic mood out there, and psychologically she can help me and say the things that I need to hear," Westwood said last week at the Players Championship. "She helps me in that aspect an immeasurable amount."
The move has worked; falling as hard as No. 125 in the Official World Golf Ranking in 2018, Westwood is enjoying a late-career revival as he nears 48 years old, with a solid 2020 campaign and back-to-back runner-up finishes at Bay Hill and Sawgrass vaulting him to No. 19 in the OWGR.
But it's not just Storey (now his fiancée) that serves as Westwood's caddie. His son Sam has also been working his Westwood between the ropes, and will be on the bag at the 2021 Masters. The Westwood boys snuck over to Augusta National on Monday for a practice round, and Sam will be Lee's caddie this week at the Honda Classic. Speaking at PGA National Wednesday, Westwood explained there's no real difference to him in who hands him his sticks.
"I just like being out there with the both of them," Westwood said. "Both keep me relaxed. We have good chats out there. It's good bonding time. Helen picked the last two weeks to caddie. I think she's sick, she didn't pick this week now. She was on a run, wasn't she, but she's here, so I'll be able to chat to her at night about stuff that's going on on the golf course. But Sam is enjoying himself and looking forward to this run of tournaments where he's getting to caddie."
Of course, given Westwood's tear, it's fair to wonder who gets the bag when for Westwood, which he admitted is "a negotiation process."
"Helen is doing the PGA Championship and the Open, I think," Westwood said. "I'm not sure about the Ryder Cup yet. We'll cross that bridge if I get in the team."
Given his standing, Westwood is a lock for the Europeans squad this fall at Whistling Straits, so factoring in Lee's run with Storey, Sam better step his game up. Luckily for Sam, his pops has played PGA National well in his career with four top 10s in eight starts, including a fourth-place finish last year.
Westwood tees off at the Honda Classic at 12:53 p.m. on Thursday with Daniel Berger and Keegan Bradley.