Amid all the acrimony, there is at least some irony. In the wake of the proposed pact that currently sees golf's establishment, led by the PGA Tour, creating a partnership with Saudi Arabia's Public Investment Fund/LIV Golf and the DP World Tour, at least one player is benefitting.
Last week Laurie Canter played in the DP World Tour's ISPS Handa World Invitational. This week the 33-year-old Englishman is teeing it up in the St. Andrews Bay Championship, an Asian Tour International Series event, at the Fairmont course just outside the Home of Golf. And next month he hopes to be part of LIV Golf's event at Rich Harvest Farms outside of Chicago.
Given all that we have seen in professional golf at the highest level over the last 18 months, Canter's situation represents an extraordinary state of affairs, the irony created by his fall in status on the former European Tour.
Having skipped a few events on the 2022 schedule as he pursued play on the LIV Golf circuit, the former South African and Spanish Amateur champion finished 130th on the Race to Dubai. Outside the all-exempt category (those finishing 1-117 on the DP World Tour rankings), Canter fell into the tour's Category 18, made up of those within positions 118-133. From there, his opportunities to play on his home tour were clearly more limited. But that also meant, in weeks when he was outside the starting lineup on the DP World Tour, he was free to play elsewhere.
"I'll be at the final three LIV events, probably in a reserve capacity," Canter told Golf Digest. "I may be the only DP World Tour member who can do that, because of my category 18 status. I won't be subject to further fines or suspensions by the DP World Tour as long as that category does not improve. [Canter is currently No. 125 on this year's Race to Dubai points list having played five events, including a third-place showing at the Alfred Dunhill Championship last December.]
"Technically, I do need a release for each LIV event or Asian Tour event, but they won't stop me playing as long as I am not eligible for a DP World Tour event in those weeks. Looking at the upcoming schedule, it's unlikely I'll make it into any. So I've been lucky in a perverse way."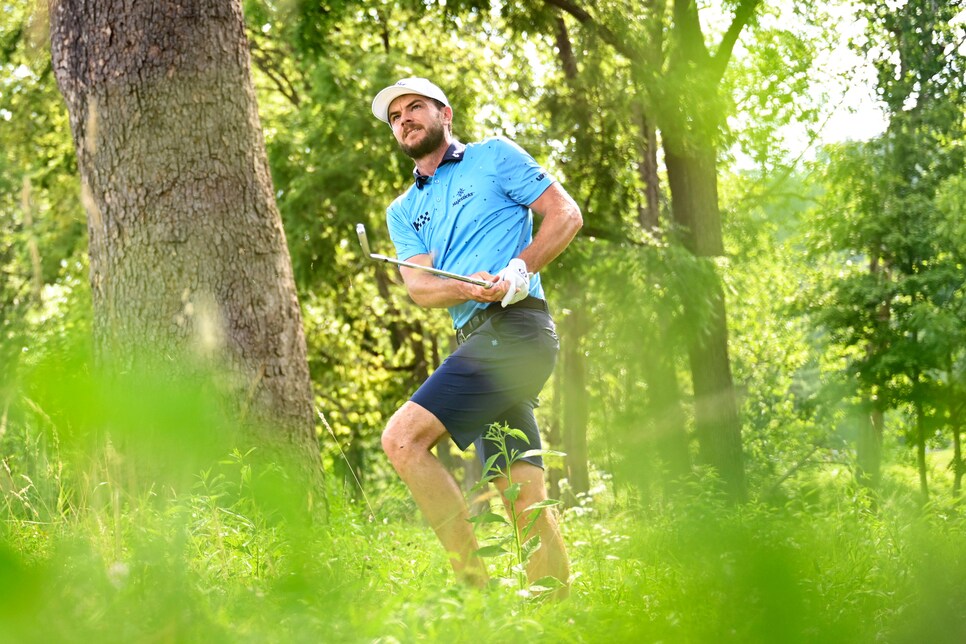 Canter, shown playing in LIV Golf's event at The Greenbrier, has competed in 11 LIV tournaments in 2023, his best finish at 15th-place in Orlando in March.
Eakin Howard
Still, Canter is at pains to point out he has never stopped being a DP World Tour member. Unlike the likes of his fellow LIV players Sergio Garcia, Lee Westwood, Ian Poulter and Henrik Stenson, he has not resigned his membership of the Wentworth-based organization.
"Everything you read suggests that I have left the tour," says Canter, three times a runner-up in DP World Tour events, including the 2021 BMW PGA Championship where he lost by a shot to American Billy Horschel. "I never have. And I have never wanted to leave. I'll only stop being a member when the system spits me out one day. That's what is meant to happen. I'll get to a point where I'll be replaced by those who are better and younger and fitter.
"It has actually never entered my head to resign," he continues. "But the likes of Lee, Sergio, Henrik and Ian are in a different place. The extent of the bad feeling between the DP World Tour and them is a shame. They have contributed so much. Martin Kaymer, too. For them to be made to feel outcasts is not right. The argument that LIV is a threat to the tour doesn't add up for me. So I understand that those guys are sick and tired of it. If I was in their position, I think I'd feel the same. But being at odds with the tour didn't sit well with me. So I was fine with the outcome of the disciplinary process."
Specifically, Canter served a seven-week suspension that ended at the conclusion of the Scottish Open in July. He has also paid any and all fines levied, a fact confirmed by a DP World Tour spokesman: "All sanctions imposed have been met."
All in all, then, Canter has come out ahead on all fronts, except his on-going DP World Tour status. Able to play through the appeals and arbitration process that was decided in the tour's favor earlier this year, his enforced absence from his home circuit has been short. Around five months, to be more specific.
Canter played in the Magical Kenya Open in early March, then was next seen (apart from his T-17 finish at the Open Championship) last week in Northern Ireland. All in all, not that much of a sacrifice. So it is no surprise to hear he has no regrets over his actions.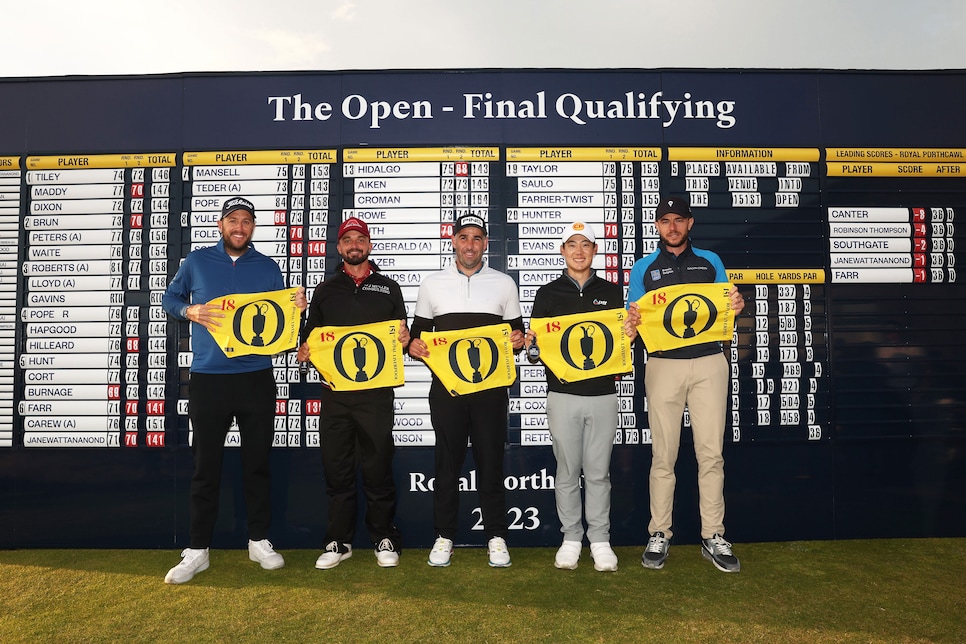 Just after finishing up his suspension on the DP World Tour in July, Canter (far right) qualified for the Open Championship at Royal Liverpool.
Cameron Smith/R&A
"Two things helped me make the decision to join LIV," he says. "I had just played in my first major in America, the 2022 PGA. It was an incredible experience. I had just broken into the top 100 in the world. I made the cut at Southern Hills and wanted to taste more of that. Then the opportunity to play LIV came up. It was around the time that the drop in World Ranking points was coming on the DP World Tour. I sat down with my management team and modelled how the ranking system would change over the next 36 months. It was shocking. Any chance of me climbing the rankings while playing in Europe was going to be hugely diminished."
Looking back now, Canter's positive view on his LIV experience confirms his initial optimism.
"I find this part difficult," he says. "My wife tells me that when I talk about LIV it sounds like I am apologizing. But I'm not. It has been an amazing experience. At first, I thought it was an opportunity to play a couple of events. But it turned into two seasons. I got the chance to play with heroes of mine, often on the same team. I got to play practice rounds with them and pick their brains. Plus, going to LIV was an opportunity to play for a lot of money. I earned $5.5 million in just over a year, which is insane. I'm proud of what that means for my family. So no regrets. LIV really was a great opportunity for me."
On a personal level, Canter has also emerged relatively unscathed from all that has gone on over the last 18 months or so.
"I haven't lost any real friends over this, and I don't expect to do so," he says. "If I had lost one over where I have decided to play golf, then that person was never a mate to start with. I think you can disagree with people and still get along. It's a job. All I've done is take an opportunity. I would have supported anyone's right to do the same, even if I had chosen not to do it. This isn't a secure job at the end of the day. I don't get why people on all sides haven't until now gone into a room and talked about it. As soon as everyone started to talk some common ground was found. Hopefully, others will learn from that."
On that at least, everyone is surely agreed.