News
Laura Davies dominates, wins inaugural U.S. Senior Women's Open by 10 shots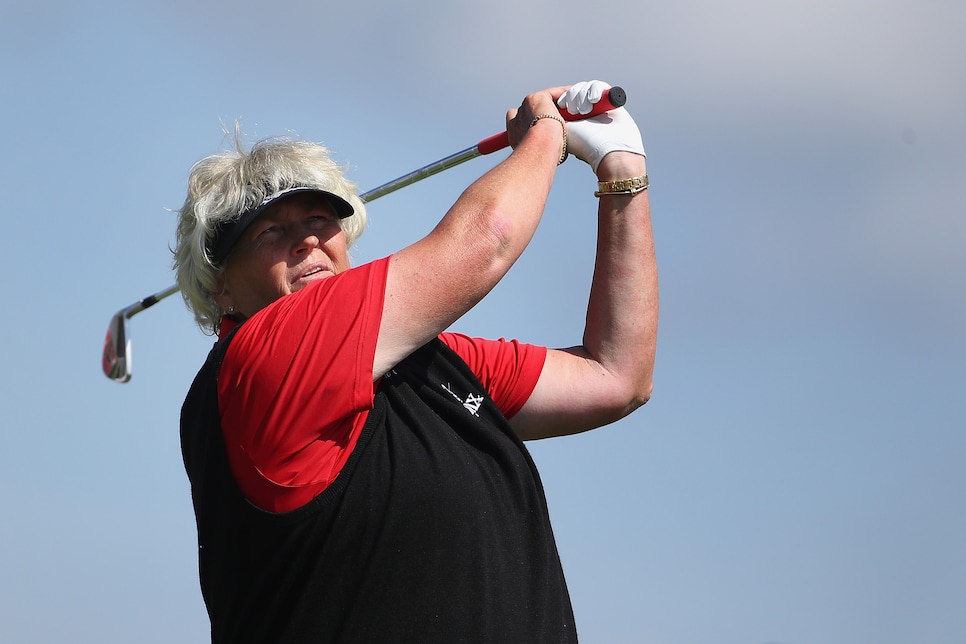 The inaugural U.S. Senior Women's Open was a success by virtually every metric, notably the outcome coming down to the two players likely to have the best chance to win.
Euphoric best describes the general reaction to a championship that came up short only on drama. Laura Davies of England took a five-stroke lead into the final round at Chicago Golf Club in Wheaton, Ill., and turned it into a victory lap.
Davies, 54, a World Golf Hall of Fame member, posted a bogey-free round of five-under par 68 on Sunday to win by 10 over another Hall of Famer, 58-year-old Juli Inkster. Davies' 72-hole score was 16-under par 276, while Inkster finished at six-under par 286.
"It's great, seeing this thing paraded down for the very first time," she said of the trophy. "And I get my name on it first. Yyou know, this championship will be played for many years, and there will only be one first winner. Obviously quite a proud moment for me to win that."
Only two other players finished under par — Trish Johnson of England, who was third at four-under 288, and American Danielle Ammaccapane, at one-under 291.
Both Davies and Inkster have remained active on the LPGA, playing 12 and nine events, respectively, this year. But only Davies has been competitive, having tied for second in the Founders Cup and losing to Inbee Park, No. 1 in the Rolex Rankings. Inkster has missed the cut eight times.
Davies was now won 85 professional tournaments around the world, but this was her first since 2010. Inkster, meanwhile, has four Legends Tour victories, her most recent win coming last year.
"I haven't won for eight years. The pressure you're playing under when you're trying to just do something for yourself, prove to yourself you can still win, this ranks highly up there," she said. "And obviously because it's a USGA event, it's hard to compare tournaments, but this is very high on my list of achievements, I can assure you."
But Davies has retained much of the power she displayed in her prime; she ranks 28th on the LPGA in driving distance, at nearly 262 yards. It enabled her to dominate the five par fives at Chicago Golf Club, 14th in Golf Digest's latest ranking of America's 100 Greatest. She played them in 15-under par, including two eagles that offset two bogeys.
The outcome was not in doubt on Sunday. Davies birdied two of her first four holes and Inkster bogeyed two of them. The final blow for Inkster came when she missed the green and short-sided herself at the par-3 13th hole, then muffed her chip, leading to a double-bogey.
Amy Alcott, 62, a past U.S. Women's Open champion and a member of the World Golf Hall of Fame, as so many others were, was effusive in her praise of the championship. "It was very emotional seeing the USGA sign, because I've had such a long history, since my teens, playing in USGA championships," she said after tying for 42nd. "I thought the week just came off beautifully. The USGA did a great job. It was just so classy how everything was done, this inaugural event and how was it presented."