News
Laura Davies completes women's senior slam by winning Senior LPGA Championship wire-to-wire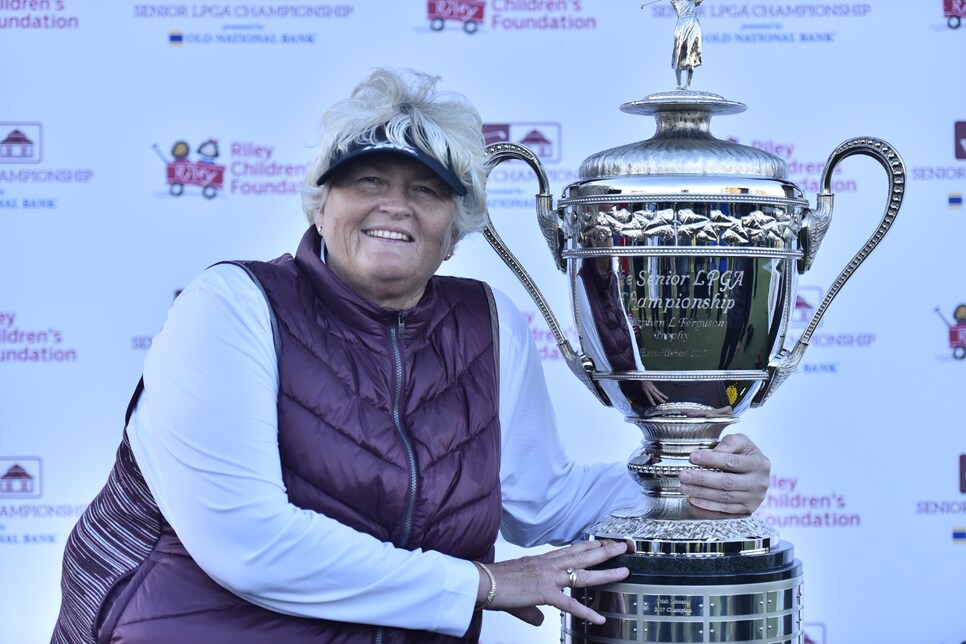 This season, for the first time, the opportunity to win a senior slam in women's professional golf became possible. Thanks to the inaugural U.S. Senior Women's Open that was held at Chicago Golf Club in July, the women's senior major count grew to two.
Laura Davies claimed the first major victory in dominant fashion, winning by 10 strokes at Chicago Golf Club in July. In the following major, the Senior LPGA Championship, Davies again proved that her game in major condition: She won at French Lick Resort in Indiana by four shots on Wedneday over Helen Alfredsson of Sweden.
In the first year it was possible, Davies swept all the majors. Yes, there are only two, but we're going to still call it the senior slam.
Davies, 55, won wire-to-wire in her fifth time playing in the event. After opening with a four-under 68 in the first round of the 54-hole tournament, Davies closed things out with back-to-back 70s.
"The wind made a difference, and it was still cold," she said of the final round. "It was still tough, but I think two-under today was a pretty good round. There's some shots out there, on 16, I nearly hit a horrible 7-iron into the water, but I got lucky today when I really needed to on 11 and 16 when I didn't hit great shots. It's the sort of course where you've got to be careful, but you've got to be brave as well. Because you'll make bogeys if you're trying to play it safe."
It's not altogether surprising that Davies won both—and not simply because of her World Golf Hall of Fame pedigree. Sure, she's she won 20 times on the LPGA Tour, but it's what she did in March that proved she still has game. Davies competed in the Bank of Hope Founders Cup, one of 15 LPGA events she played in in 2018. She finished T-2 in that event, five shots back of winner Inbee Park. In the tie for second was Marina Alex and Ariya Jutanugarn, both of whom went on to win in 2018 and Jutanugarn became World No. 1. The ability still to contend on the LPGA, Davies certainly is a favorite in the senior majors.
Davies adds winning the Senior LPGA Championship and the slam to the the four majors she won on the LPGA. This victory was her 86th professional win.