U.S. Senior Women's Amateur
Lara Tennant's three-peat win ends Ellen Port's bid for historic eighth USGA championship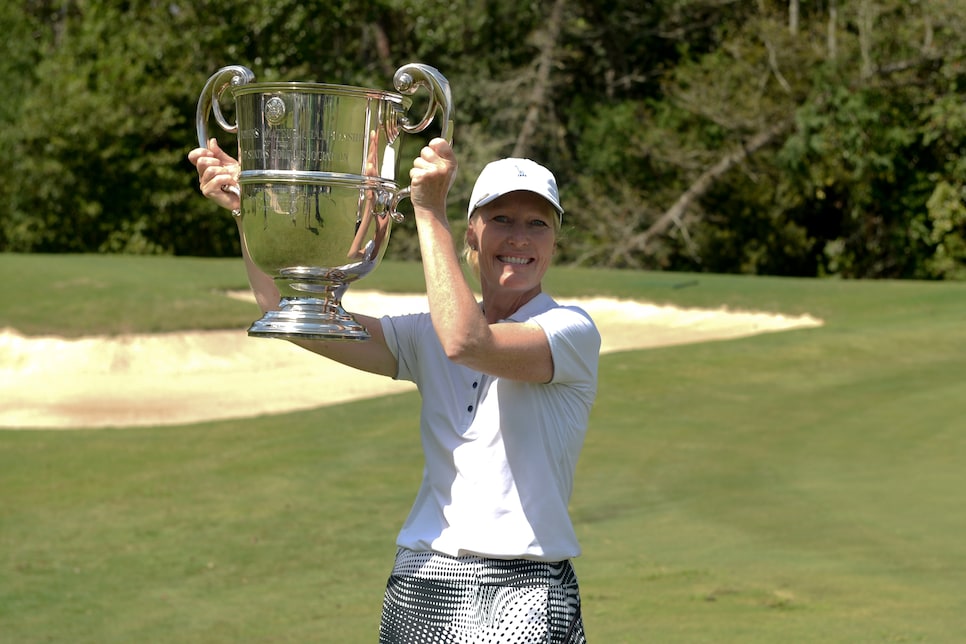 When the rain finally subsided in Point Clear, Ala., the reign continued—at the expense of a historical quest in a memorable U.S. Senior Women's Amateur Championship final at The Lakewood Club on Thursday.
The winner was Lara Tennant of Portland, Ore., 2 and 1, over Ellen Port of St. Louis, a friend she calls "a legend," understandably so. Port was in pursuit of an eighth USGA championship, which would have tied her with JoAnne Carner for the most by a female. Moreover, Port had recently won the Metropolitan Senior Amateur, beating an otherwise all-male field.
Instead, Tennant, the co-medalist, won the Senior Women's Amateur for a third straight time, joining Carol Semple Thompson and Carolyn Cudone as the only players to win three or more consecutively.
"The feeling is I'm just grateful," Tennant said regarding her successful bid for a third straight. "I'm grateful that I was able to hang in there all week long. I had a lot of tough matches. There was not one easy match I had this week. The caliber of players just is very good here, obviously. But I just worked hard and was lucky that I was able to get to the finals and play well today."
Compounding the difficulty, perhaps, was that she was playing a friend with whom she partnered in the U.S. Women's Amateur Four-Ball earlier this year. "Very difficult," Tennant said, "but both Ellen and I have competed enough to know that we're not really competing against each other, we're competing against the course. We've played enough to know that really you play your best when you play the golf course and not the person you're playing against."
Port's run at history notwithstanding, this should not be considered an upset victory for Tennant, who has her own gilded resume. She finished tied for 29th in the U.S. Senior Women's Open earlier this summer and has won four Oregon Senior Women's Amateurs and the 2019 R&A Women's Senior Amateur Championship.
The final began on Wednesday, only to have play suspended after two holes—Tennant leading, 1 up—because of rain from Tropical Storm Nicholas. Nearly 3½ inches fell at the course before midnight, and nearly 1¼ inches fell on Thursday morning, delaying the resumption of play by an hour.
Port, 59, who tied for 20th at the U.S. Senior Women's Open earlier in the summer (tied for low amateur), squared the match on the third hole, the first of the day. "I knew that Ellen would get off to a very strong start. She would be fast out of the gates," Tennant said. "I told myself that I needed to share in that intensity, and she won the first hole, and we were even. I wasn't too stressed about that. But I sort of put the pedal to the metal."
She made a pair of birdies that gave her a 2-up lead through six. The match was tied through 11, but Port bogeyed the 12th hole and double bogeyed the 14th to fall 2 down again. Tennant closed out the match with a par on the 17th hole.
"It could have been eight [USGA titles], but I lost to Kathy Hartwiger in a [U.S. Women's] Mid-Am," Port said. "So I'll just remember that and build on this and get to the Mid-Am. The good news is I get another tournament in a week [the 2021 U.S. Women's Mid-Amateur] which rarely happens, and I'm playing good, and I'll take the lessons I've learned into that."