News
Kyle Stanley solves the puzzle, while Charles Howell III still searching for the missing piece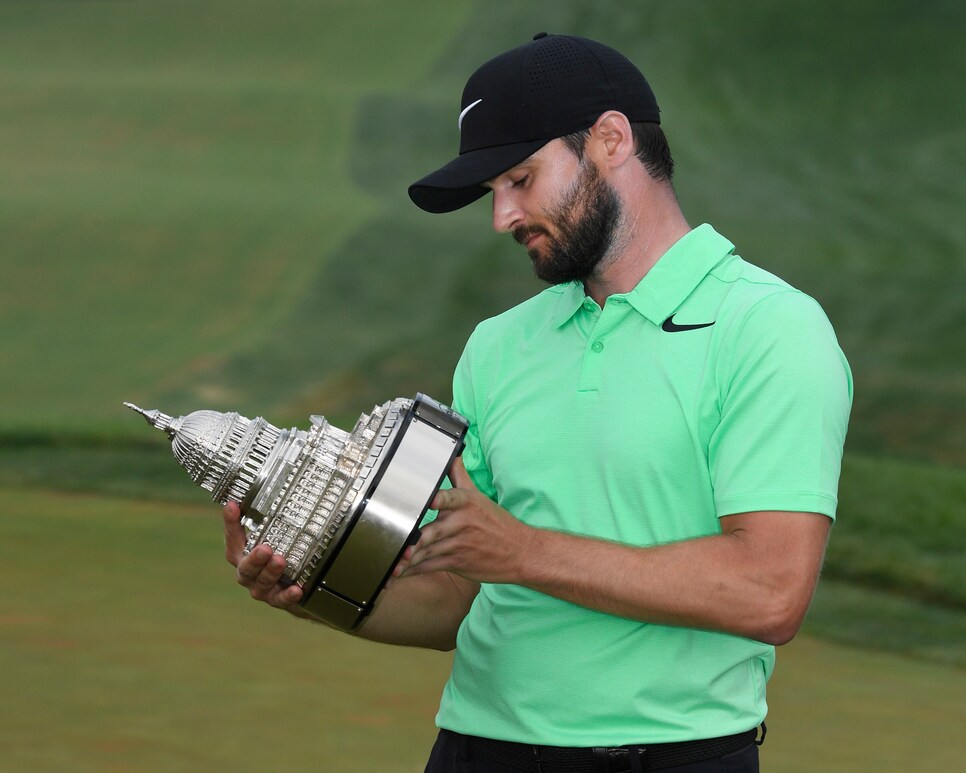 It was certain to be a victory long overdue, however it played out on Sunday, and for Charles Howell III it played out as it has too often in his career. The man with third after his name finished second. Again.
The winner of the Quicken Loans National was Kyle Stanley, who overcame his own issues, an ascendent career arc that had suddenly stalled.
"Relief," Stanley said, the first word to come to mind in the wake of his second career win, but the first in more than five years.
Both Stanley and Howell shot four-under 66s in the final round at the TPC Potomac at Avenel Farm in Potomac, Md., to advance to a playoff that the former won on the first extra hole. After Howell missed an 11-foot par putt, Stanley holed a four-foot par putt that unleashed a torrent of emotion.
"It means a lot," Stanley said, while unsuccessfully staving off tears. "I've had so much help from my coaches, my family, my wife. It's hard to put into words right now. I'm sorry."
Words were as hard to come by as answers had been for Stanley, who arrived in professional golf with a wealth of promise that largely had gone unfulfilled. Stanley, 29, was twice a first-team All-American at Clemson and in 2009 won the Ben Hogan Award, representative of the best college player before turning pro after the end of his junior season.
He earned more than $1.5 million as a rookie on the PGA Tour in 2011, and won the Waste Management Phoenix Open in 2012. Then his game declined, until he was forced to split time between the PGA Tour and the Web.com Tour in 2015. He played 42 straight PGA Tour events, a span of two years, three months, without a top 10.
"I went a couple years there where it was pretty disappointing," Stanley said at the Players Championship earlier this year, where he tied for fourth. "But you know, you've just got to keep working hard. You never really quite know when it's going to show up or pay off."
He came into the Quicken Loans National having posted four top-10s in 19 starts this season. He exited the tournament with career-highs in top-10s and earnings ($3,000,213).
"It's confirmation we've been working on the right things," he said. "If anything, I think it'll make me a little bit hungrier to get to work. I'm happy for a lot of people. Like I said, I've had a lot of help."
As for Howell, it was more of the same in a career more profitable than rewarding. He has exceeded $30 million in earnings, yet has won only twice since joining the PGA Tour in 2000. His last victory came more than a decade ago in the Northern Trust Open, and he has now finished second 16 times in his career.
Howell can console himself, at least, with the knowledge that he played well enough to win in his first start in 10 weeks, his hiatus the result of a rib injury. "Going into this week, I was extremely rusty," he said. "I can't believe how well I've played."
Howell had a chance to win on the last hole in regulation, when his 18-foot birdie putt seemed headed for the middle of the cup before sliding left inches from arrival.
It then came down to two players in pursuit of an elusive victory and Stanley solved the puzzle, while Howell is still searching for the missing piece.