News
Kristen Gillman comes from behind to defeat Lucy Li on 19th hole in U.S. Women's Amateur quarterfinal match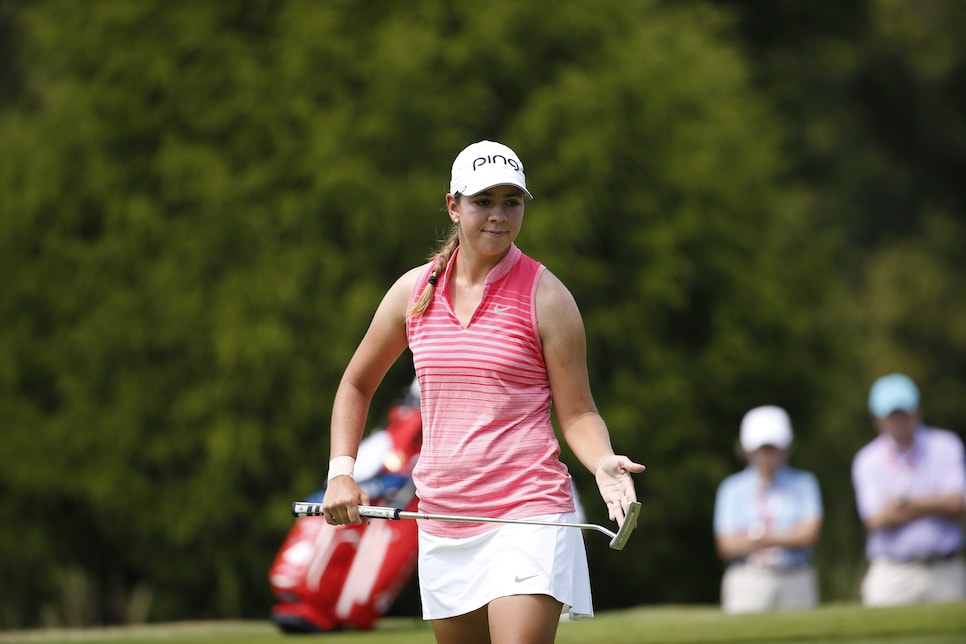 The marquee match of the U.S. Women's Amateur came early, a quarterfinal duel between a past champion, Kristen Gillman, and still a likely future champion, the precocious Lucy Li, on Friday.
Gillman, 20, a University of Alabama star who won it in 2014, prevailed in 19 holes at the Golf Club of Tennessee in Kingston Springs, Tenn., when Li missed a three-foot par putt to send it to a second extra hole.
"I hated the way it ended," Gillman said. "I always feel bad whenever people miss short putts for it to end. But that's golf. Every hole, every putt matters."
Li, 15, who earlier this summer lost in the semifinals of the U.S. Girls' Junior, never trailed until losing in overtime. She took the lead on the first hole, held a lead until the 15th hole, regained it at 16, then saw her opponent make a clutch birdie at 18 to extend the match.
Gillman hit her tee shot on the par-4 18th into the left rough, but hit her approach to 10 feet and made the putt.
"I had 165 [to the hole], the wind a little into me," she said. "I just had to draw it around the tree a little bit. I knew I had to get it close, because Lucy hadn't made a bogey all day."
Li, in fact, hadn't made a bogey since the first hole in the round of 64, the only time she trailed in four matches until losing to Gillman.
In the first extra hole, the par-3 10th, Li pushed her tee shot, the ball stopping 20 feet right of the hole. Her birdie putt skirted the right edge and left her with three feet coming back.
Gillman, meanwhile, hit her tee shot to eight feet, but missed her birdie putt. Her par putt was conceded. Then Li powered her par putt, the ball catching the right lip and spinning away.
"I'm not really sure what happened," Li said. "I wasn't nervous or anything. It was a sliding putt. Maybe I just pushed it a little bit."
Gillman, who is sixth in the World Amateur Ranking, advances to a semifinal match with Kaylee Benton, a 3-and-2 winner over Jaclyn Lee. Gillman's Alabama teammate Lauren Stephenson defeated Lauren Greenlief, 2 and 1, to advance to the other semifinal match against another Alabama teammate, Jiway Jeon, who defeated Kaur Gurleen on the 19th hole.