KPMG Women's PGA Championship
In Gee Chun stumbles as Lexi Thompson charges into final group at Congressional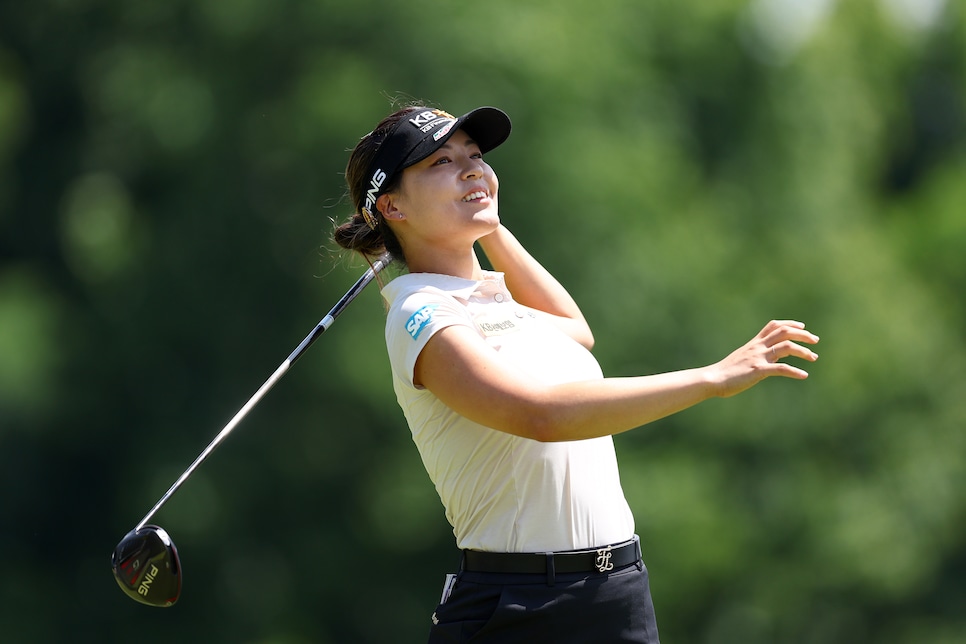 In Gee Chun of South Korea plays her shot from the fifth tee during the third round of the KPMG Women's PGA Championship.
Elsa
BETHESDA, Md. — It was drink-a-water-every-hole hot on moving day at the KPMG Women's PGA Championship. Players were dripping sweat before they even teed off, and the massive tree removal that occurred during Congressional's recent renovation left little shade out on the course. As the sun beat down, dominant leader In Gee Chun showed signs of humanity, stumbling to a double bogey on the 16th and finishing with a three-over 75. But she still has a three-shot lead over Lexi Thompson, Hye-Jin Choi and Sei Young Kim heading into the final round.
Chun's first-round 64 vaulted her to a five-shot lead and after two rounds, she had a healthy six-shot advantage. But Saturday was a hard day. A firmer course and tough pins brought on higher scores, and Chun's 75 was one of the worst scores on the top half of the leaderboard.
Despite the difficult day, Chun continues to exude optimism. She smiled after a putt that should've gone in missed, and she didn't appear frustrated as she navigated the unplayable that led to her double.
"When I got bad luck, then I always try to believe the good luck is coming to me in the future," Chun said.
She wasn't hard on herself after losing the large lead. Instead, she gave it a positive spin.
"I'm so excited and looking forward to an exciting final round already. Then if it's going to be too easy, then I feel it is boring," Chun said.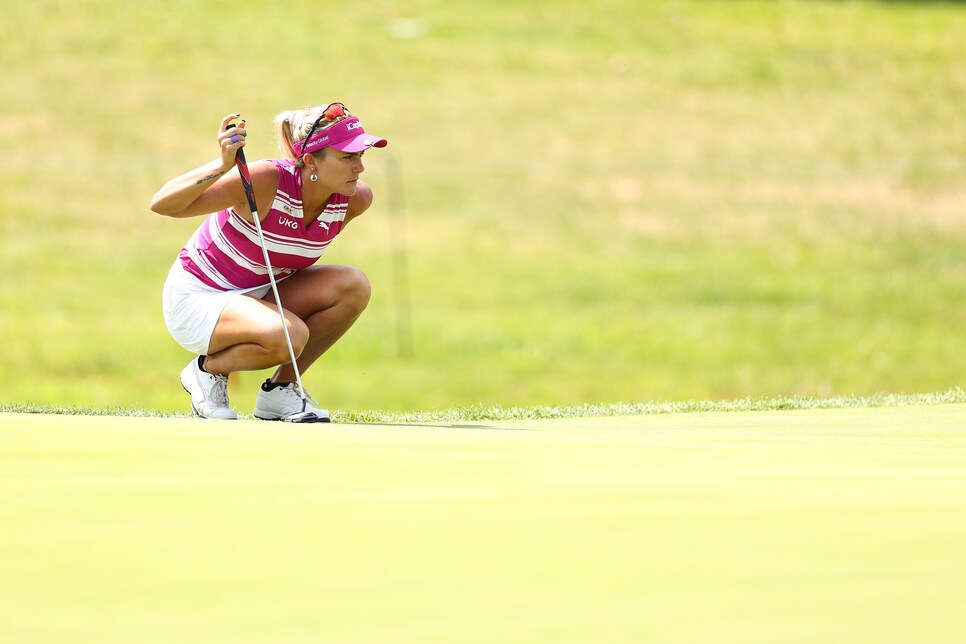 Thompson, on her way to a two-under 70 on Saturday, wasn't paying attention as Chun struggled. She doesn't watch leaderboards anymore.
"Looking at leaderboards does me no good, honestly, so really just focusing on my score, my shot at hand. That's all I can do," Thompson said.
She has four top-five finishes so far in the 2022 season, which would make one believe a win is close. But Thompson doesn't entertain thoughts like this.
"I'm just happy that I'm putting myself in contention. I know I've put in the hard work and just to see it pay off means the world to me," Thompson said. "I know I'm in a good state with my game and just my mental state, so going out tomorrow enjoying the walk with my caddie and hopefully a lot of fans out there supporting us. Whatever score I shoot, I shoot."
Thompson's mental state has been affected by her grandmother's recent passing. She died of natural causes the week before the U.S. Women's Open. As Thompson continues to process the loss, she said she knows her grandmother is watching.
If Thompson were to win the KPMG Women's PGA Championship, it'd be her second major victory; her first one came at the 2014 Kraft Nabisco (now Chevron Championship).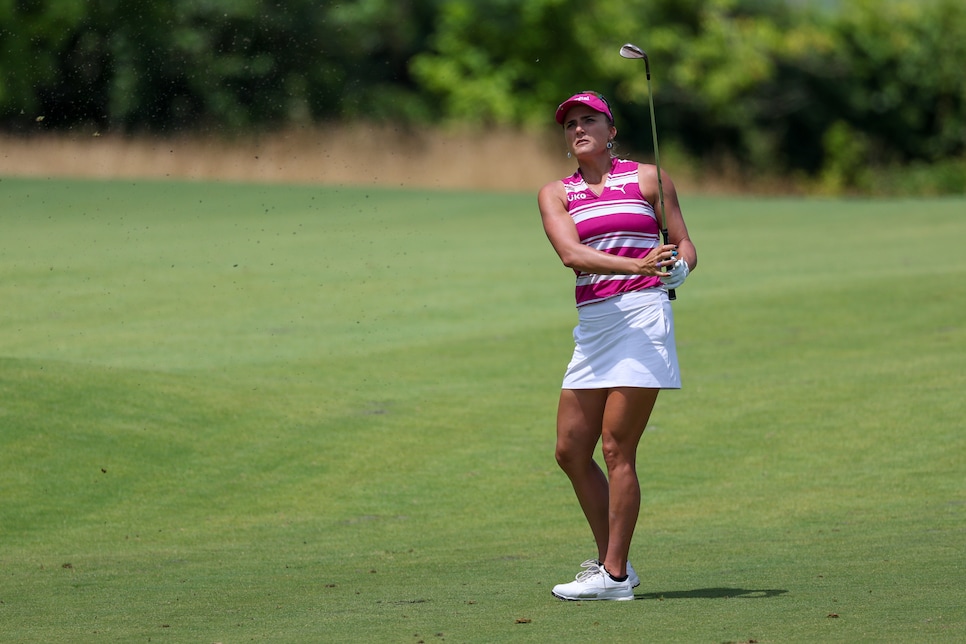 Lexi Thompson plays an approach shot on the sixth hole during the third round of the KPMG Women's PGA Championship.
Rob Carr
Sunday at Congressional looks like it's going to be a lot like Saturday: hot. As players came into the press area, the effects of the heat were apparent on their faces. But Thompson didn't look as fazed. She admits she doesn't mind the heat; she's from Florida, so 90 degrees and a beating sun is something she's used to. More than anything she's ready for another weekend in contention.
"You always want to be in the final group in any tournament that you're putting yourself in contention and a chance to win," Thompson said. "I love that the hard work has been able to pay off for me. I've been putting in the time, so to see it pay off and pay dividends means the world to me, so I'm looking forward to tomorrow. Hopefully we get great weather, a lot of people, and the course is in great shape for us. I'm just going to enjoy every bit of it."