Heartbreaks
Korn Ferry Tour pro loses in most painful—and costly—way imaginable with four-putt on final hole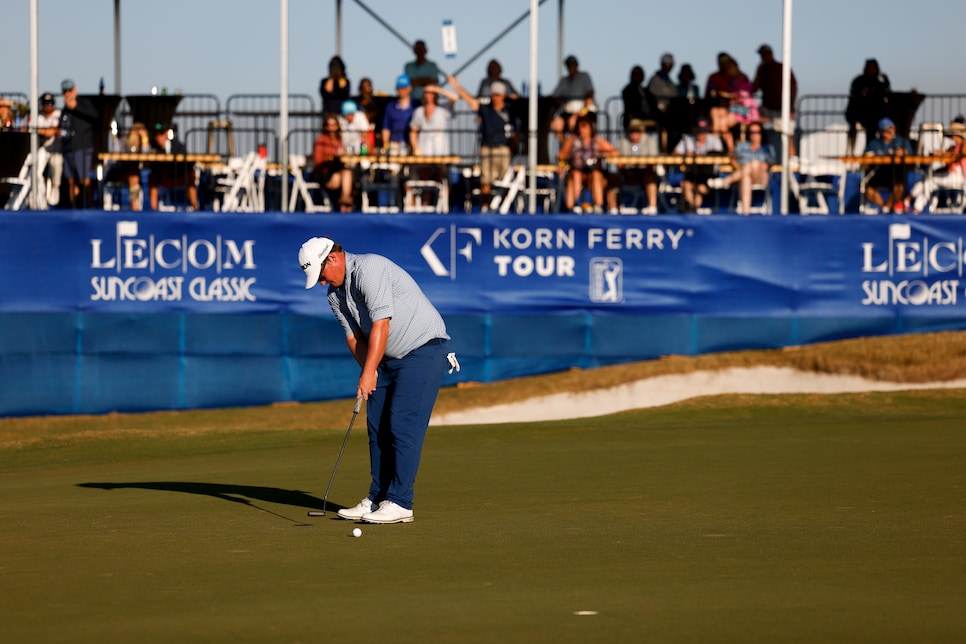 WARNING: The video you're about to see contains graphic images. And we wish we could say no golfers were harmed in the making of it.
Seriously, this is about as bad as it gets. Michael Gellerman had a putt to win the LECOM Suncoast Classic on Sunday. He wound up walking away in a tie for SIXTH place.
How does such a thing happen? Well, golf, for one thing. But also a four-putt on the final. A painful—and costly—four-putt. Have a look:
Poor guy. That's just brutal.
So just how costly was it? Well, a winner's check would have been for $135,000. Instead, Gellerman wound up earning $20K for being part of an eight-way log jam at T-6. Not exactly the type of money they were playing for at Riviera over the weekend, but still, ouch.
Also, a two-putt would have gotten the University of Oklahoma product into a playoff and a three-putt would have been good for a T-2. Not to mention the fact that a victory would have all but locked up a trip back to the PGA Tour, where the 29-year-old played last season.
There's also a bit of irony here in that former PGA Tour regular Ben An, known for being one of the worst putters among the game's elite, won the event. So congrats, by the way, to one of the most self-deprecating players out there.
To Gellerman's credit, he handled it well. While others might have taken there frustration out on their putter or the green, he remained calm and tweeted this after:
Hopefully, he has better finishes—and sleep–in his future.