Ryder Cup
Ryder Cup 2021: Brooks Koepka gets heated at referees: 'If I break my wrist, it's on ******* both of you'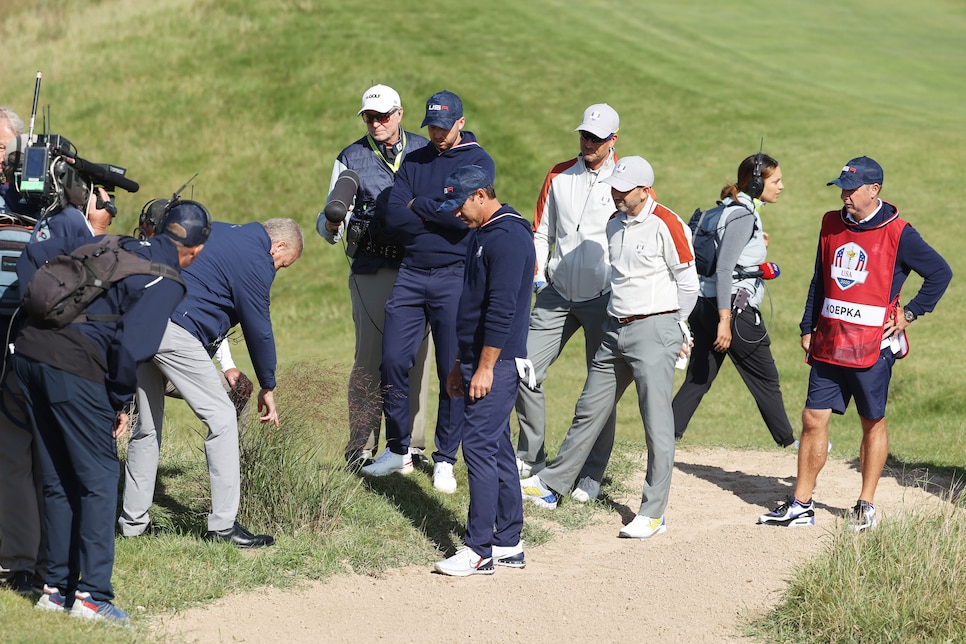 HAVEN, Wis. — The referees made Brooks Koepka mad.
Never, ever make Brooks Koepka mad.
Koepka was playing with Daniel Berger in a foursomes match against Jon Rahm and Sergio Garcia on Saturday morning at the Ryder Cup when Berger's drive at par-4 15th found fescue next to one of Whistling Straits' multitude of bunkers. The ball finished next to a drainage area, a spot which Koepka and Berger felt Koepka was entitled relief (even opponent Garcia seem to think so).
"You don't think my club might hit right there?" Koepka said during the conversation with the match referee, David Price, pointing downward at the spot of the drain, which was in front of Koepka's ball. "Have you ever seen me hit a ball?"
However, Price felt that the drain did not warrant such a ruling. Complicating matters was Koepka's health, as the four-time major winner is returning from injury his wrist at the season-finale Tour Championship earlier this month.
Koepka and Berger were no satisfied with the initial ruling, so they asked for another referee to take a look. After nearly 10 minutes of waiting and discussion, the second rules official, Mark Litton of the European Tour, re-affirmed the original ruling, asserting that Koepka would not get a free drop. After hearing his plea was rejected, Koepka pointed toward both referees and said, "If I break my wrist, it's on ******* both of you."
Only Koepka proceeded to hit a hero shot from the fescue, his ball finding the green 200 yards.
Ultimately, no blood was shed, as the Americans and Europeans ended up tying the hole, and Rahm/Garcia maintained their 1-up advantage heading to the 16th hole. The Spaniards would go on to win the match, 3 and 1, the lone point for the Europeans during the foursomes session as the U.S. took a commanding 9-3 lead in the overall match.
Asked after the round about the ruling, Koepka was short and to the point: "Yeah, we didn't get it."
MORE RYDER CUP STORIES FROM GOLF DIGEST