PGA Tour
Brooks Koepka apparently mistakes Travelers Championship for a major, in mix at River Highlands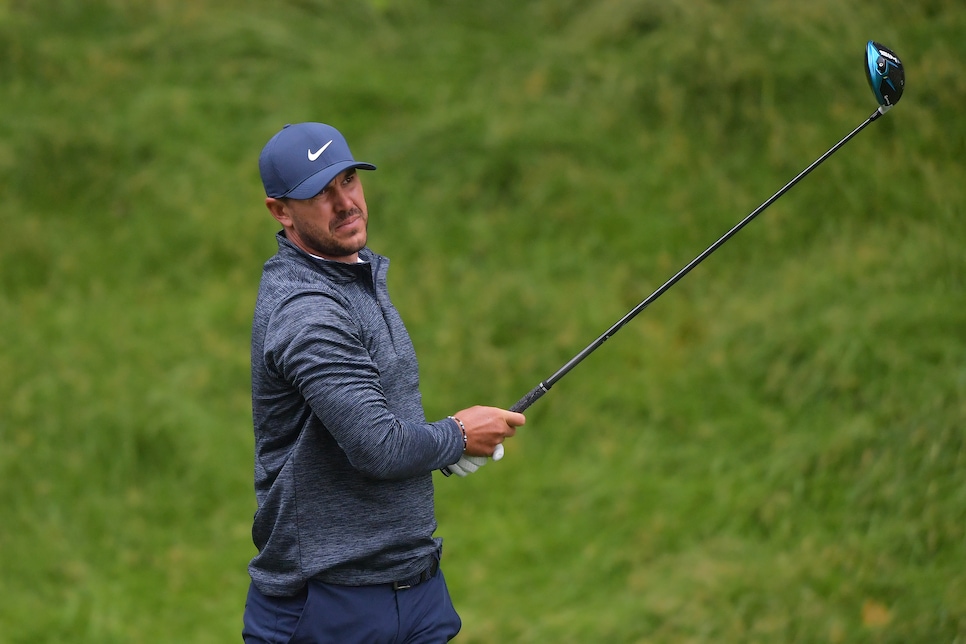 CROMWELL, Conn. — It is referred to as golf's sixth major. It is said in jest but also with love, a nod to the transformation the Travelers Championship has undergone from on the brink of extinction to becoming one of the more beloved spots on the PGA Tour's summer calendar. "I joked with [tournament director Nathan] Grube that we should hang a banner at the entrance," said Andy Bessette, executive vice president and CAO of Travelers, about the nickname. "From where this was to what it's become, is a true success story."
Problem is, no one relayed the joke to Brooks Koepka. Or maybe he's been the victim of hypnosis.
Koepka, the man who stresses he cares about the majors and majors only, is treating the Travelers like one, turning in a three-under 67 in Round 2 to jump into contention at TPC River Highlands.
His performance Thursday did not promise such a Friday. The man himself even dismissed his chances after an opening-round 69. "Yeah, I'm awful the week after a major, especially U.S. Open, because it takes so much out of you," Koepka said following Day 1. "But still should have played better. No excuse. I mean, I'm kind of tired. I am going to enjoy getting to bed tonight."
Through his first five holes Friday that sentiment—and malaise—rang true, Koepka, who started on the 10th tee, negating a birdie with a bogey along with three pars. If this was last week, that would be all fine and good. But TPC River Highlands is no Torrey Pines. That is part of its mystique and charm, the course serving as a launching pad for players to paint the board red. The rough is nastier than it is most years in Cromwell, but whatever defense that brings was offset by a morning shower that left River Highlands for the taking. In short, even par wasn't going to get it done.
Then the damndest thing happened. Koepka got to work.
The four-time major winner made 3 at the drivable par-4 15th then spun a wedge to three feet at the par-3 16th for consecutive birdies. Two holes later, with the rain becoming more than a nuisance, Koepka again made his ball moonwalk, this time spinning into the jar for an eagle 2. Starting the day outside the top 40, Koepka walked to his 10th hole in a tie for third, and a birdie at the par-4 third kept him in the chase.
It was not a flawless round; Koepka stumbled in with bogeys at the fifth and ninth, and his 67 sure felt like it could have been something in the low 60s. Aside from the red-figure stretch, it wasn't pretty: Koepka is losing more than a stroke-and-a-half to the field around the green, and his putting, while never his forte, has been below average through two days.
Still, for a guy who, at times, appears indifferent at tour events, Koepka is in the mix heading into the weekend.
There is more work to do. Koepka finished four back of Bubba Watson, who leads the Travelers as the Friday afternoon wave hits the course and is a three-time winner of the event. Koepka's track record here is also mixed, his T-9 in 2016 his lone top-15 finish in four tries. Conversely, this is Brooks Koepka, Destroyer of Worlds. The only thing that stands in the way of Koepka contending on Sunday is himself.
And if Koepka does hang around and pull off a win in Cromwell, who know? Maybe Bessette can go ahead and erect that banner.